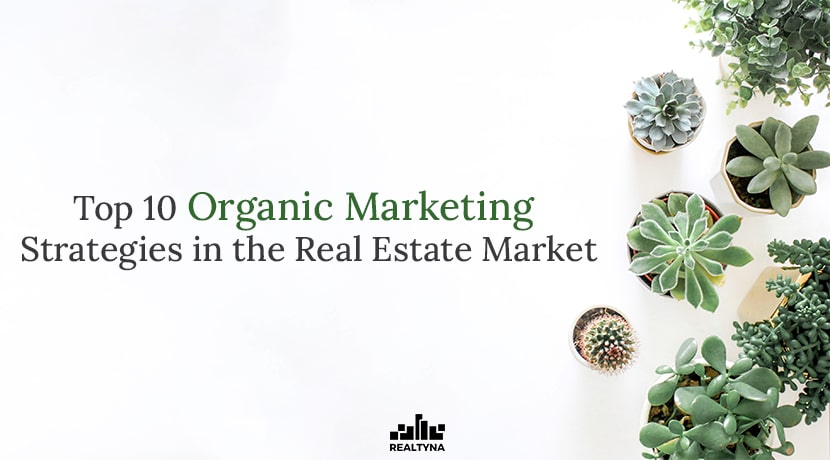 Top 10 Organic Marketing Strategies in the Real Estate Market
11 Jun 2020
Posted at 11:00h
0 Comments
Overview
In my opinion, the most important part of each property selling process is picking and implementing an efficient marketing strategy. With a quick internet search, you will see dozens of strategies all claiming to be the best ones out there. As the agent, you have the responsibility to make sure your client is in good hands and can benefit from the sale as much as possible. Also, with a good deal, you are guaranteeing that you will receive your desired commission. In this blog, we will provide useful tips to consider while choosing the marketing strategies that mostly have low or no cost.
Just keep in mind that we are living in the age of technology. To progress or survive in the highly competitive real estate market, you need to adapt your strategies. It means you need to take advantage of all the new ways of communicating with your clients including through different social media platforms.
One more thing this article is based on the assumption that agents are all familiar with the concepts of organic and paid marketing strategies. If you are not familiar with these concepts, please read the following article first: Organic Marketing Strategies and Their Implementation for New Realtors
1. Use PowerPoint
Try to create a PowerPoint for all your listings, their prices and all the people interested in those listings with their contact information. It helps you and your mind to become more organized. Also, it will save you time and energy in the end.
2. Create Guides
You can try to write guides for both homebuyers and sellers, using Microsoft Word. Then, you can hand it out to your clients during the meetings or even send it as an email. Your guide helps them gain the correct perspective about the whole process of buying/selling in advance.
3. Hire Mentors
If you are new in this market, I highly recommend you hire an experienced mentor to help you in your real estate business. You need to always keep yourself updated by getting help from those who are more experienced.
4. Use Linkedin
Social media platforms, especially Linkedin, play a major role in this new age of technology and communication. You can start by giving testimonials or leaving reviews for well-known agencies and brokerages to gain exposure.
5. Use Facebook
Start by creating an account on Facebook and making yourself stand out as a real estate agent or realtor. Chat with other agents and ask about their work and wait for their response to build a relationship with them. This way, you let them know that they are valued. Also, try to write on their Facebook wall and congratulate them on any new closing or share something of interest like new articles or videos related to the real estate business.
6. Use Twitter
Tweet the news or what is happening around your community. This can include real estate news, entertainments or whatever helps you increase your exposure in the market.

7. Use Free Websites
Use free websites to promote yourself and let others know about the deals you have closed or the experiences you have. You can also use some websites to publish your articles and blogs as a guest and in return, you can allow them to do the same. Some of the useful websites to express your ideas freely are ActiveRain, Tumblr, etc.
8. SEO Optimization
Through a quick search on the internet, you will learn different ways to help your brokerage rank highly on Google and boost your sales easily. One of the efficient ways to do this is to create related content and update it often to stay relevant.

9. Ask For Referrals
Ask all the people who have worked with you previously to leave sincere reviews on your website or refer you to other people. In return, try to reward them for their loyalty.
10. Online Marketing Courses
There are a bunch of websites providing free online courses that you can use to expand your knowledge and stay updated. The best ones that I also use from time to time are Udemy, Coursera, edX, etc.
Conclusion
Considering the above-mentioned tips can positively affect your sales. There are many of more complicated marketing techniques and strategies out there surely. Finding them is one thing and implementing them is another thing. So start implementing them NOW and let me know about their major impact on your business.For further study, read the following articles as well: Free Real Estate Marketing Strategies and Pinterest for Real Estate Marketing
Leave your comments or ideas below.