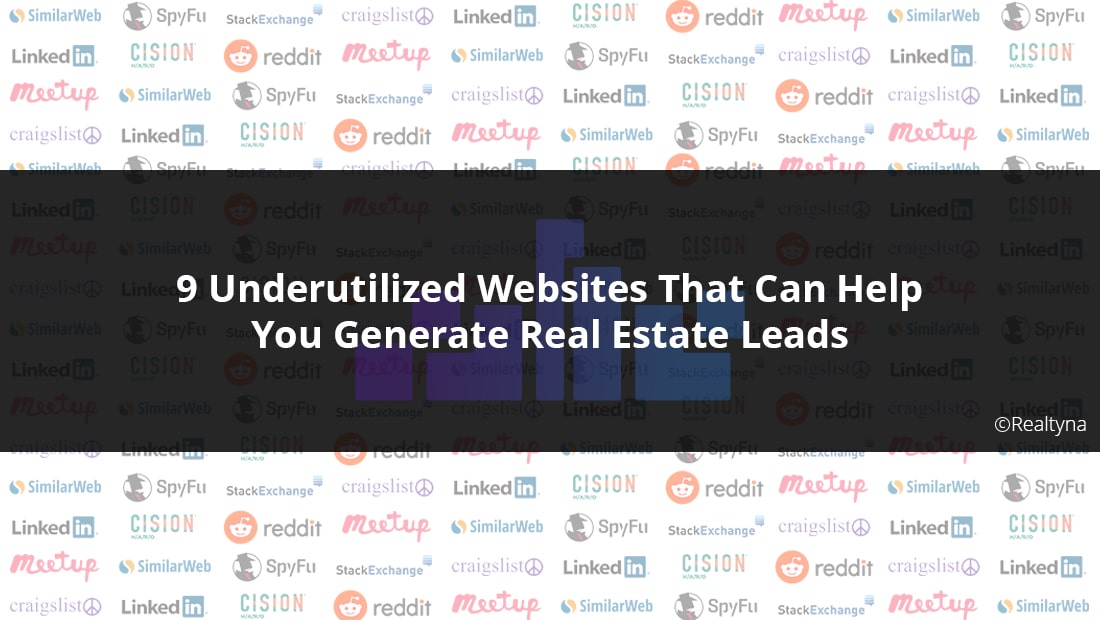 9 Underutilized Websites That Can Help You Generate Real Estate Leads
27 May 2019

Posted at 10:00h
0 Comments
Online real estate lead generation can be a grind. Everyone knows the main strategies—Google and Facebook ads, Instagram posts, etc. It can be difficult to get an edge because the competition is fierce, not to mention the cost.
But not everyone needs to market on the oversaturated social networks and platforms. In fact, there are plenty of underutilized websites that can help you generate real estate leads. Here are 9 examples that are ready for a savvy real estate agent to exploit.
Reddit
Reddit is a news aggregation and discussion website. It is built on thriving subgroups (called subreddits) that post and comment on similar topics. Reddit has dozens of real estate-related subreddits including, real estate investing, commercial real estate, homeowners, and real estate finance. The main subgroup r/RealEstate has more than 132,000 subscribers. As a real estate agent, you have a body of knowledge that could be useful to many of the redditors in these groups. If you are able to integrate yourself into the community and provide high-quality contributions, you may convert some to leads.
Stack Exchange
Stack Exchange is a Q&A forum. Born out of the computer programming community, the platform now spans 173 individual sites covering topics from mathematics to interpersonal skills. The Personal Finance & Money Stack Exchange could be particularly useful for real estate agents. The real estate tag (or sub topic) includes daily questions from the community. The more answers you provide the more "reputation" you get within the site and the more likely you are to convert leads.
HARO
HARO or Help a Reporter Out is a public relations service that connects reporters with experts. The site is used by 55,000 journalists and bloggers in the English-speaking world, all of whom are looking for quotes for their work. By establishing yourself as a source for high-quality information, you can spread your brand to consumers of the news media.
LinkedIn
Most real estate agents use LinkedIn as a static, online resume. While this is not wrong, it is suboptimal. Like many other social networks, LinkedIn allows clients to post and share content. By making a showcase page, LinkedIn allows you to highlight an individual brand or product. You can post listings and content and other users can follow it.
Craigslist
Craigslist is a platform for classified ads, ranked among the top 20 websites in the United States. Most people know Craigslist as a marketplace for second-hand goods, but it also has a sizeable real estate community. Many sellers post to Craigslist, which presents an opportunity for real estate agents to market to FSBO leads. But agents also can market their own listings in the real estate wanted section.
Spyfu
Spyfu is SEO analytics service that allows you to analyze a website and learn how it is generating clicks. While the main service is paid, Spyfu provides snap shot free of charge. This includes organic keywords, paid keywords, Adwords history, organic ranking, and more. Spyfu is a good site to learn what other successful agents are doing to generate leads.
SimilarWeb
SimilarWeb is another web analytics service that allows for competitive analysis. Like Spyfu it provides a round up of how a website generates traffic. But it also provides information on the competitor as a whole by including information about the company, its employees and its social media presence. New real estate companies can use SimilarWeb to evaluate the market and improve their lead generation techniques.
Meetup
Meetup.com is a service to meet like-minded people in your area. As a member you can create or join groups and attend local, in-person events. As a real estate agent, meetup provides a good way to expand your personal network outside the people you see on a regular basis.
Wikipedia
Wikipedia is the classic, open collaboration online encyclopedia. The site is known for its breadth of content as well as its longevity. Now 18 years old, the site still ranks as the fifth most visited site in the world. If you can produce original, informative content, you can use this information to improve wikipedia articles and link back to your website. It's a backlinking strategy that still produces leads.
So now you know some underutilized websites that can help you generate real estate leads. Get to it! Leave any questions or feedback in the comments below. For more lead generation content, check out 8 Facebook Video Tips for Real Estate Agents.