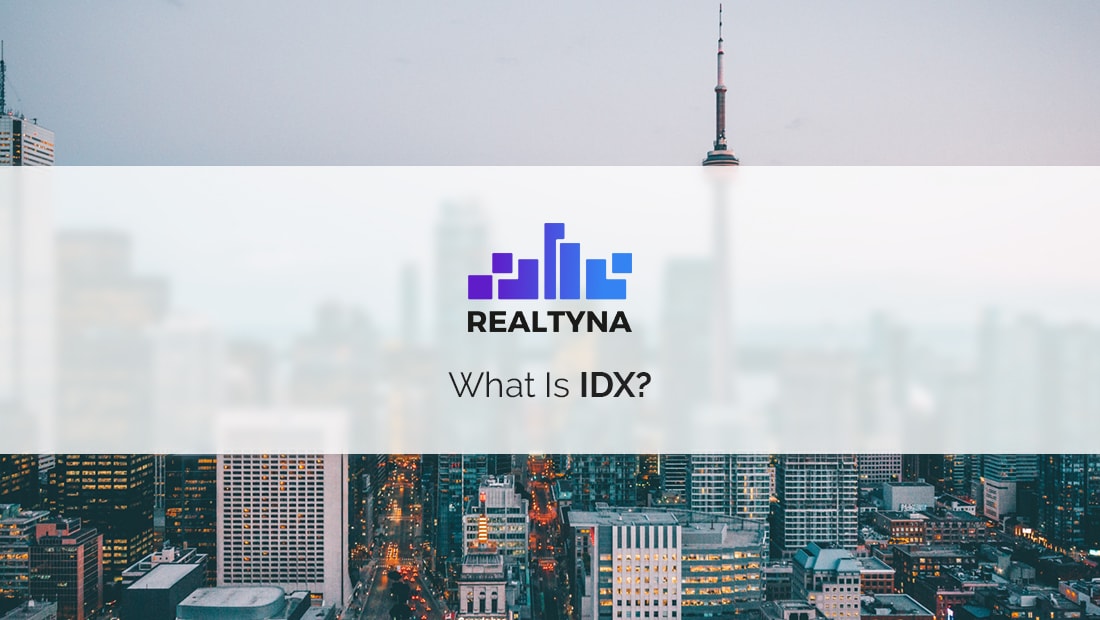 What is IDX: Everything You Need to Know
17 Oct 2023

Posted at 00:00h
0 Comments
IDX or Internet Data Exchange is why you and I are able to browse MLS listings online. More specifically, IDX is the set of rules, licenses, and technologies that allow real estate agents to access MLS listings, integrate them on their websites, and display them publicly.
Since the mid-1990s, the Internet has taken a larger and larger role in the real estate industry. As recently as 2017, the National Association of Realtors (NAR) said that 51 percent of homebuyers found the home they purchased online. The percentage is even higher for young people.
This is largely thanks to IDX and the availability of property listings online. We created this article to provide a comprehensive look at IDX. We'll go point-by-point through its various aspects and provide everything you need to know about what it does, why it exists, and the advantages it offers.
For quick access to each topic, simply click on the title and you will jump to:
The Rise of IDX
The history of IDX (Internet Data Exchange) can be traced back to the early 1970s when the first real estate MLS (Multiple Listing Service) systems were developed.
In the early 1990s, the first IDX systems were developed. These systems allowed real estate agents to make their listings available on the Internet, and they quickly became popular with home buyers and sellers.
The early IDX systems were not very sophisticated, but they made a big difference in the way that real estate was marketed. They allowed home buyers to search for listings online, and they gave real estate agents a way to reach a wider audience.
Over the years, IDX systems have become more sophisticated. They now offer a wide range of features, such as the ability to filter listings, save searches, and contact agents. IDX systems have also become more accessible to the public, and many of them are now free to use.
Today, IDX is an essential tool for real estate agents and home buyers. It allows agents to market their listings to a wider audience, and it gives home buyers a convenient way to find the perfect property.
Here are some of the key milestones in the history of IDX:
1970s: The first real estate MLS systems were developed.

1990s: The first IDX systems were developed.

2000s: IDX systems become more sophisticated and accessible.

2010s: IDX systems become the standard for real estate marketing.

2020s: IDX systems continue to evolve, with new features and functionality being added all the time.
Why Does IDX Exist?
IDX exists to help real estate agents market listings, attract leads, and close more sales. By displaying listings online, agents can reach a larger audience and better match available homes to prospective buyers.
Before IDX, MLS listings were essentially closed to the public. When a homebuyer began looking for a home, she hired an agent. This agent searched the MLS database, looked for properties that matched the homebuyer's needs, then showed them.
It's not hard to see the problem. How would an agent know what properties matched the buyer's needs better than the buyer herself?
The growth of the Internet provided opportunities to solve this problem. If agents could market listings online, they could reach more potential buyers, and encourage buyers to take a more active role in the buying process. The NAR developed IDX to make this possible.
Are you interested in US MLS databases? Visit our MLS coverage page.
How Does IDX Work?
IDX works by setting rules for brokers to pool listings, granting licenses for agents to access and use these listings, and providing technologies to display these listings on an agent's website.
To begin allowing listings to be displayed online, the NAR wanted structure. The Internet, after all, is a decentralized, largely lawless venue. IDX ensures that MLSs maintain control of their listings and that everyone plays by the rules.
Difference between Free IDX and Paid IDX
In this video, we delve into the critical realm of real estate websites and how the choice between free and paid IDX solutions, particularly focusing on Realtyna's IDX plugin, can significantly impact your website's search engine optimization (SEO) performance.
https://youtu.be/8Yw0t1hWNYg?feature=shared
How to Add IDX to A Website?
Adding IDX to a website can be done in a few different ways. The most common way is to use an IDX provider. An IDX provider is a company that provides IDX services to real estate agents.
IDX providers typically offer a variety of features, such as the ability to display listings from multiple MLSs, customize the look and feel of the listings, and track the performance of the listings.
If you are interested in adding IDX to your website, follow the guide we prepared on How to Add IDX to website.
What Is an IDX Feed?
An IDX feed is the data connection between an agent's website and the MLS that provides listings for display and updates these listings periodically as new properties come on the market and others close or expire.
To display MLS listings on your site, you need a link to the MLS. The IDX feed provides this link. In some cases, your site will link directly with the MLS and import listings. In other cases, your site will link to a third-party IDX vendor and display listings from their site.
The specific details of the IDX feed depend on the IDX technology used.
If you want to know more about IDX Feed, check out our article What is an IDX Feed.
What Is an IDX Plugin?
An IDX plugin is software sold by an IDX vendor that works at the receiving end of the data connection from the MLS. The IDX plugin accepts the raw MLS data and repackages it so it may be displayed on the agent website in a human-readable form.
The problem is that IDX feeds send data in a coded form that cannot be understood by itself. So many IDX vendors sell plugins to interpret this data and tell it where to appear on the website so that the numbers that correspond with price appear in the price field.
As an example, consider Realtyna's WPL plugin. This is a software package we've developed to help establish IDX on a WordPress site. Clients that install WPL are able to connect a RETS feed. WPL accepts this RETS feed and redirects each piece of data to the correct place on the client's site.
What Is an IDX Vendor?
An IDX vendor is the company that accesses the MLS on behalf of an agent and does the technical work necessary to establish a data connection between the agent's website and the MLS database.
Realtyna is an IDX vendor that provides IDX solutions for any kind of website and platform. Read full information on MLS IDX integration.
What Are the Advantages of IDX for a Real Estate Agent?
IDX offers several advantages for agents, including the ability to market properties to a larger audience online, engage home buyers more fully in the home-buying process, and integrate property listings with other useful content for those who are active in the real estate market.
More and more leads are using the Internet to shop for homes. IDX can help agents access those leads. Those that choose not to use IDX, may limit the number of leads they capture or find it hard to compete at all. Here are a few other Advantages of using IDX:
Increased visibility and traffic. By displaying MLS listings on their website, agents can attract potential clients who are searching for properties online. This can lead to more leads and sales.
Enhanced property search capabilities. IDX allows potential clients to search for properties by various criteria, such as price range, location, number of bedrooms, and more. This makes it easy for clients to find properties that meet their specific needs and preferences.
Improved lead generation. IDX can help agents generate leads by providing them with contact information for potential clients who have expressed interest in a property. This information can be used to follow up with leads and nurture them into clients.
Increased credibility. By displaying MLS listings on their website, agents can demonstrate to potential clients that they are legitimate and have access to the latest property information. This can help to build trust and credibility with clients.
Streamlined workflow. IDX can help agents streamline their workflow by automating the process of updating their website with new listings. This frees up agents' time so they can focus on other aspects of their business, such as marketing and client service.
What Is an IDX Real Estate License?
An IDX license is the agreement allowing an MLS member or vendor to access the MLS database and import listings for use in IDX. This document sets out the legal requirements of the various parties involved in setting up an IDX.
The terms of the IDX license vary by MLS, but many state what the MLS promises to provide, what the member or vendor may not do upon accessing the listings, and set out the terms of responsibility if any rules are broken.
What Is Broker Reciprocity?
Broker Reciprocity is the IDX rule that provides collective permission to display MLS listings. A broker that opts into IDX grants the right to other participants to display his listings and receives the right from other participants to display their listings. In practice, Broker Reciprocity and IDX are used interchangeably.
In researching IDX, you'll surely come across the term Broker Reciprocity. For all intents and purposes, they are the same thing. Some MLS call it IDX; some call it Broker Reciprocity. They all provide the same service to agents and brokers.
What Are the Rules For IDX?
IDX rules provide the terms of use for IDX participants. They cover what an agent may do with IDX listings, how they must be displayed, how often downloads must be synchronized with the MLS database, and more.
For example, most IDX rules state that IDX listings may not be distributed to any person other than the agent, they must be displayed as is without any alterations by the agent, and downloads must be refreshed at least every 12 hours.
Here are some other important rules of IDX:
Obtain the seller's consent. You must have the seller's consent before you can post their property listing in IDX.
Get approval from the MLS or listing broker. The listing must be approved for display by the MLS or listing broker before it can be featured on your website.
Do not alter the listing information. You cannot alter any information in the listing, such as the property features or price.
If you prohibit your listings from being displayed in IDX, you cannot share other IDX participants' listings on your site.
Policies Applicable to Participants' IDX Websites
Here we present a comprehensive guide on NAR's IDX regulations.
MLS should be notified by the participants about their intention to display IDX data. MLS also should have direct access to the displayed data to ensure it complies with NAR rules and policies.
IDX-provided listings should be used for the sole purpose of IDX display.
If a seller doesn't want the property addresses to be displayed on the Internet, real estate professionals should comply with clients' wishes and not display it on IDX.
The display of the IDX listings can be based on such factors as:"…geography or location ("uptown", "downtown", etc.), list price, type of property (e.g., condominiums, cooperatives, single-family detached, multi-family), cooperative compensation offered by listing brokers, type of listing (e.g., exclusive right-to-sell or exclusive agency), or the level of service provided by the listing firm. The selection of IDX listings to be displayed must be independently made by each participant. "
The displays and the MLS downloads should be refreshed not less frequently than every 12 hours to provide consumers with the latest data.
As NAR states:" Except as provided elsewhere in this policy or elsewhere in an MLS's rules and regulations, an IDX display or participant engaging in IDX display may not distribute, provide, or make any portion of the MLS database available to any person or entity."
IDX participants must clearly identify the brokerage firm while displaying the IDX content with distinguished colors and typeface. But NAR also acknowledges that in certain cases, disclosures may not be displayed that way, therefore:"… This policy acknowledges that certain required disclosures may not be possible in displays of minimal information (e.g., "thumbnails", text messages, "tweets", etc., of 200 characters or less) or for audio delivery of listing content. Minimal displays are exempt from the disclosure requirements established in this policy but only when linked directly to a display that includes all required disclosures. Audio delivery of listing content is exempt from the disclosure requirements only when all required disclosures are subsequently delivered electronically to the registered consumer performing the property search or linked to through the device's application."
IDX participants should be able to receive feedback and comments about the accuracy of the displayed listing. Participants should remove false information if they receive such feedback from the listing broker/ agent."…However, the participant shall not be obligated to remove or correct any data or information that simply reflects good faith opinion, advice, or professional judgment."

Participants are not allowed to provide IDX listings to outside parties that are not part of the IDX exchange.

Participants are not allowed to modify information to make the listing look more appealing to the audience.
What Are the Different Internet Data Exchange Technologies?
There are four main IDX technologies: IDX Framing, FTP, RETS, and RESO Web API. Each of these technologies uses a unique method to access an MLS and import listings, and each has its strengths and weaknesses.
IDX Framing
Under IDX framing, your site will display listings that reside elsewhere on the web through a design feature known as a frame. Framing is one of the simplest and fastest ways to set up IDX on your site, but offers virtually nothing in the way of SEO.
FTP
Under FTP (or File Transfer Protocol), the listings displayed on your site reside on your website servers. This provides more SEO value than framing. However, the way FTP transfers data is burdensome and inefficient. For each synchronization, the entire FTP file must be downloaded. This limits the number of syncs you can have each day and means your site may not have the most up-to-date information. More information on FTP meaning in Real Estate.
RETS
RETS or the Real Estate Transaction Standard provides a faster way to transfer and display listings. Rather than requiring a full file download, RETS updates listings incrementally. This allows for more listing updates while maintaining the strong SEO established under FTP. Read More on rets definition.
RESO Web API
The RESO Web API is the newest IDX technology. This technology uses an API or Application Programming Interface to call listings directly from an MLS and display them on an agent's site. This continues the strong SEO methods established under FTP and RETS while reducing the need for local hosting.
Why Choose Realtyna as your IDX provider?
Realtyna is one of the best IDX vendors in the industry, trusted by over 10,000 real estate professionals. We offer a comprehensive suite of features and benefits that can help you grow your business. Contact us for whatever information you need about IDX.
Watch this video to fully understand about our IDX integrations types: