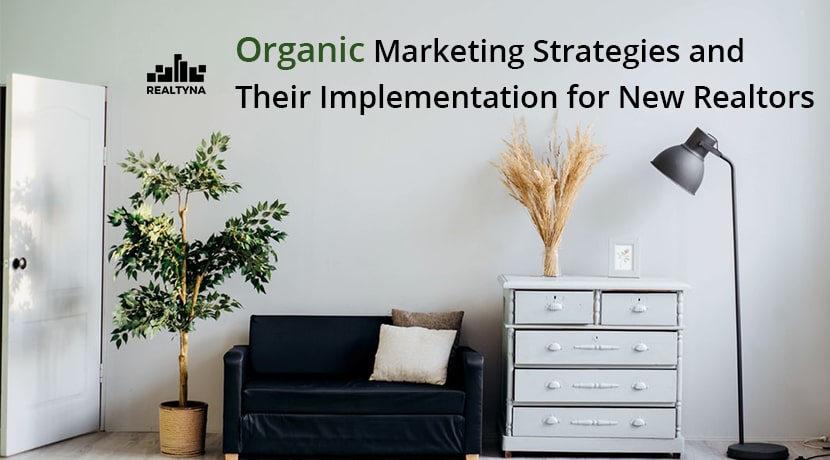 Organic Marketing Strategies and Their Implementation for New Realtors 
25 Apr 2020
Posted at 11:00h
0 Comments
Overview
Entering the real estate market is always challenging. Since you are a new and probably emergent business among those who are more experienced, you may need some help. In my opinion in this market, all that matters is lead generation. Small businesses are more on a tight budget. Often, they are not eager to pay for marketing and lead capturing. So, I will try to explain the difference between organic and paid marketing and introduce some organic strategies for your business to follow.
What is Organic Marketing?
I believe investing your time and energy in an organic marketing strategy is one of the most important steps you can take for developing your brand and getting known by your target audience. Organic marketing in general means you are not paying for advertisements or sponsored content to bring the traffic to your real estate website. While implementing this marketing strategy you should be patient because it takes time to spread your words and establish your brand among your fans. However, the captured leads would be more loyal and dedicated. Since genuine connections can not be bought even prosperous companies with sufficient funds also use organic marketing. In a nutshell, organic marketing is all about growing your audience naturally and without paying a penny.
What is Paid Marketing?
Paid marketing or outbound marketing is the exact opposite of organic marketing. It means you are paying money for your advertisements to be seen by people. The point here is that all the people seeing your campaigns on different platforms are not necessarily interested in your services. You are just increasing your visibility in the hope to boost your sales. However, you can see the results very fast since it boosts the traffic immediately regardless of what stage your business is really in.

How to Create an Effective Organic Marketing Strategy?
For organic marketing, your goal should be to create the content people are looking for and simultaneously make sure it is easy to find. So, there are a few steps you need to consider while planning your organic marketing strategy:
Content Building:
Content building is a fundamental step in establishing your organic marketing strategy. Define your audience, know their needs and try to answer their questions. The basic content areas are your website, blog posts, videos, podcasts, and infographics.
Optimize blog contents and pages to be found online. Search engine optimization (SEO) helps your entire website to rank higher on Google results pages, not just your blogs' contents. Since SEO is kind of complex and changing constantly, big companies often have an experienced person on board from the beginning to manage it properly. But you do not need to freak out. To put it simply, try to do research on the keywords in your market and use them in your posts and blogs more often.
Use Targeted Inbound/Outbound linking Strategies:
You can share your content on social media platforms as a way of boosting your traffic. As long as you are not paying them any money to promote your posts, it is completely organic. Try these platforms based on your targeted audience: LinkedIn, Pinterest, Facebook, Twitter, Instagram. Remember that you are trying to generate revenue, not just the exposure, so make sure that all your posts will link back to your website. Make sure you are using eye-catching pictures and videos to get more attention. Use fascinating texts. The most important thing about social media presence is being active and posting often.
Implement Call to Actions (CTA):
This procedure ends in turning a website visitor into a paying customer. This will help or lead people to buy from you. As an example, on a blog post, you can point your readers to your products and services. Try to include one CTA in each blog post or content page.
Develop Relationships and Connections:
Try to find the market leaders in your niche and make connections with them by joining their forums, leaving comments on their blogs, sharing their content, reviewing their posts, liking those posts, and even becoming affiliates with them. You can also consider guest blogging. This gives you the opportunity to post on their platform and get in front of their fans, and then you do the same for them.
Conclusion:
I believe the most interesting thing about organic marketing is that it helps you be found by the people who are looking for your offers and are already motivated. As I mentioned before, organic marketing takes time. However, undoubtedly it will help boost your traffic and income at the end. If you are thinking about growing your real estate business organically call us here at Realtyna. We will make sure you receive the proper help.
For more information about organic marketing strategies for real estate see the following blog:
Major Real Estate Advertising Practices and Their Implementation on Facebook and Inbound and Outbound Marketing Strategies for Real Estate: Guide 101
Question or feedback? Leave us a comment.