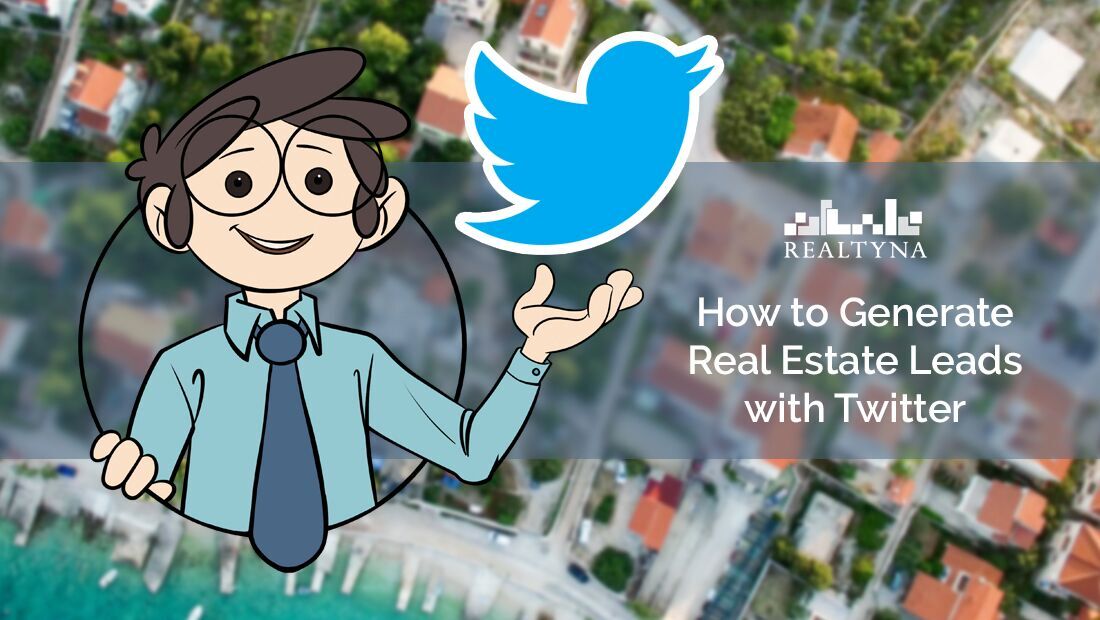 How to Generate Real Estate Leads with Twitter – Realtyna Blog
20 Mar 2018

Posted at 20:07h
0 Comments
To succeed on Twitter you need to understand Twitter.
This is probably the biggest stumbling block for agents and brokers using the platform.
Most use and understand Facebook. Then they take a similar approach to Twitter.
But Twitter is much more interactive. It's more incremental.
Your Tweets won't take much time to create.
But you may find that Twitter requires a higher posting frequency.
Here are some tips on how to generate real estate leads with Twitter.
USE IMAGES
Twitter has its own culture and nuances.
But it's also a social media platform, so visual content matters.
Tweets that include images receive more clicks, favorites, and retweets.
Does this mean all of your tweets need images?
No, you will probably be posting too frequently for that.
Instead think about your most important tweets—the ones you want to have legs.
Use images for these tweets and they'll travel farther.
COMPLETE YOUR PROFILE
Your Twitter profile is a key way to introduce yourself to future leads.
So make sure it is complete and up-to-date.
Use a professional headshot and gripping background image.
Try to put as much information about yourself as possible in your profile.
And make sure you include a link to your website.
For more, check out our blog post on creating a strong agent bio for you real estate website and social media.,
SHARE CONTENT WITHIN YOUR NICHE
Real estate marketing online is all about narrowing your business focus and creating a niche.
Twitter is a great place to further this.
Use keyword search to find content about a specific neighborhood or property type.
Engage with this content by commenting and retweeting.
And add to it by tweeting your own content using the same hashtag.
USE HASHTAGS
Two words about hashtags: Use them.
Having at least one hashtag increases engagement.
So try to find the hashtags that fit your brand and niche.
And employ them regularly.
NETWORK
Networking is huge in real estate.
It's how agents develop connections with people and businesses that can provide referrals.
We've gone into detail about the best practices to boost your real estate networking.
Twitter is a great place to put these in practice.
Use the search features to find lawyers, lenders, financial planners, tax service providers, and others that might be able to make referrals for you.
Engage with them. Retweet their content. Develop a relationship that you both can benefit from.
USE POLLS AND RETWEET CONTESTS
Polls and contests can be a great way to keep up your activity on Twitter.
They are especially useful when you are lacking new tweet ideas.
Think of some of best of lists from your property portfolio.
Create polls or retweet contests from these.
And hold on to them for a day when you are struggling to tweet.
DEMONSTRATE MARKET EXPERTISE
Twitter also is a great place to develop your market expertise.
You can engage in advanced discussion on market trends with colleagues.
You can tweet your take on news and events that might shake up the market.
And if you have access to market statistics you can tweet these in graphical form.
After all, your visual content does not need to be limited to photos and gifs.
It can be graphs and charts too.
LUKES TIP #1
POINT BACK TO YOUR BLOG
Don't forget your ultimate aim here.
You are on Twitter to generate leads.
To do this you need a chance to convert them.
So link back to you website and blog where you can use your lead capture tools to learn more.
Follow these tips, and you'll soon learn how to generate real estate leads with Twitter.