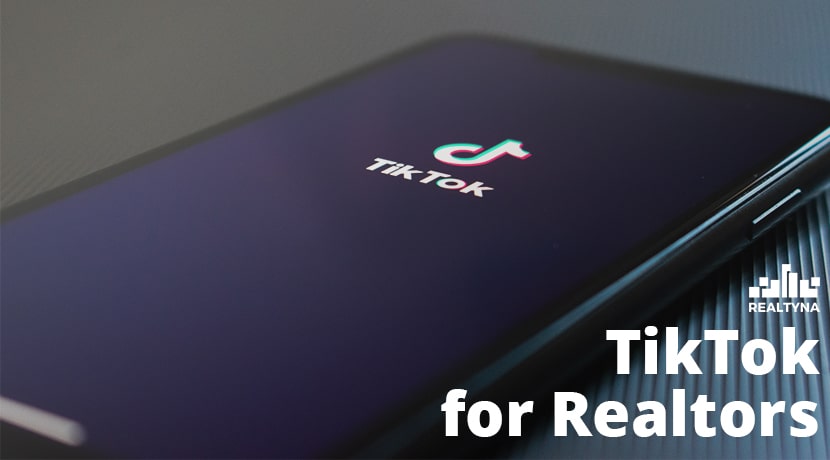 Is TikTok a Good Social Media Platform for Realtors?
21 Jun 2020

Posted at 11:00h
0 Comments
TikTok is a social media channel that has become very popular recently. Many business owners, who want to take their business to the next level are on TikTok now. Even realtors have started using the social media platform to get noticed and target certain market segments. But how and why should you use TikTok for real estate?
In this article, we will provide you with some examples and arguments.
Some Information About TikTok
TikTok is a mobile-based social media app that allows its users to create and edit videos with sounds, filters, and different effects. Users can create and share short and very popular videos. What differentiates TikTok from other social media platforms is fun and entertaining content. TikTok is very popular among the younger generations. The main audiences are Millenials and Gen. Z. But the age range is increasing and the older generations have started using the app as well. Tiktok was the third most downloaded non-gaming app in 2019. In January 2020 in the platform achieved a 400 million daily active users. We must note that its popularity has even increased during the coronavirus lockdown. More people started to record videos, share, and comment on other videos.
There are different ways to become popular in TikTok. Mostly, people try to appear on the "For You" page. It's a page that recommends videos to watch when you open the app. So, most TikTokers try to get their videos on that page in order to have more views and engagements. There are different strategies to get your TikTok videos on the "For You" page. Users often try different hashtags like #foryou, #FYP, and #foryourpage. But ultimately it comes down to content. In order to get on the "for you" page, you need to have short and attractive videos that might be very interesting for users.
TikTok for Real Estate
Like other social media platforms, TikTok can be beneficial for real estate professionals. Realtors, who have understood the importance of it, have already started to use the platform. There is already a hashtag #realtor on TikTok.
But why should realtors consider it?
The popularity of TikTok is increasing on a daily basis. So, the earlier you will become a "player," the better it will be to establish your brand there.

If you are going to target Millennials and Gen. Z it's the right platform for you.

Baby Boomers have noticed TikTok and more and more of them are joining the platform.

Creating funny content will help you to have a different approach with your clients and allow them to see your personality and maybe your hidden talents.
How Should You Use TikTok for Real Estate?
There are different things Realtors can do on TikTok to be successful.
Showing houses– In a well-recorded video you can show a house, how it looks, and some beautiful and attractive elements there. You can add sounds or music to make your video more effective.
Showing neighborhoods–Buyers want to see the neighborhood. So, think about what might be in the neighborhood that is special or that might differentiate the area from others. Record a video and post it on TikTok.
Add some fun-While holding your camera and taking videos, some funny things might happen. Some of them might be interesting for your audience as people love seeing what's behind the scenes.
Explain some important data-Think what might be useful information for your clients. Then, record videos about it. But always make sure that you are using different effects so the information is easy to receive.
Few Final Words
Based on what we mentioned in the article, we can say that TikTok is something every realtor should think about. This is especially true for realtors who want to be notable everywhere and target Millennials, Gen. Z., and luxury homebuyers.
Did you find the information useful? See our blogs: Instagram for Real Estate Business in 2020 and Pinterest for Real Estate Marketing.