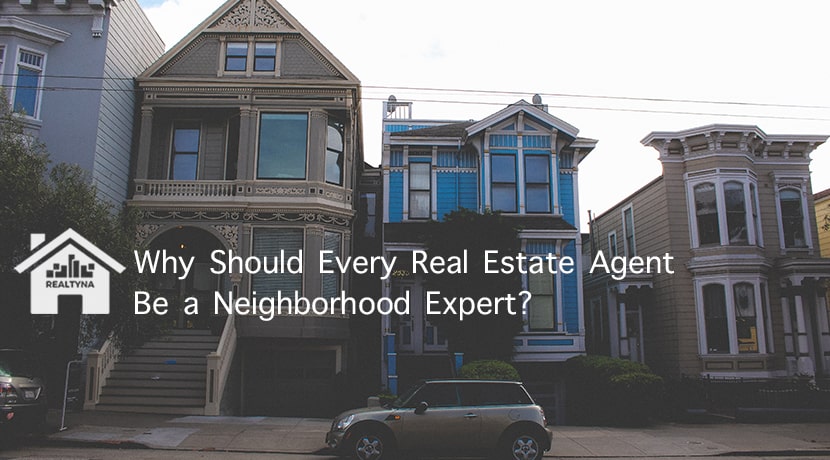 Why Should Every Real Estate Agent Be a Neighborhood Expert?
18 Mar 2020

Posted at 11:00h
2 Comments
What impacts a buyer's decision making process most? Besides price, the property condition, and the environment, there is one more and the most important thing. It's a neighborhood. Why do buyers worry about the neighborhood so? Because they are choosing their future home and they want the place to be good for living. They want to know what the neighborhood is like, what kind of schools are there, and what is the average income. Even transportation issues affect their decision making. In this article, we will discuss why real estate agent should be a neighborhood expert and how you can become one.
Why Should Real Estate Agent Have Neighborhood Information?
Today, with the help of new technology, clients are able to search properties online, and sellers can market their listings with the help of different portals. But did you know that in 2019 89% home buyers purchased their homes through a real estate agent or broker.
The numbers show how important real estate agents are for buyers and sellers. People want to communicate with agents because they trust them. Agents win trust because they have valuable information, information that can't be found in online portals. Also, agents have experience. They can help make sure the surrounding area is good for a family, the school in the neighborhood is good.They can also help you understand the average home value in the area you want to invest money in.
Neighborhood information is one of the main reasons that impacts home buying decisions. More buyers are searching for homes based on neighborhoods. That's why it's crucially important for real estate agents to own data about neighborhoods. Your clients should know that you aren't just an informed agent, but also, expert of the place you are working.
How Can an Agent Become a Neighborhood Expert?
There are different things you can do to become a neighborhood expert in a certain area. The most important thing is to start with a place that is familiar to you. This may be a place where you grew up or other neighborhoods where you spend your time. If you already have some kind of information about a certain community, it's easier to be an expert.
Also, own as much data as you can. Knowing more about a neighborhood than others will be a guarantee for your leads that their investment won't be a failure. You can connect different demographic data. Collecting data such as: population median income, average home value, the average age of population, distance to downtown, school rating and tax rate is one of the most important things to do.
Once you become an expert, stay an expert. This means that you should always be aware of current market changes and how the place is developing. You also may be able to predict how the population is changing in the area. What will be the average income and average home value in the future? It's good not only for your clients, but for you too. Once you can predict the future of the real estate market, you can have better strategies for your real estate business.
You can also join local groups on social media. Believe me, this kind of group will provide you with even more information than you can imagine. Moreover, you can join homeowners associations. This kind of activity will give you the data buyers will love.
You Are an Expert-Show It on Your Website
Once you've gathered the data you need and became an expert in a certain neighborhood, it's very important to have this kind of information on your website too.
Here are some statistics to prove our point: for 44 percent of recent buyers, the first step that they took in the home buying process was to look online at properties for sale. So, before contacting the agent, some people just see listings on the websites. Imagine you have these listings and also information about the neighborhood. This makes buyer's lives easier and in some cases, they may hire you.
You can use Realtyna's Neighborhood Add-on and create individual pages for each neighborhood, including images, videos, features and description. You can also, create a hierarchy of neighborhoods/communities, assign listings to neighborhoods, show the center of the neighborhood on a map, and create a neighborhood listing page and menu. Moreover, you can create a carousel widget and show multiple neighborhoods more effectively.
Did you find the information useful? See our blogs: Do Realtors Have Access to More Real Estate Data Than The General Public? and How MLS Integration and WPL Neighborhood Add-on Can Help Realtors Promote Their Websites.
Question or Feedback? Drop a comment below.