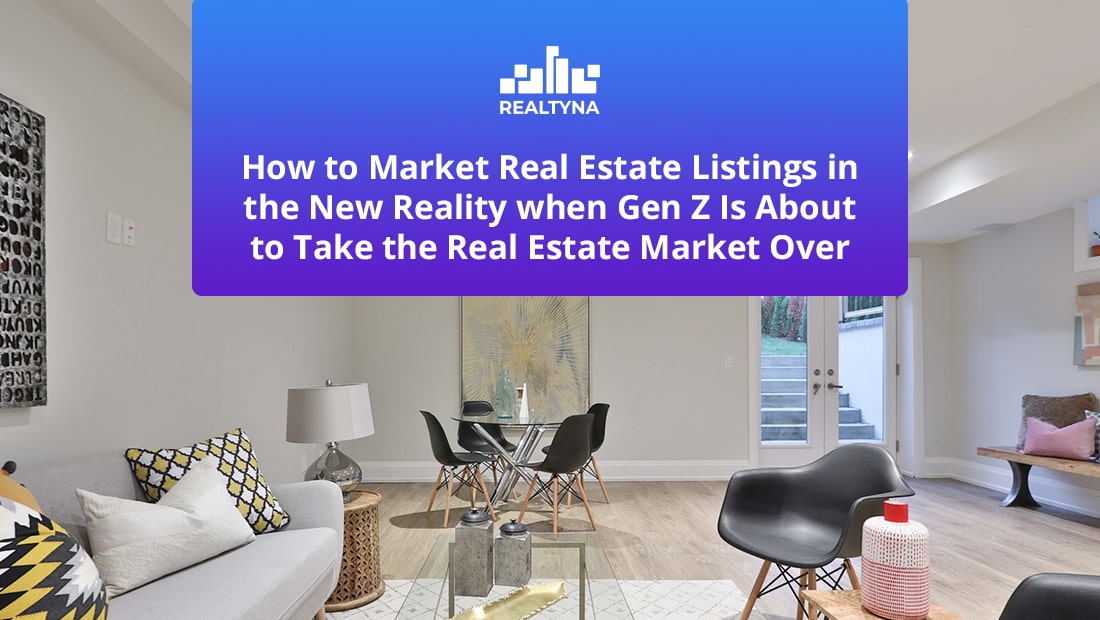 How to Market Real Estate Listings in the New Reality — Gen Z Is About to Take Over
The real estate market is about to enter a new reality, a reality where Gen Z is a prevalent real estate buyer. What does it mean for real estate agents and realtors? And most importantly, how can agents advertise listings in this new reality when gen z is about to take a real estate market over?
Before we jump into the new marketing strategies, let's check out who is Gen Z and what makes this generation so special?
Gen Z aka iGen, or Centennials
Gen z is a generation born between 1996-2010. It is the generation that came after millennials—one of the most prevalent generations in the real estate market nowadays. Gen Z is the first generation that was born in a world where technology was an integral part of our daily life. Gen Z doesn't know life without the Internet, mobile applications thus the marketing and promoting approach should be different.
Here are some notable differences between Gen Z and Millennials:
They are more ethnically diverse.

They're tech-savvy, the first generation born in the world that is fully digital.

They're motivated to purchase the home of their dreams, and they are also willing to work with real estate agents. The difference is in the channels where they can be reached, such as Snapchat, Instagram, Twitter, and Tumblr. These are the most popular social media platforms for Gen Z. Considering the fact that Gen z (aka digital natives) prefer online shopping and purchasing, these social channels should be a prime focus of real estate agents aiming to capture the attention of Gen Z.

Good online reviews are the epitome of trust for Gen Z.

Gen Z is highly educated, but they also tend to have high student debts
Mobile Apps
We already have mentioned Gen Z is the most mobile-oriented generation. On a daily basis, Gen Z uses smartphones for more than 6-9 hours. Just imagine that someone downloaded your app on their smartphone and are constantly seeing it on their screen. It will certainly add more visibility and recognition to your brand.
Aside from recognition, the fact that customers downloaded your app on their phone and took the precious memory of the phone is already a sign of loyalty and that customers are seriously interested in your brand.
We strongly believe that having a mobile app will benefit real estate agents who are trying to connect with Gen Z customers.
Often, mobile apps are easier to access and can be accessed to some level offline. It is a big advantage that websites don't have.
Snapchat
Even though not many agents are using Snapchat for marketing purposes, it's truly a place where both Millennials and Gen Z engage most. Snapchat, in addition to Twitter and Instagram, are some of the most popular social media platforms mostly oriented toward Millennials and Gen Z. However, recent years have seen a growth of mature audiences as well. Snapchat has a big potential for real estate agents. To learn more about Snapchat for real estate agents, check out this article
Twitter
A generation born after a huge technological revolution, Gen z expects brands to have a different approach to their customers. They no longer want a faceless company they can not relate to. On the contrary, a company that has, let's say, personality is way more likely to succeed nowadays. In the midst of a huge business development that our world is seeing, brands need to establish themselves apart from their competitors. How? They do it by showing their personal values. Twitter is the best platform for that. Not only can you post usual content such as listings or links to your blogs, but also show your personal values, in-depth expertise, and opinions that way connect with your audience.
P.S Interested in marketing strategies for real estate agents? Check out our blog How to Generate organic Leads for 2020 and Top Real Estate Email Marketing Strategies for 202