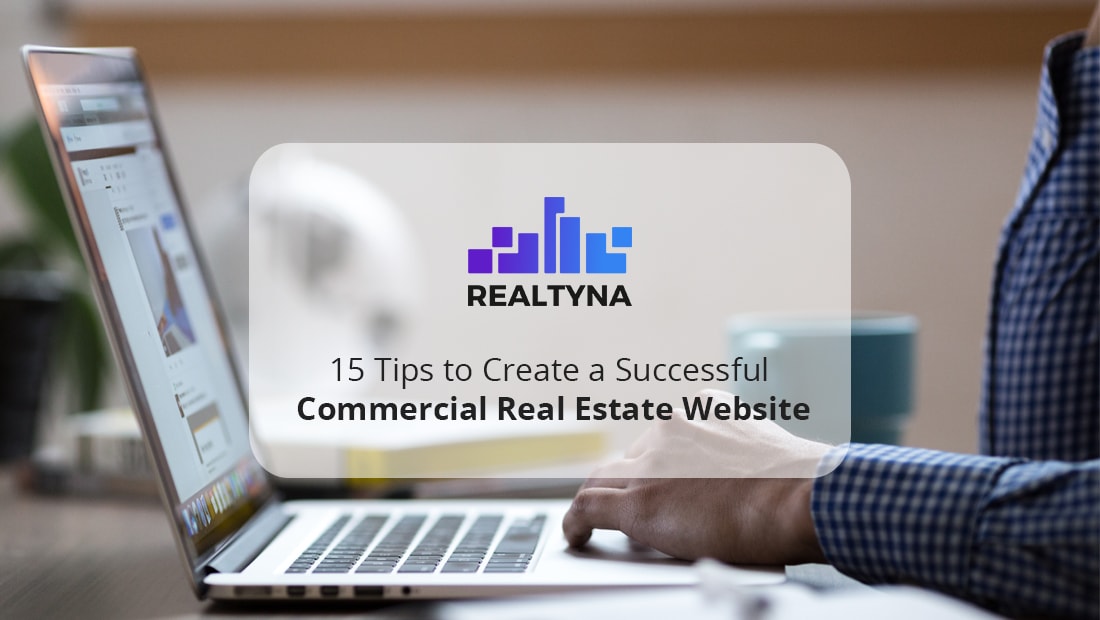 15 Tips to Create a Successful Commercial Real Estate Website
28 Sep 2021

Posted at 11:00h
3 Comments
With more and more commercial real estate transactions occurring online, a robust agent website is as important as ever. Your website will be your marketing platform, communication channel, a resource to learn about your clients, and a mechanism to evaluate your performance.
Below, we've listed some tips to make sure your commercial real estate website is successful.
Set Goals
Good website practices start before you even have a website. Before you dive into your dashboard and start making changes, you should create goals for your website because this will inform the rest of your site.
The goals you set for your commercial real estate website should be specific, measurable and attainable. You should also use sub objectives to set up small and intermediate steps to achieve your overarching vision.
Ex.
Goal 1: Generate $1.75 million in sales from online leads this year
Objective 1.1: Average 250 unique page views per day
Objective 2.1: Publish 3 blogs a week with daily Tweets and Facebook posts
The above goals and objectives would be appropriate for a commercial real estate agent. They help the agent understand that she needs a blog and social media integration on her site.
Storyboard Content
It's also important to map out content before you start building. Create a flow chart of pages and sub pages to develop a hierarchy on your site.
Provide an outline of the content you want on each page, and then create a nesting pattern. This will save you time and energy later in your website build. There's the old saying for carpenters "Measure twice; cut once." This advice applies to commercial real estate websites too.
Optimize for SEO
Virtually all of your website goals are going to require clicks and page views. This means your website needs to stand out online and rank highly. To help you optimize your commercial property website SEO, we offer some tips below:
Host Your Own Data
If you have the opportunity, you should host your own real estate listings via RETS feed or another "Organic" method. This will help boost the SEO content on your site and improve your page rankings.
Url Structure
Keep a url structure that is simple and human readable. It's also good to have to have your urls organized so property addresses are in the second level. If they are much deeper (say on the fourth or fifth level) it could affect that pages' authority and its ability to rank well on search engine results.
Ex.
yourwebsitename.com/properties/123_sample_road
yourwebsitename.com/idx/9rf7/post?ID=77
In the example above, the first url is far superior to the second for SEO purposes.
Titles, Keywords, Metadata
Your listing pages should have appropriate titles, keywords, and metadata. This hidden data will give search engines more information about the pages on your site to help users know what they are clicking on.
Incorporate Calls to Action
Successful real estate agents have long recognized the power of calls to action to increase the engagement on their sites and generate leads. You should incorporate these design features with pop-ups and messages that request a user response. Some popular calls to action include requests to register, requests for a showing, option to save a search and more.
Include Analytics
It's important to provide context to the commercial listings you advertise. Integrating analytics such as average square footage in the area, unit sales by year built, and valuation changes by zip code can empower your clients and keep them engaged on your site longer.
Include Photos/Video
The fact of the matter is that real estate is a visual business. There are countless tools and strategies to create powerful images and videos to support your listings: property tours, directed scenes, VR, drone footage, etc. It's important not to neglect this aspect of the business.
CRM
As clients engage with your commercial real estate site, it's important that you engage with them, learn their needs, and analyze how you can better serve them. A CRM can be very useful in this regard. Zoho CRM (a favorite at Realtyna) will generate reports to help you understand changes in your conversion rate, sales cycle length, and other metrics on a month-to-month basis.
Ask for Reviews
When you close a sale successfully, it's a good idea to ask your clients if they would write a review. Collect a few of these, and then post on your site under client testimonials. This will provide social evidence of your services and reassure first time clients that you are competent and dedicated.
Include Neighborhood Information
More and more, commercial real estate buyers want a holistic view of the listings they are viewing. As a real estate agent, you can provide a huge service here. You know your community better than almost anyone. Create neighborhood pages and add some information about what makes that place tick.
Responsive Design
It's no secret that commercial real estate shopping happens on the go, late at night, on the weekends—virtually at any time and in anyplace imaginable. It's important that your commercial real estate site doesn't fall behind here. Responsive design that can be viewed on a variety of mobile devices is absolutely essential. Custom apps for iPhone and Android should be considered too.
Flexibility for Future Expansion
It's great to build a complete site from the start. But technologies change. Leads change. Business needs change. So it's good to have some modularity on your site. Choose a website platform that grants you flexibility to add new features and upgrade old ones in the future
Focus on a Niche
There are some big aggregators in the commercial real estate industry. Frankly, there is not much you are going to be able to do to outrank these portals for major search terms, at least initially. But you can out rank them on specialty search terms. So find a niche. This could be a specific commercial real estate property type, a neighborhood, or a segment of clientele. Specialize in this niche, and build from there.
Realtyna's Local Targeting Package will help you with that by promoting you locally. To become a local expert you need to think locally. That includes creating niche content, developing your SEO value, establishing your brand locally to outrank real estate giants in a specific area.
Our Local Targeting Package is created specifically for that. We will help you to drive local traffic to your real estate website by targeting the above mentioned problems.
Interlink with Social Media
Social media has greatly expanded the advertising opportunities for commercial real estate agents. You should take advantage of this by maintaining active accounts on Facebook, Twitter, Pinterest, etc. Post new listings on these platforms and provide a way for your website visitors to tweet or like the listings they like. Finally, look into dynamic ads for Facebook to have your listings appear on your leads' feeds.
Integrate Various Listing Sources
There are more commercial listing sources available today than ever before. You can get listings from your local MLS, a third party source, or generate your own. A lot of online real estate software can handle all of these. So diversify your listing sources and provide more options for your clients. They'll reward you by coming back more often and staying on your site longer.
Use WordPress
For your money, WordPress provides the right balance between development potential and usability. With the right software it can support a variety of data feed types. And its plugin system provides the flexibility to mix and match pre-packaged features to build a website that matches your business and vision.
For more on creating a successful Commercial Real Estate website, check out: LoopNet/CoStar Alternatives: How to Build a Commercial Real Estate Site and Outrank the Portals