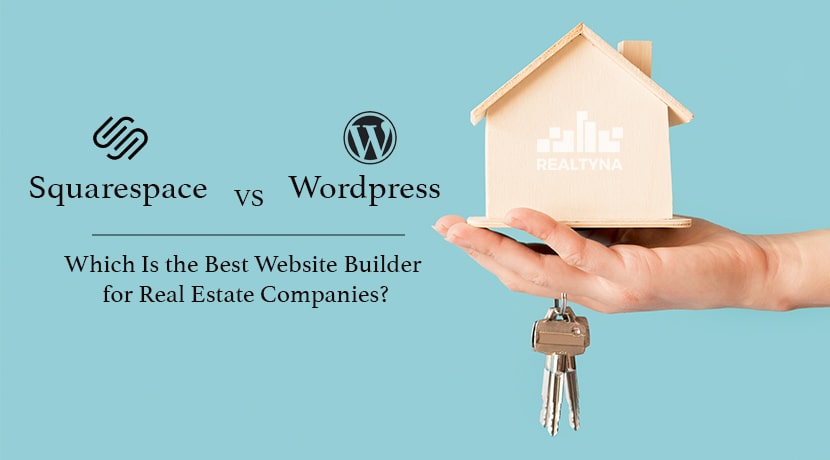 Squarespace VS WordPress: Which Is the Best Website Builder for Real Estate Companies?
29 Sep 2021

Posted at 11:00h
0 Comments
Created in 2003, Squarespace is one of the most popular website builders out there nowadays. Recently, many real estate agents have started asking whether Squarespace may be the best website builder for real estate companies, even better than WordPress. As research shows, WordPress is still one of the most popular real estate website builders, and it will remain in this position for quite a long time. Let's find out why Squarespace is so popular and whether it's suitable for real estate agents.
We will discuss both the benefits and downsides of WordPress and Squarespace.
Squarespace for Real Estate Website
Benefits
Squarespace is known for one of the most beautiful and sophisticated templates. Templates are searchable by categories, so you can find basically every template for every taste.

It's easy to use.

Hosting is included.
Downsides
There is a limited number of plugins and themes.

It's not free.

It's not customizable, which means less flexibility.

Squarespace is not an open source

Even though hosting is included, but the hosting is only possible on Squarespace servers

If you want to have a membership website, Squarespace is not the best choice for you.

If you're planning on creating a multi-language website, Squarespace doesn't give you this option.
WordPress for Real Estate Website
Benefits
WordPress is fully

customizable

.

There is a free plan.

The unlimited number of plugins

The biggest library of

themes

With advanced plans, you can incorporate templates from a third-party marketplace like TemplateMonster and Themeforest.
Downsides
Although it's free to install, some of the plugins require a business plan.

For some, it's not as easy to use as Squarespace, and it requires a little bit of learning

Needs to be installed on web hosting

Final Conclusion
Squarespace is perfect for conventional websites that need basic, typical features. The case with real estate websites is that most of them are not conventional. Most real estate websites need a wide variety of powerful features to be installed in order to offer the best customer experience. That's why WordPress is probably still the best real estate website builder available for real estate companies. It offers real estate agents features like photo and listing portfolios, contact pages, Google Maps integration, social media integration, and more. This is one of the most important features that a real estate website can have.
Considering all the above, we still believe that real estate agents should use WordPress as a real estate website platform.
P.S Interested in other website builder options? Check out our blog .