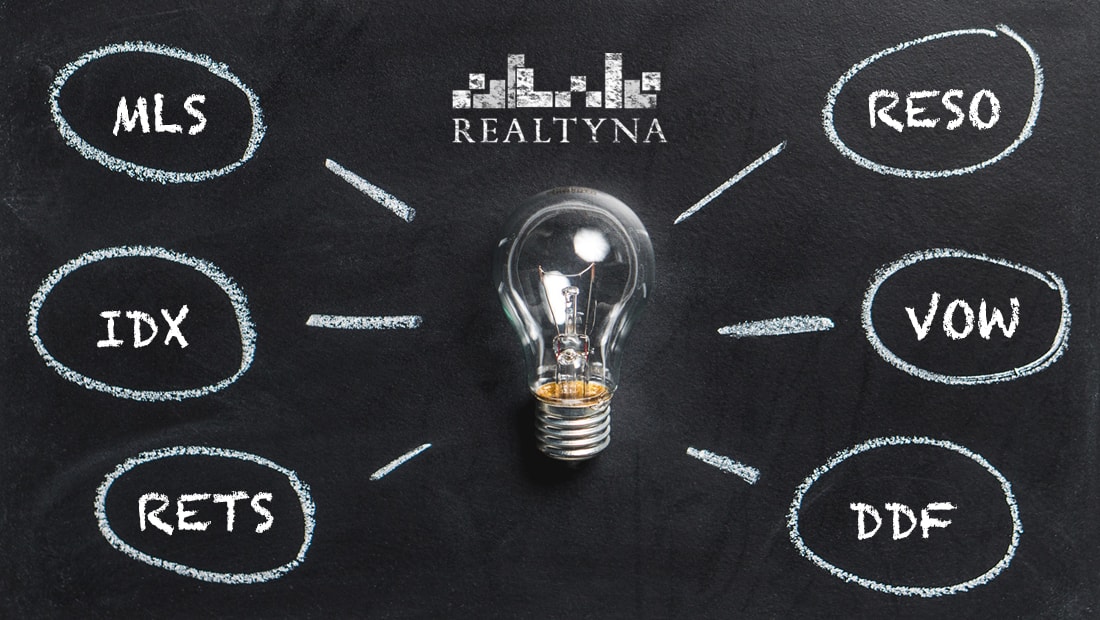 Real Estate Listing Data Explained: What are MLS, IDX, RETS, RESO, VOW, and DDF?
20 Aug 2021
Posted at 11:00h
0 Comments
Please note that the Real Estate Transaction Standard (RETS) has been deprecated and is no longer recommended for use in MLS/IDX integration. Consumers are advised to use the Real Estate Standards Organization (RESO) Web API, which provides a more efficient and secure way of accessing MLS/IDX data. We strongly encourage all users to transition to RESO Web API for a better and more reliable experience. Learn more
Real estate has its own language. And if you are not familiar with it, it can be hard to sort out. We get a lot of client questions about IDX, RETS, and other acronyms. So we decided to put together a sort of glossary of terms. These are some of the most common terms you will come across on this blog and in real estate generally.
This is real estate listing data explained.
Let's jump into it!
MULTIPLE LISTING SERVICE (MLS)
A multiple listing service (MLS) is a database of electronic property listings. They are normally managed by one or more real estate boards. MLSs allow agents and brokers to share information about available properties.
You may be asking: "a database of property listings, what's the big deal?"
In a sense you are right. In today's information age, a database of property listings is no longer revolutionary. It is to be expected. But you have to remember that real estate is among the oldest pursuits in North America. In the 1800's there was very little sharing of real estate information says the National Association of Realtors (NAR).
Agents only had access to the listings held by their own brokerage. The MLS was born out of the need for cooperation in the real estate industry.
What began as informal gatherings in local brokerage offices has evolved over the years. Now MLS consists of massive computer servers that house all electronic property records in a certain region.
INTERNET DATA EXCHANGE (IDX)
An Internet data exchange (IDX) is a portal to view property listings from an MLS on an agent's website.The transition to electronic listings brought new possibilities for agents and brokers. Many began demanding to allow the general public to search available properties online.
But this presented three new challenges for the industry:
Security
A real estate listing is an agreement between an agent and seller to market a property for a time. The listing must remain in control of the agent and only may be public for limited amount of time.
Updates
Listings change constantly as homes come off the market and prices change. Any listing display on an agent's website must be continually updated to reflect market changes.
Feasibility
Many MLS contain tens of thousands of property listings which can be 100 GBs or more of data. It is not feasible for many agents to host this much data on their website servers.
To solve these challenges, the industry turned to third-party companies for new technologies. The solutions they developed are known collectively as IDX. They allow agents and brokers to display property listings securely online.
We have more on the various IDX technologies here.
REAL ESTATE TRANSACTION STANDARD (RETS)
The real estate transaction standard (RETS) is a set of guidelines for electronic property listings.
You need to understand that the real estate industry is fragmented. There is no central body warehousing all listings across the United States. Instead there are more than 800 small and medium-sized real estate boards. Each manages its own MLS.
Without coordination, these boards could package their listings in different formats. This would make it a nightmare to share or combine listings.
So in 1999, NAR created RETS. RETS allows Realtyna to serve clients around the country quickly and easily.
You might hear talk of a RETS server or a RETS feed. A RETS server is a database of electronic property listings formatted according to RETS. It is a data feed of property listings pulled from this server.
A RETS feed is a direct connection to your MLS. The listings on your site are indexible by search engines. This increases the chances your site ranks highly for a relevant web search.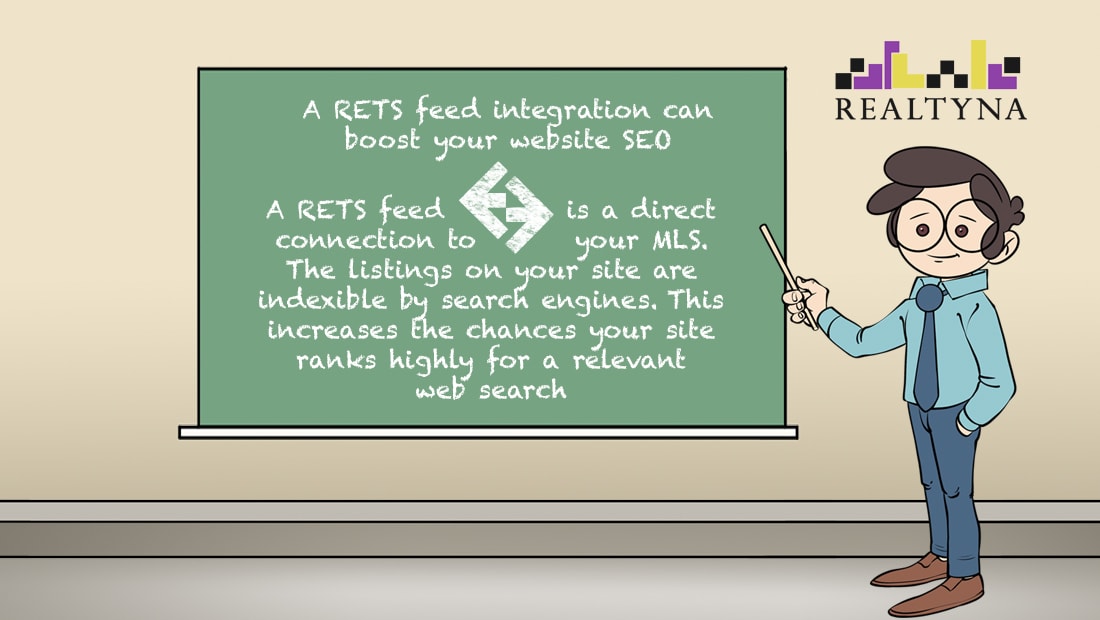 REAL ESTATE STANDARDS ORGANIZATION (RESO)
The Real Estate Standards Organization (RESO) is the real estate industry's standards making body.
Creating standards is a lengthy process. It takes input from hundreds of stakeholders. In 2002, the real estate industry established RESO to develop and implement standards like RETS.
VIRTUAL OFFICE WEBSITE (VOW)
Like IDX, a virtual office website (VOW) is a portal to view property listings online But there is one major difference. VOW typically provides more information than IDX. So there are tighter rules for its use.
For example, VOW may include property sale history. Because of this, VOW requires that users agree to terms of service before accessing the property portal. VOW typically only is available to licensed brokers.The idea is to allow brokers to conduct more business online.
Want to know more about Virtual Office Websites? Check our article on what is the difference between IDX and VOW?
DATA DISTRIBUTION FACILITY (DDF)
The data distribution facility (DDF) is a national pool of property listings in Canada.
Under DDF, any participating agent has access to listings from all other participating agents. Agents also can syndicate their listings to 3rd party websites. The idea is to address fragmentation by creating a nation-wide warehouse of property listings. For more, check our article on what is the DDF and RETS?
Last Several Words
We hope this is a good breakdown of the various terms used in real estate listings data. At the vary least you should feel better prepared to work in the industry as an agent or developer.
Feel free to reach out with any questions. Or check out our real estate data products here.