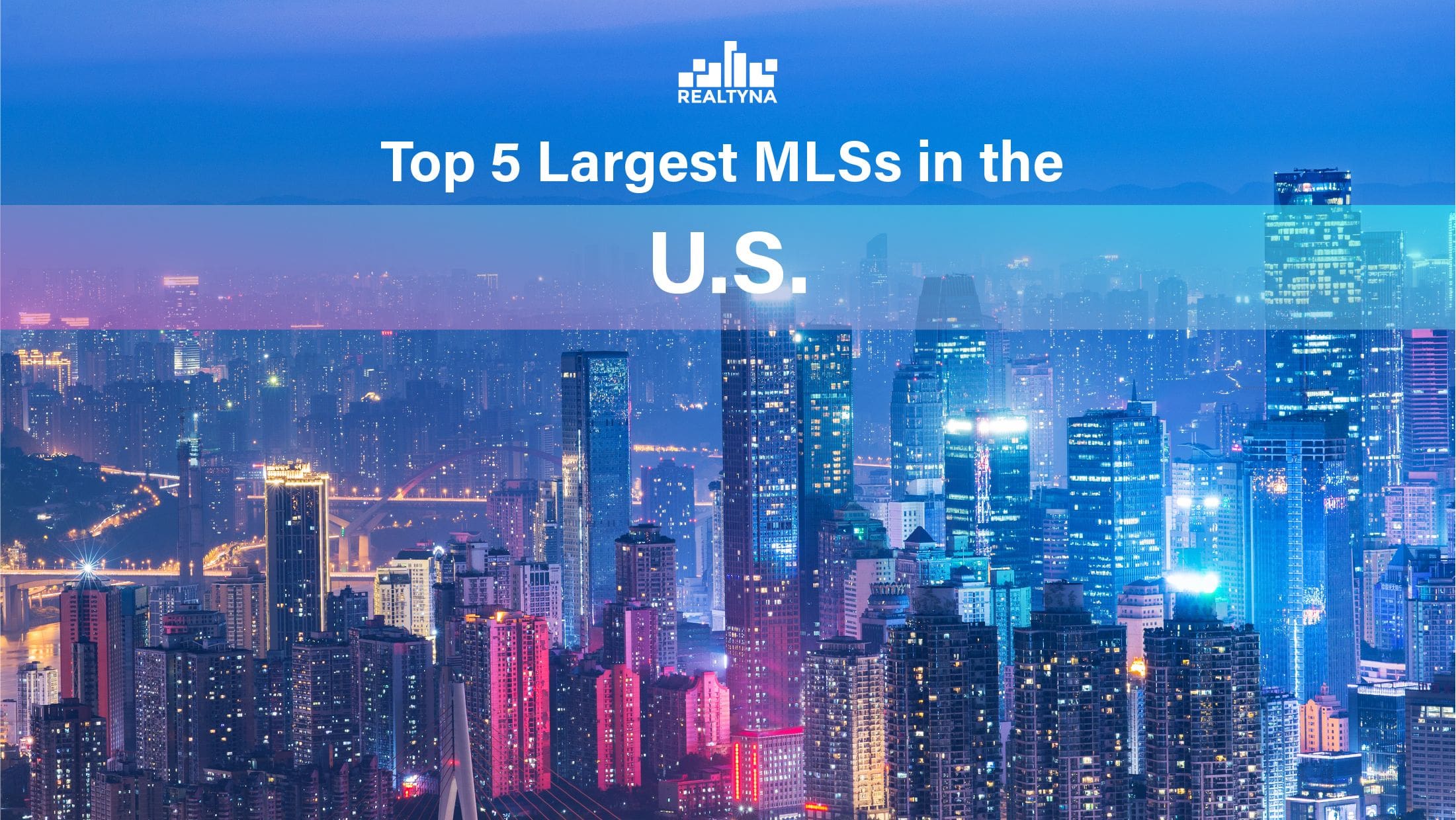 Top 5 Largest MLSs in the U.S.
15 Jul 2021
Posted at 11:00h
0 Comments
The MLS or multiple listing service is a solution that helps real estate professionals see and share local property listings in order to support the interests of their clients. Back in the 1800s, real estate representatives often met and shared information about the property they were selling or buying. They made an agreement with each other to compensate the brokers who helped sell the property. That is how the first MLS was born, and after that, real estate agents and brokers spent millions of dollars to develop Multiple Listing Services. In this blog, you will learn about the top 5 largest MLSs in the U.S
Let's dive into it!
California Regional Multiple Listing Service (CRMLS)
CRMLS provides access to accurate data and various technology products designed to help their clients' businesses shine. CRMLS educates and supports users on every core service they offer.
Established-

1980

Since 2010, it's been operating as a subsidiary of California

MLS

.

Located-Chino Hills, CA

Serves-over 78,000 professionals across the state

Offers:

Updated data

Technology tools

Educational resources

Provides the most affordable, reliable, and convenient listing service available.

Listings: around 1,200,000

Agents: around 96,000
The company's mission is to deliver the most affordable, reliable, and convenient listing technology service available to achieve business goals.
California Regional Multiple Listing Service covers the following counties:
Los Angeles

Orange

Riverside

San Bernardino

San Luis Obispo

Santa Clara

Ventura
For the full list of our MLS providers, check out the MLS Coverage Page.
To see the top cities in CRMLS, please click here: California Regional MLS (CRMLS)
Bright MLS
BrightMLS offers more ways to search listing and public records information. Moreover, a full, map-based search with the DriveTime search option built-in, property history, contract statuses, prices, and mortgage history is provided by Bright MLS.
Established-2015

Located in the Mid-Atlantic region

Serves-95,000 customers

Regions-Pennsylvania, Delaware, Virginia, Washington DC, Maryland, New Jersey
To see the top cities, please check the Bright MLS
Stellar MLS
Stellar MLS aims to provide its members with the service, technology, and support they need constantly in their market.
Established-1993

Located-Altamonte Springs, FL

Members-58,000

Listings-300,000+
Regions-Florida
To see the top cities, check out the Stellar MLS
First Multiple Listing Service
The First Multiple Listing Service in the state of Georgia takes pride in having one of the most accurate listing databases nationwide. FMLS Marketplace provides the vendor with a means to create unique content.
Established-1957

Located-The state of Georgia

Listings-31,000

Offices-2,600

Agents-43,000
Regions-Georgia
To see the top cities, check out First MLS.
MIAMI Association of Realtors
The MIAMI Association of Realtors was engaged by the NAR in 1920. This year they are celebrating 101 years of service to Realtors. The largest local Realtor association in the U.S. has official partnerships with more than 220 international organizations around the world.
Established-1920

Located-South Florida

The largest local Realtor association in the United States

Mission-To be the business and public policy advocate for REALTORS®, while influencing and shaping the real estate industry

Agents: 47,000
Regions-Florida
To see the top cities of this MLS, check out MIAMI AR
These are the top 5 largest Multiple Listing Servicess in the U.S. I hope you found this information helpful.
If you want to know more about Realtyna's Organic MLS Integration, see the blog: why Organic MLS Integration offers more SEO value than content writing.