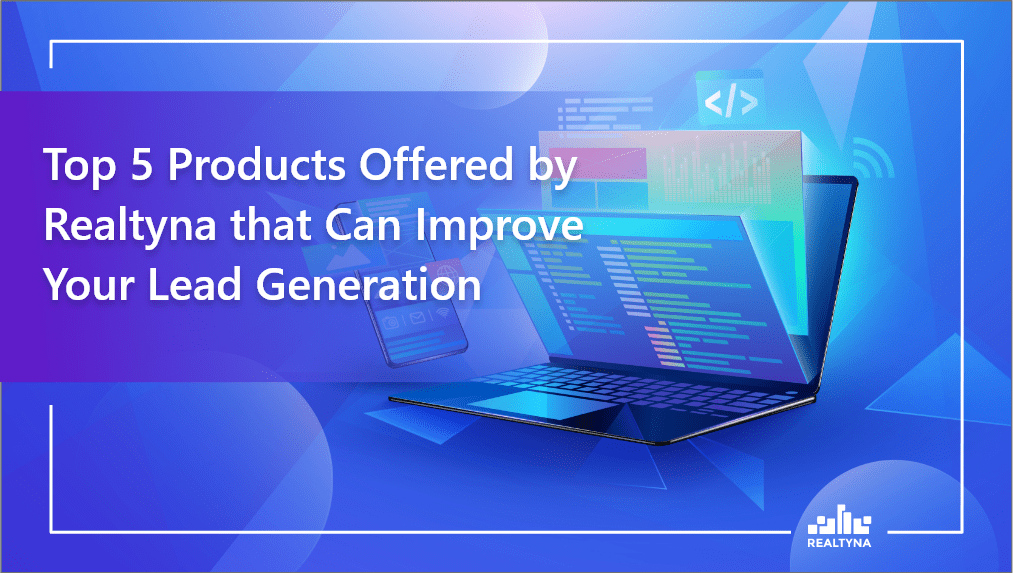 Top 5 Products Offered by Realtyna That Can Improve Your Lead Generation
19 Jul 2021

Posted at 11:00h
0 Comments
If you are looking to improve your lead generation and increase your real estate sales, you are in the right place. In this article, I will share some of the top products offered by Realtyna that can help you generate more leads and gain more clients.
WPL Pro
WPL is a real estate WordPress plugin created by Realtyna. The reason WPL is so beneficial for your real estate business is because it makes it easy for you to publish listings and manage your leads in one place. WPL comes in two versions: Basic and Pro. WPL Basic is free of charge and comes with features that are good for those who have just started their real estate business. WPL Pro can help you set out thousands of listings on your website and rank higher on different platforms. This can help you attract more leads and clients. WPL Pro also offers an unlimited number of users, and it can be installed on your hosting server. It has a one time fee that comes with a one-year support system and lifetime updates.
Organic MLS Integration
MLS Integration is a service that allows real estate agents to pull data from their MLS provider and publish it on their own server. One key benefit that it offers is that it directly displays the data from your MLS provider on your website. Clients often tend to search for properties in one place. If you have an easy-to-use search function, when a potential customer scrolls on your website, you can keep them there for a much longer time with the help of the MLS listings. The best way to do that is by providing all the listing information on your website with your branding and contact information. This will rapidly increase your SEO, which will enable you to rank higher and generate more leads.
Advanced Portal Search Add-On
The most important part of a good real estate website is its search function. If you think that your website lacks the function that makes your search options stand out and you are looking for something that can generate more leads, we've got the right tool for you. Advanced Portal Search Add-On developed by Realtyna is a great way to spice up your website. This feature takes your website to the next level, as it includes all the important search features that can help you generate more leads and make sure your potential clients stay on your website longer. Some of the key features offered are:
Ajax-based search feature, which provides instant updates of the search results without refreshing the page.

Zooming/Panning feature, which provides live maps that will be instantly updated and populated automatically according to current zoom levels.

Drawing Circle/Polygons, which will be available on the map to enable visitors to define the location of the search.

The Saved Search function, which enables clients to save one or more of their searches and refer back to those search results with just one click at any time.

And lastly, email notifications, which will be sent out when the saved search results are updated and when a new listing matches the saved search. Your client will also receive an email notification for the new listing.
CRM Add-Ons
CRM, which stands for Customer Relationship Management, is a very important tool for maintaining strong relationships with your clients. Realtyna offers two CRM Add On features: CRM Lite and CRM Unlimited. CRM helps you monitor the activity of all the registered users on your website, create and manage events and maintain a database of your contacts. CRM Lite includes up to 5 agents and CRM Unlimited includes unlimited agents. WPL CRM also allows you to manage your leads all in one place. The system automates lead generation, follow ups, and tracks what your clients are interested in.
Realtyna's iPhone/Android Mobile Apps
In today's digital age, mobile apps are constantly being used by people of all ages, and an increasing number of home buyers are using mobile apps to search for homes. If you are looking for an app that can help generate more leads and attract more potential clients, Realtyna offers an iPhone and Android App, which comes with various features that can help you make more profit. Some of the key features are:
The mobile apps can be paired with your website.

The app allows you to customize your own logo, introduction, splash screen and loading page.

It provides instant MLS listings and offers clients push notifications and contact forms.

It allows your brand name to be visible on platforms such as Google Play and iTunes Appstore.

It helps generate more leads and increase clients.
Thanks for reading! For more information on Realtyna's products make sure to check out more of our blog posts.
Why WPL Is So Crucial In Real Estate
How Realtyna's iPhone/Android App Can Help With Your Sales