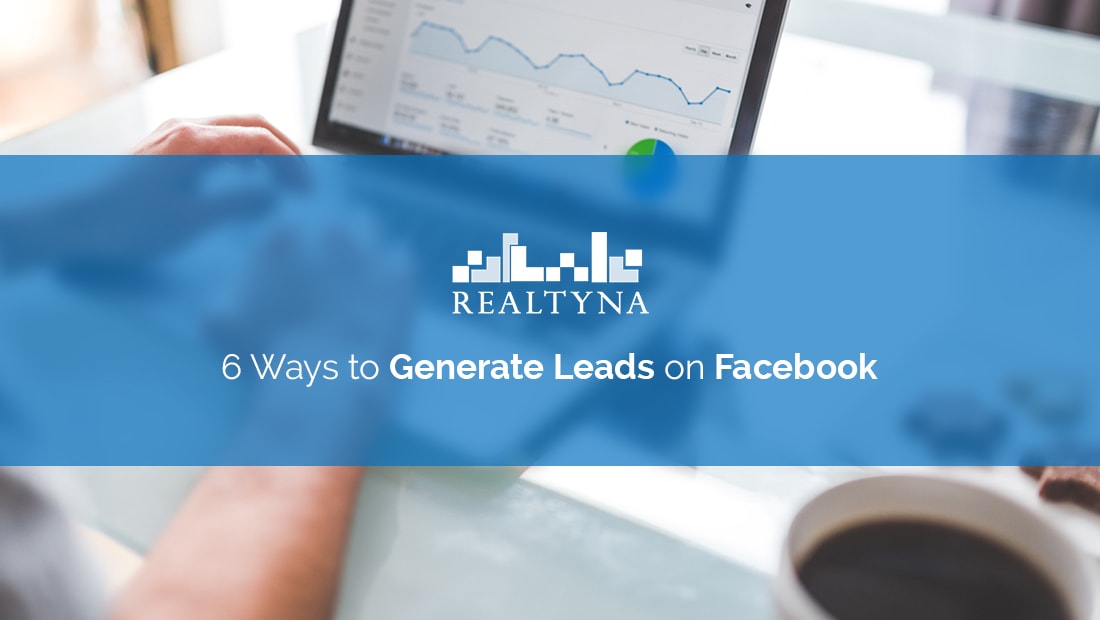 6 Ways to Generate Real Estate Leads on Facebook
11 May 2018

Posted at 12:39h
0 Comments
The world is online! I am sure this is not news to anyone, but utilizing our online tools efficiently might take more work than we would like to admit. Do not worry! Realtyna has you covered with some fresh, hot tips to get you not only up to speed, but in the fast lane! Today we will be specifically addressing Facebook and how you can productively use this platform to generate leads.
If you are not a numbers kind of person feel free to move on from this paragraph with this one take away: social media is one of the most important tools for your business. Let's start with some statistics. More than 81% of Americans have a social media accounts and over 95% of home buyers used an online website and social media in their search. Additionally, 72% of all agents use social media and only 57% utilize Facebook. The marketing territory up for grabs should be convincing enough for you, but I will push it even further and give you 6 simple ideas to dominate your Facebook game.
LUKE'S TIP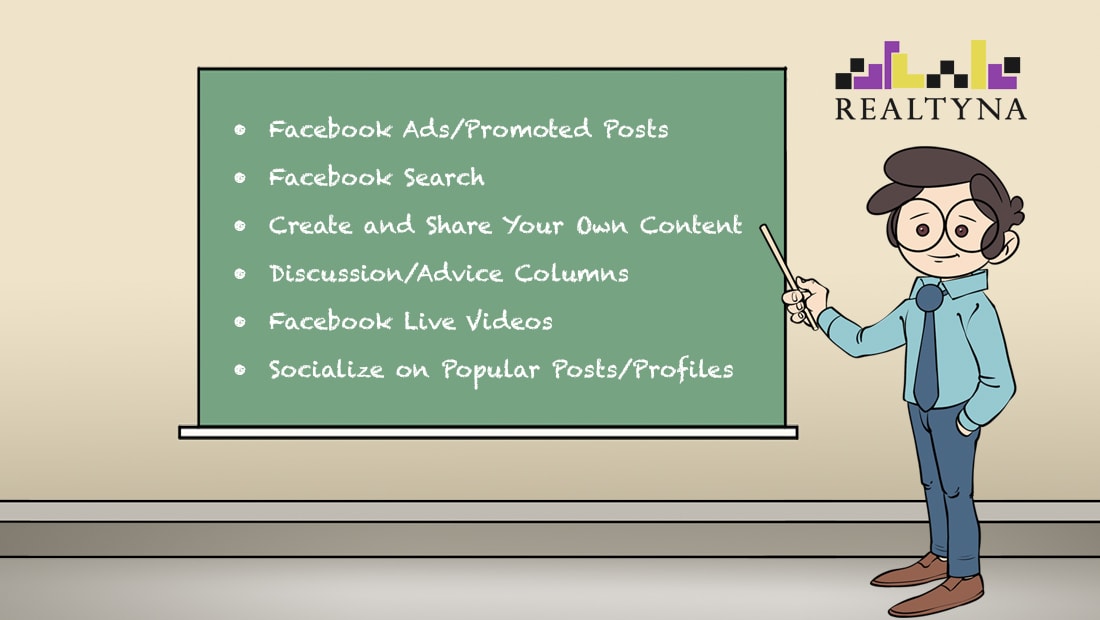 Facebook Ads/Promoted Posts
It is not my top recommended method, but it exists and can be helpful, so here we go. Ads and promoted posts are not free, but it is certainly worth mentioning if you really do not have the time or energy to create a genuine Facebook presence (by way of the following suggestions). Targeted Facebook Ads and Promoted Posts are an easy way to get your business and content in the hands of leads, but it will often go ignored by people who want human connection, as well as costing you. Some swear by this effortless method of generating leads, but proceed with caution if you are on a budget. If you are not on a strict budget, go for it, in addition to the other helpful tips, of course.
Facebook Search
Did you know that Facebook essentially has its own search engine? Although often forgot about, the search bar on Facebook is useful for more than just finding friends and groups you're in. You can actually use this function to search posts that include keywords that you entered. Seek out leads yourself by searching keywords such as "your area/neighborhood/town + house hunting," or something similar. You can tweak your search terms as desired to narrow in on your potential leads.
One thing to note with this kind of lead generating is not to sell. Being a random sales agent on a random persons post is incredibly unattractive and usually unwanted. Instead, follow these tips when interacting with your targeted search leads
Be personal and genuine. Form a relationship.

Answer their questions, provide help and guidance.

Refer them to helpful free content, especially if it is located on your own website or Facebook page

DO NOT SELL.
Create and Share Your Own Content
Good content is necessary for any successful social media page, but what constitutes good content? You can always share listings from your website (which is very easily done with Realtyna's WPL Basic and Pro Platform) or your blog posts, if you are one of the 11% of realtors who blogs (and if you do not, you should start!). This is easy content to share, but share it sparingly. Your Facebook should have a variety of interesting, informational, appealing and entertaining content. All of which should be relevant and useful in some way. Do not clog your page with listings or pictures with no caption. Show your personality, be lively and responsive with the content you share. Consider a mix of listings, blogs, videos, and even memes if that is your style! Keep it fresh, keep it mixed, and be cautious of the amount you post and share. One post every 1-3 days is more than a enough to get the job done. I will detail two specific ideas for types of content below.
Discussion/Advice Columns
Provide free discussion and advice sessions with a post on your Facebook. Keep questions and topics open ended and welcome people to engage with you and your expertise in the industry. Answering the public's' questions and addressing their concerns may seem like a small redundant task to you, however this small act can take you a long way with forming a trusting relationship with leads. Being inviting easily turns into referrals for your business.
Facebook Live Videos
If you are brave enough to put yourself out there live-in-action, do it! Facebook Live is a relatively new feature and is such a fun way to interact with your following and leads. You do not have to be a professional news anchor to have a successful Live video. You do not even have to be on camera yourself. If you would rather not be on camera, you can easily give tours, film open houses or interview other staff or industry professionals on your Live video. Facebook Live is also great for giving Live informational/educational talks on the real estate business or for announcing promotions or giveaways! The best part about Facebook Live is that you can interact with your views in real-time. The second best part is that these videos save and can be watched on your profile anytime after filming.
Socialize on Popular Posts/Profiles
We mention backlinking and commenting on similar blogs a lot in our articles to increase your SEO and lead generation. Socializing on Facebook is absolutely no different. Popular posts and profiles are a perfect place to engage with interested, like-minded individuals. Be sure not to simply "sell," or solicit "likes," on these posts, but to actually engage with the post and other commenters. Like targeted searching, offer expertise, advice and opinions. Leads will appreciate that you are a real person with real value to them.
Ultimately, we cannot deny the increasing use of social media for real estate help and it is time for realtors to make use of the platform Facebook has given them. Ready, set, go get plugged in!