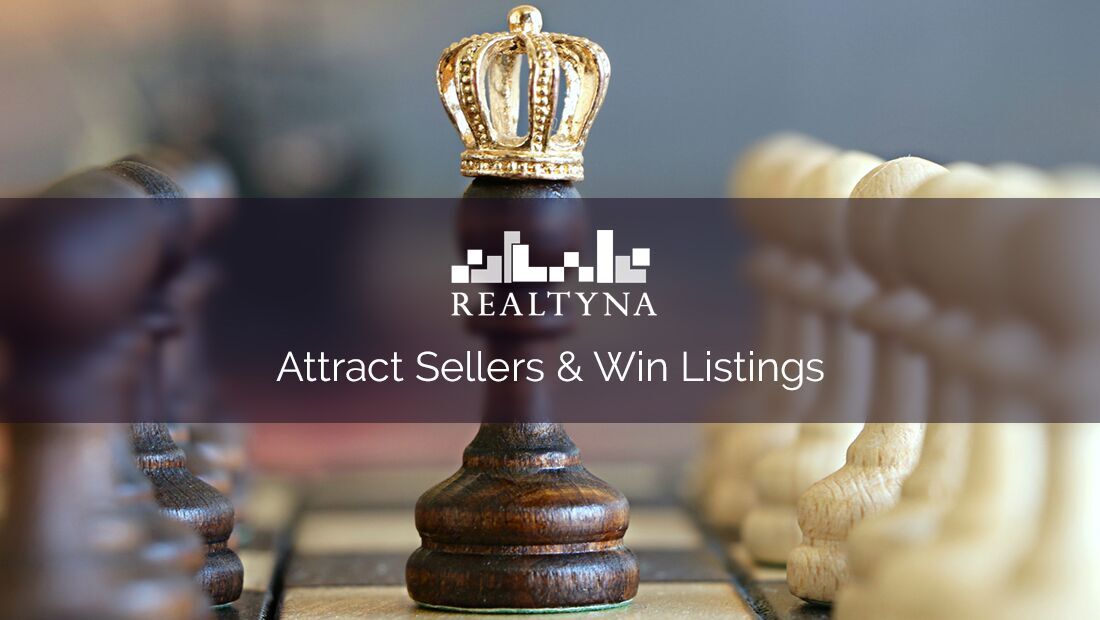 How To Use Real Estate Market Statistics to Attract Sellers and Win Listings

Posted at 11:14h
2 Comments
We spend a lot of time on this blog talking about how to market to home-buyers.
It's how the majority of our clients do business.
But it's important to market to sellers too. And it's easy to do.
Before making a decision, sellers should be familiar with the real estate market in their area.
Here's how to use real estate market statistics to attract sellers and win listings.
VALUATION
Before deciding to list, a seller needs to know how homes are being valued in the community.
Specifically, are values going up?
To provide this information, you should look for statistics showing the average percent change in valuation over time.
The information should be categorized by zip or neighborhood. This will allow the seller to know how values are changing in his/her immediate community.
And it will help the seller have the right expectations when pricing the home.
TOTAL HOME SALES
The seller also will want to know the competition for buyers.
Specifically, how many others are listing in the area?
A graph showing monthly sales volume by zip code is essential.
This will help the seller understand what potential buyers are seeing and better predict their behavior.
MEDIAN PRICE PER SQFT
Median price per square foot is the median sold price in the area divided by the square footage sold.
This helps the seller understand the prevailing prices for homes in the area.
If the seller's home is smaller than average, he/she should expect to price the home lower than others.
SALES BY AGE
Square footage is not the only factor affecting home prices.
The age of a home also plays a role.
To help a seller understand the bigger picture, you should provide statistics on total sales by home age.
This will show the age of the homes selling most.
And it can help the seller know what most buyers are looking for.
OTHERS
These statistics are just a start. There are many others that can provide useful information to sellers. You should consider:
•Months of Supply – or how many months it would take to clear the current supply of homes for sale
•Home Sales By Square footage – or what size homes are the most popular
•Total Foreclosures – how many houses have been foreclosed in the last month
•Days on market – the average listings time for a property
Luke's Tip #1: Demographics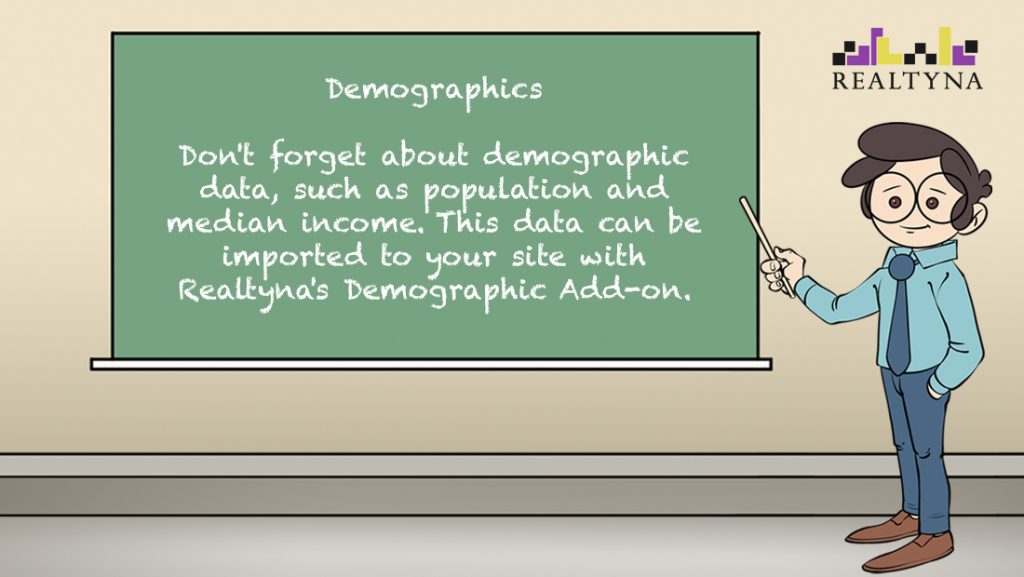 Ok, you have some key statistics selected for your marketing efforts. What do you do with them?
Here are 4 places to promote market statistics to maximize impact.
MARKET STATISTICS PAGE
If your community is small enough you could create a single market statistics page on your site.
This is where you would show data about sales and prices for your entire town.
But if your coverage area is larger, this might not work.
Sellers want the narrowest data possible. So if you cover multiple zip codes, you should breakdown your data by zip and create a market statistics page for each.
Consider creating neighborhood pages that show available homes and neighborhood statistics together: https://realtyna.com/neighborhood-for-wpl/
THE PROPERTY LISTING PAGE
You also should consider placing statistics directly on the property listing page.
This page would provide the property listing as well as data about the area surrounding the listing.
You might ask "why we would put statistics on a property listing if we are looking to attract sellers?"
Don't forget sellers are doing research too. They want to know the prices of other homes in their community and the amenities they have.
So it's very likely a seller will check out a few active listings before deciding to list him/herself.
OPEN HOUSE
Statistics are great handout material at open houses. Why?
Because neighbors often attend open houses. While they may not be immediately looking to sell, they could be in the future.
Providing statistics is a good way to help these potential clients remember you.
And it will help demonstrate your expertise.
BLOG FEATURE
Market statistics also are great web content.
Consider adding them to your blog as a regular feature.
This will help you boost your SEO and increase your web traffic.
Real estate market statistics empower sellers. They can help them understand home prices, competition for buyers, available inventory, and more. Don't leave your potential sellers out in the wind. Win their trust and their listings by adding real estate market statistics to your site today.