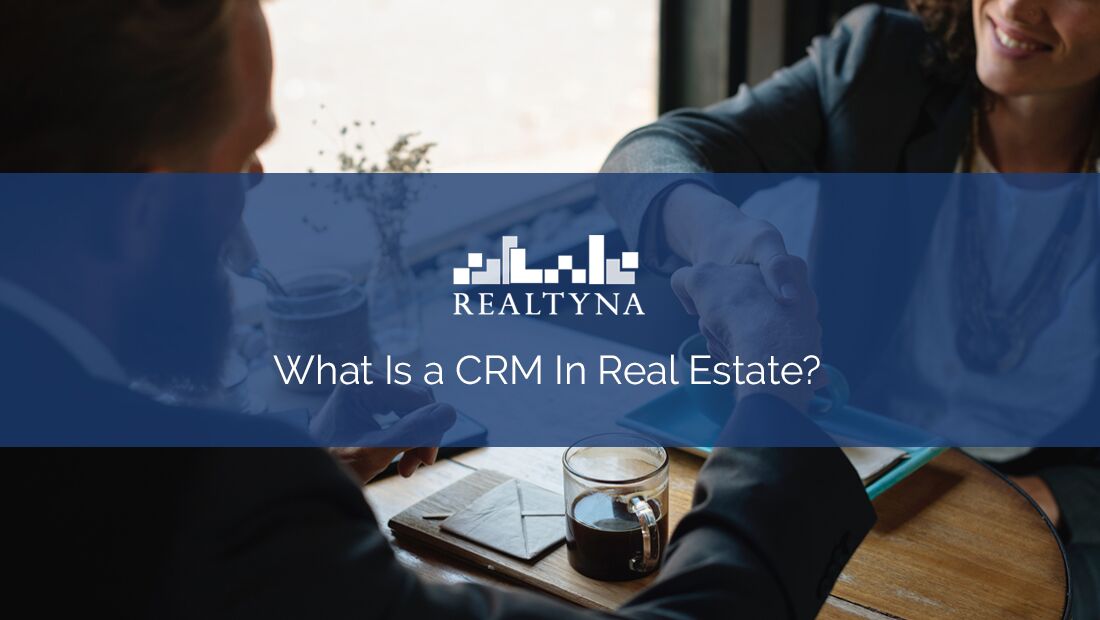 What Is a CRM In Real Estate?

Posted at 14:21h
5 Comments
A CRM in real estate is software designed to help agents and brokers streamline their marketing and sales processes—and ultimately to close deals faster—by allowing them to manage client communications, automate workflows, and track lead data online.
In the real estate industry, CRM is short for customer relationship management. These software systems are all about efficiency. You can think of them as a sort of virtual office assistant. By taking many of the necessary client management tasks off your hands, they can help free you to focus on your main business—selling homes.
There are tons of CRM systems out there designed specifically for real estate agents and brokers. Many of them have desktop and mobile function to track all forms of client communication, including telephone, email, SMS , and social media. Some of them integrate into your website back-end.
You may be thinking, "This sounds like a glorified Excel sheet." While, yes real estate CRMs do function as a database of client information, they offer so much more than simple data storage in rows and columns. In many CRMs you can contact your clients directly, save past communications with them, and set up marketing campaigns.
How Does a CRM Work in Real Estate?
A CRM works in real estate by providing a database to store information on past and current clients, generating reports to help agents and brokers better understand their sales strengths and weaknesses, and giving them the tools to manage client interactions more effectively.
A key point in the way CRM works in real estate is automation. Real estate agents are busy. They are juggling client meetings, prospecting, showings, calls, follow-ups, social media, and more. A CRM works by taking a few of these off the agent's plate, freeing her to focus on business growth.
How Can a CRM Help My Real Estate Business?
A CRM can help your real estate business by improving your customer relations, giving you more information to make smart business decisions, and saving you time and money. These benefits apply to small and large real estate companies.
We go into more details below:
1. Know Your Clients Better
A real estate CRM will allow you to monitor your lead activity. How do they interact with your site? How do they reply to outreach from your staff.
This will help you learn their tastes and personality, allowing you to better target your marketing and nudge the sales process forward.
2. Never Forget to Reply
Many CRMs for real estate allow you to set alerts and reminders. This will help you be more consistent in your follow-ups and replies and less clients should fall through the cracks.
3. Save Money
A CRM may require an upfront purchase or monthly fees, but over the long run it can help you save money.
It will help you stay organized, freeing you to focus more on growing your business.
And it can help you save on office salaries by reducing your needs for assistants.
4. Evaluate Business
In real estate it's essential to keep evolving. This requires knowledge.
A CRM can help you collect the information you need to understand your business and make smart decisions.
5. Data Storage and Back Up
Client and sales data is the essence of real estate. If nothing else a CRM provides secure storage and back ups for this valuable information
6. Clearer Roles and Communication Within Team
A CRM for real estate has positive effects around your office. It will help your staff know their roles better and communicate more effectively.
7. Better Reviews
Improving the sales process and improving client relation can only have one effect on your business reviews. They will go up.
8. Close More Sales
All of this should help you convert more leads.
This is the goal after all.
With a CRM in Real Estate you will have the tools you need to sell more homes, earn more for your business, and take you life to a new level.
How to Use a CRM In Real Estate?
Step 1. Login/Install Software
Login or install your software depending on if your real estate CMR is web-based or a software plugin. You should get instructions on how to do this upon purchasing. If you need help, many real estate CRM companies include free technical support.
Step 2. Familiarize Yourself With the Software
Browse the key features and tools to familiarize yourself. Real estate CRM software is not designed to be complicated. But if this is your first time using it you should take some time to get to know it.
Watch any videos the software provides and read the glossary of terms so you can use it more effectively.
Step 3. Add Your Sales Team
Add your sales team as users. This will allow you to assign leads to them.
Step 4. Add Your Contacts and Leads
If you have old contacts and leads data, add them to your real estate CRM software. This will help you keep everything in one place.
Step 5. Configure Settings
Configure your real estate CRM software settings to your needs. You should pick out the key statistics you want to track, adjust time and date options, and add contact fields as needed.
Step 6. Integrate With Other Software
If you have other lead capture tools you should integrate your real estate CRM with them. This could include SMS, email marketing, social media, and forced registration.
LUKE'S TIP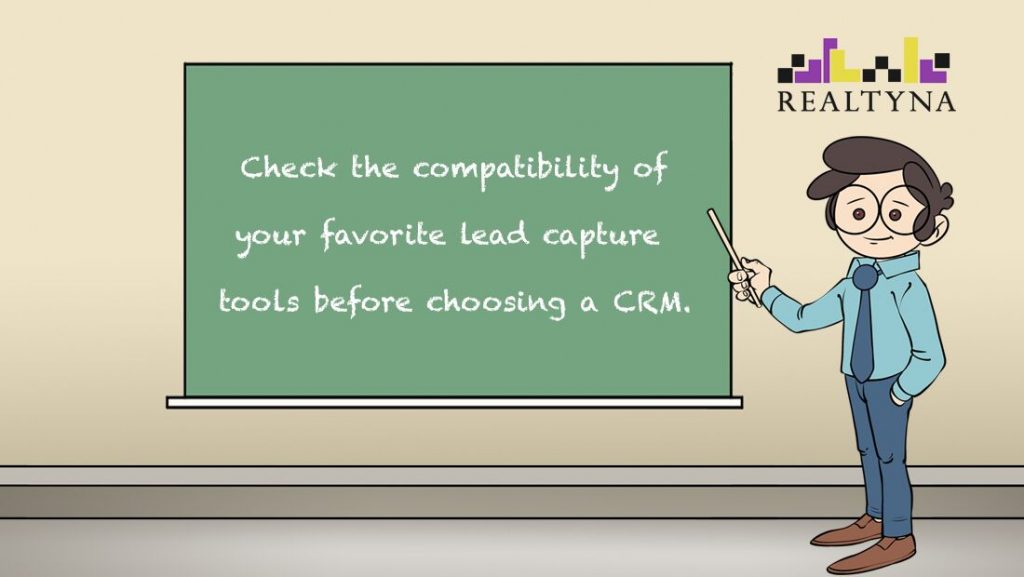 Step 7. Set Up Alerts and Reports
Set up alerts and reports and choose how you want to be notified. Alerts will keep you in the loop of important developments in your lead management processes. Reports will provide weekly or monthly summaries of your sales activities.
Step 8. Develop Routines
Develop routines to use your real estate CRM successfully. Routines will help you make sure no leads fall through the cracks.
Step 9. Train Your Staff
Train your staff to use the CRM software. A real estate CRM can benefit the whole office, so make sure everyone knows how to use it.
Which CRM Should I Use In Real Estate?
Choosing a CRM in real estate depends on a number of factors: the amount of client data you currently have, your familiarity and comfort level with other CRMs and web applications, the size of your real estate office staff, and your budget.
At Realtyna, we tend to prefer Zoho. It's a CRM we know well, and we love its workflow and analytics features. But it may not work for everyone. In the end, there is no "best" CRM. You should think about your business and your experience level. Then try a bunch out.
That's about everything concerning CRM in real estate. Did we forget something out? Leave us a note in the comments. And for more, check out our article on How to Create Market Reports and Generate Leads.