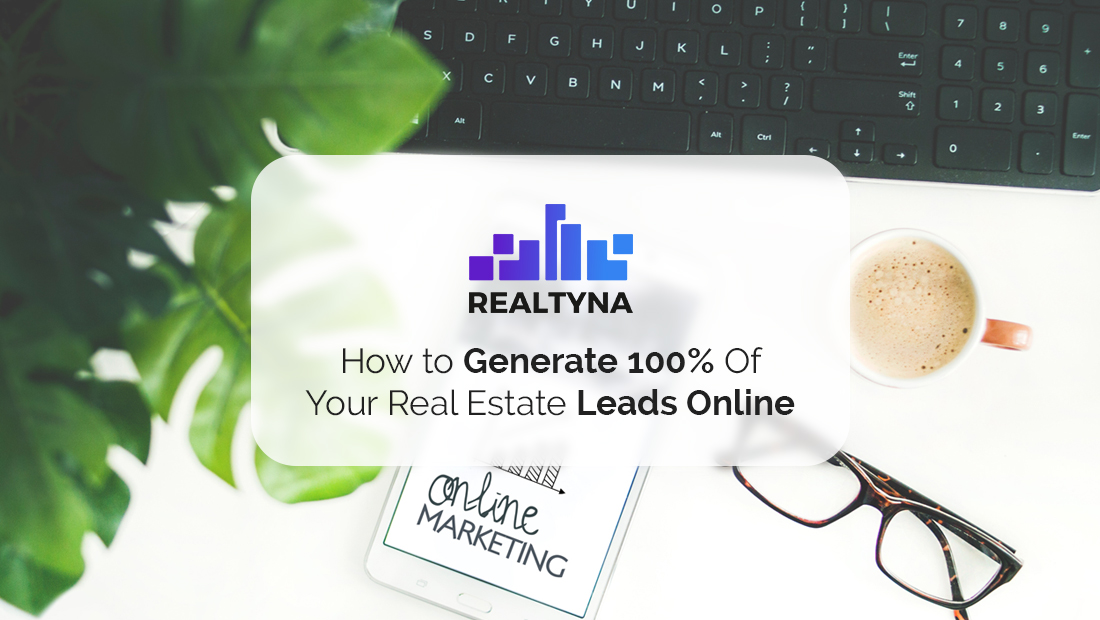 How to Generate 100% of Your Real Estate Leads Online
15 May 2018

Posted at 09:41h
0 Comments
Your time is precious and it should not be wasted on obsolete ways to generate leads when you can do it with a few clicks of a button.
By no means am I suggesting to ditch all of the traditional lead generating methods, as some of them genuinely might work for you. Instead, I am giving a list of options you can trade in to save time and effort.
On the flipside, if traditional just really is not your style, find comfort in that you CAN generate 100% of your real estate leads online. Here is how!
Ads:
Probably a bit too obvious and not what any of you are interested in, however, it goes without saying, ads can work. You can easily buy ads on facebook, youtube and basically any other area of the internet. Depending on your target and goals, it can be within your budget, too. I always go out of my way to encourage real estate agents to pursue a lane of marketing more worthwhile for them as well as clients, but it cannot be denied that purchasing ads is an effortless way to generate leads. Be warned though, that ads can be somewhat of a gamble and inconsistent.
A Website:
A website is the best technical investment you can make for your real estate business. There are thousands of routes you can take and even more features you can include, but even the smallest, most simple of sites can generate a significant lead traffic. You can always hire a developer to do everything, but to get the best bang for your buck, I suggest searching for companies that specialize in real estate websites. A company such as Realtyna, who takes pride in offering everything for real estate under one roof, is a great start. Your website should include (or have the ability to include) extra real estate features like advanced searches, mortgage calculators and real estate specific CRM. Additionally, you should take special consideration that your website is mobile optimized.
MLS Integration:
The 2nd most beneficial way to generate leads online is to have your MLS listings integrated on your website. The only reason it is not number 1 is because you cannot have MLS integration without a website. The are a handful of methods to integrate your listings, but your best bet for overall lead generation is Organic Integration. The difference with this method is that your website will feed your listings directly from your MLS, making a huge difference in SEO and update times. MLS Integration can sound complicated, so if you are interested in more details on this process, we have got you covered.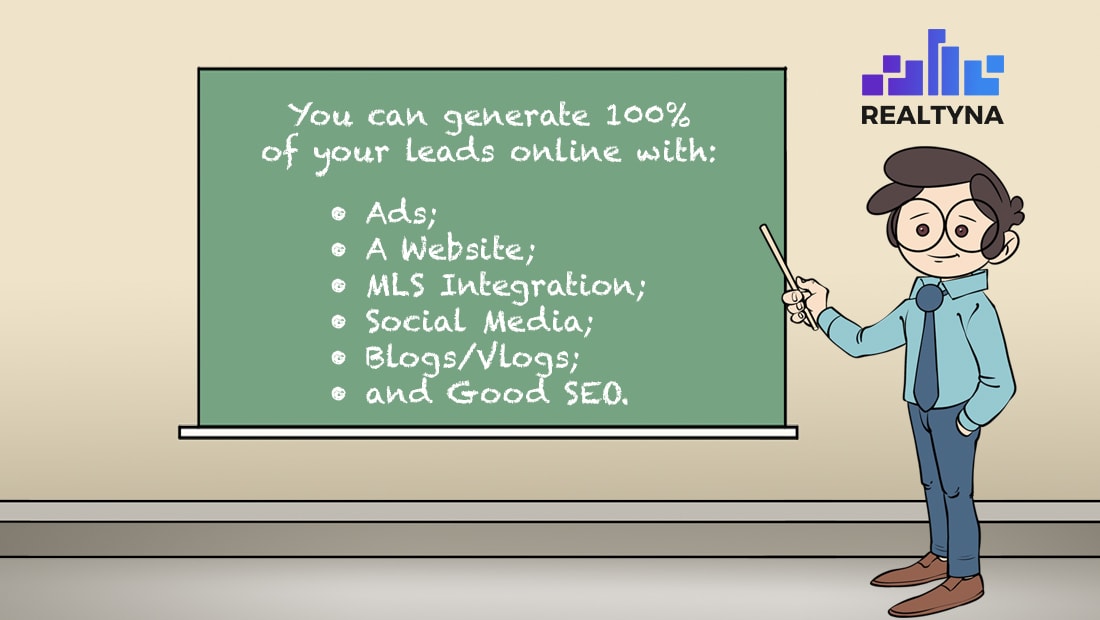 Social Media:
If you want an easy, free way to generate leads, social media is your key. If we are being honest, it is an essential part of generating online leads. Because it so simple and free, there is not much of an excuse to exclude it from your marketing plan. Between Facebook, Twitter, Youtube, Instagram, LinkedIn, Snapchat and Pinterest, you have many channels for generating leads. We could spend hours discussing how to effectively utilize each of these platforms, so instead, I linked helpful articles detailing each of them. Briefly, remember to share interesting content that people want to engage with, interact with any and all comments, be yourself and mix up the types of content you share every now and then.
Blog/Vlog:
The number one reason to blog is to increase the traffic to your website which will translate to an increase in converted leads. Blogs full of keywords, tags and original content will boost your website's ranking on Google and original content will make you stand out from competitors. Give your leads a snapshot of who you are and what you are capable of. Blogging is just another platform you are able to express yourself with, as well as market your best listings. The best part? Others can share your posts as well! Likewise, vlogging has been growing in popularity for some time now. Real estate vlogs are still relatively rare, though. Put your life and career in the spotlight with a 2-10 minute video which highlights day to day work, your clients, and most importantly, your personality. Both of these things will attract leads and easily bring them to your business.
SEO:
SEO stands for Search Engine Optimization. SEO is the reason for ranking on search engines like Google, and Yahoo so it is necessary to practice good SEO habits with all your online interactions. Good SEO habits and a leading rank on Google is a huge way to generate leads. There are many strategies you should implement, but the main things to remember are to include keywords, metadata, and quality and original content on your website.
And just like that, you can generate all your leads online! If you have any questions or additional tips, comment below.