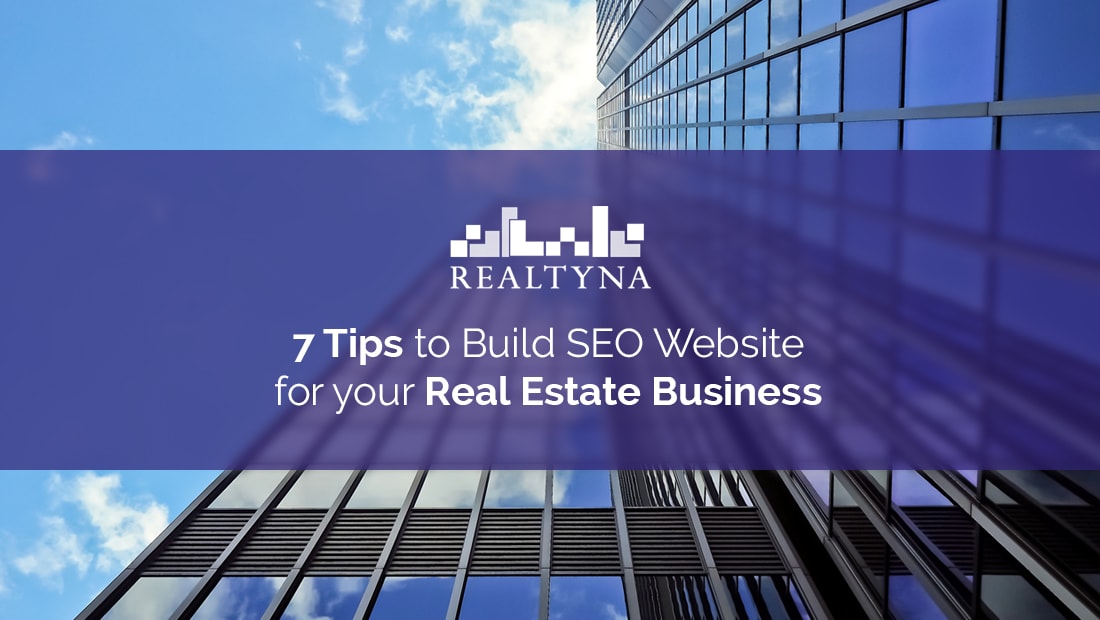 7 Tips to Build SEO Website for your Real Estate Business
27 Apr 2018

Posted at 11:42h
0 Comments
If you are new to having and managing a website, you are probably wondering what this whole, "SEO," thing is about. If you are a veteran, you can still benefit from keeping up with the frequently changing guidelines and ranking terms.
Your SEO may not determine the success of your real estate business, but will certainly play a role in the success of your digital marketing investments. Treat your website (that you spent so many resources on) with care, practice good SEO tactics and help it rank! Below are 7 essential SEO strategies that you do not want to miss out on!
DICTIONARY OF TERMS:
SEO: (noun) Search Engine Optimization. This describes to what point a website is ranked on search engines. The criteria for SEO rankings vary and change from time to time.
SEF: (adjective) Search Engine Friendly. This describes whether a website, website content and domains/urls are acceptable for search engines.
Metadata: (noun) Data that describes data. In regards of SEO purposes, this is just descriptive information, summarizing the content (or data) on a website page.
7 SEO TIPS:
1. Organic MLS Integration: You should know by now that having listings on your site is an absolute necessity, and you have different options for this, but your best bet is Organic Integration. Unique to Organic Integration, each listing creates a separate indexable page. This means that search engines will pick up on keywords from each and every listing page. People who search for listings will find your website more easily thanks to this. You should notice an instant increase in website traffic.
2. Original Content: New SEO criteria puts a huge emphasis on quality, original content. Websites with original content will always rank better than those that do not. A great way to include this are blogs and videos. Provide your potential leads with interesting content that will help or inspire them in their home search. For example, "Top 5 Mistakes New Home Buyers Make," or, "Top 6 Backyards that Will Blow Your Mind." If you want more help perfecting your real estate blog, Realtyna has you covered with great writing ideas and more. It is also very important to include tags to help boost your SEO on this original content.
Pro tip 1: Make sure your tags are relevant to your content. 3-5 quality tags will be more than enough.
Pro tip 2: Do not get lazy with your content. Copy and pasting from other blogs will lose you some originality points. Google algorithms could very possibly pick it up and knock your ranking.
3. Keywords and Metadata: Similar to tags in blog/video posts, including keywords and metadata for your content could be very valuable for your SEO rankings. It is crucial for your content to be keyword-rich, all while sounding natural. It is debated how important metadata is for your SEO score, but still crucial as this usually relates to the short description you see on google searches. With Realtyna's WPL Pro interface, it is easy to create and edit keywords and metadata for all your content!
4. SEO Packages: If you are overwhelmed by the work it takes to make your website SEF, do not fret. There is a lot of help out there for your SEO needs, including packages you can purchase to have someone else do the technical stuff for you! You will still be responsible for things like original content, SEF urls, and editing metadata, but the more "complicated," stuff can be passed off to developers, if this is an investment you are interested in. Realtyna has a SEO package that will improve your website speeds, help configure all of your SEO settings and more.
5. SEF Domains and URLs: Aside from original content, SEF domains and URLs are the most important factor in your SEO ranking. If you already have a website, chances are, you have already chosen your permanent domain. You still have options for SEF URLs though (the part that comes after the domain in the web address). With WPL Pro, you have the opportunity to easily edit and change URLs as you please. The two main rules for your URLs are:
Include keywords/titles. The WPL Pro interface makes this easy for you.

Exclude articles and prepositions. The idea is for the reader (and Google algorithms) to know what your content is about in as few words as possible.
If you are in for a technical challenge and want to learn more about SEF URL structure in detail, check this out.
Pro tip 1: Include keywords, but refrain from using them more than once.
Pro tip 2: It is always a good idea to include local cities/neighborhoods in your URLs, (if related to your content, of course).
6. Links: There are 2 types of links- backlinks and internal links. Simply put, backlinking is the act of placing links to your website throughout the interwebs. Whether this is done by you, or someone else (for example, featuring you in a blog), it can provide huge SEO benefits as well as higher traffic to your page. Make a LinkedIn account and link your website, reply on blogs and link your website, register on Yelp and link your website. You get the idea…Link your website! Internal links, links content from elsewhere on your website. This furthers your web of content that is interacting and connected with each other, something Google picks up on.
Pro tip 1: Backlinking is great when used authentically. Be sure not to engage in spamming comment sections or including your link in any spammy content. Be sure your interactions and linking are relevant.
7. SEO Score Plugins: If you are interested how your content stacks up, you can always install some kind of SEO score plugin that will allow you to check everything out for you and give you tips on how to improve your SEO. There are many plugin options, so just search for the one that best suits your business needs. This will not directly affect your SEO ranking, but will indirectly help you by pointing you towards your problematic content to be fixed. No website is above a 3rd party check. We even use one at Realtyna!
8. BONUS: DON'T PRACTICE BLACK HAT SEO: These 7 tips presented to you are all considered "white hat SEO," because they are ethical, within the SEO guidelines and help encourage even better content. There are also many unethical SEO practices that might help you get a great ranking, but at the expense of quality content and breaking rules. If search engines catch you in the act of Back hat SEO, they have full authority to punish you by moving your ranking, or blocking your website all together. If you are worried you have engaged in back hat SEO, or you are not sure if something falls under this umbrella, I encourage you to research more about it.
A good SEO is a necessity in this digital age. With these tips you can push your website up the ranks with ease. Update to SEF URLs, create original content and get Organic MLS Integration today. Do not waste any more time!