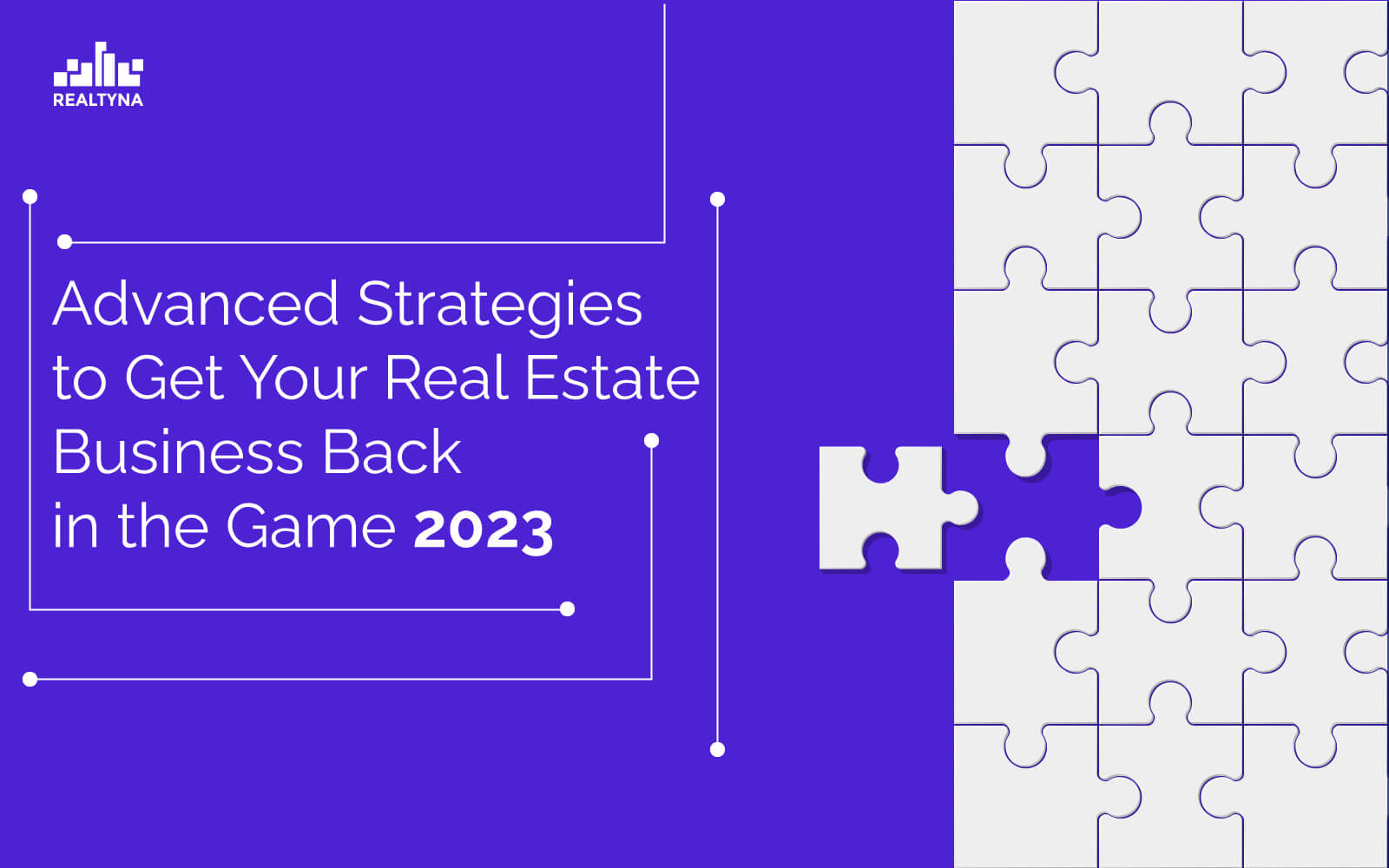 Advanced Strategies to Get Your Real Estate Business Back in the Game 2023
14 Feb 2023

Posted at 13:38h
0 Comments
As Realtors or real estate professionals, there's always some point where you face roadblocks in your endeavors. This can be daunting for a business. But how do you overcome any roadblocks and get your real estate business back in the game? Well, this article will discuss five highly effective strategies to get your business up and running as you bring in your "A" game this 2023.
5 Best Practices for Real Estate Agents in 2023
For your business to be on top, it is essential always to know what works. To increase your annual revenue, generate more leads, and close more deals, spending time and effort with the right tools and strategies is your best move this year. Let's look at some strategies that will set the pace for your real estate business throughout 2023.
1. RealtyFeed and Headless Architecture.
If you're paying attention to the latest developments in the real estate industry, you might have noticed that API-based solutions are the next best thing helping real estate businesses to get on top of their game. From high-performing real estate websites and simplified lead generation processes to ease of access to MLS listings and data sharing, you want to add headless API solutions to your real estate business growth strategy. For example, the RealtyFeed property API is a feature-rich API-based solution for Realtors. In terms of speed and features, the platform is unrivaled. The headless API solution gives you access to a variety of benefits, including;
Up-to-date MLS data

AWS-powered speed and security

Comprehensive documentation

Back-to-back support from a team of seasoned experts and more
2. Technologically Advanced Real Estate Themes
This year, setting your real estate business apart from the competition not only entails maintaining a routine marketing strategy but doing so better. As marketers, real estate professionals must make sure to spice up their existing marketing practices while incorporating new ones. There are a number of real estate WordPress themes, but a technologically advanced one will put you well ahead of your competitors. Realtyna's new Garnet Theme ticks all the boxes when it comes to aesthetics, and high functionality, packed with a slew of features. View Demo here.
3. Using Lead Generation Tools
One of the reasons why many real estate businesses experience stagnation is that they want to DIY everything. In this age and time, not only does automation help save time, but it is more effective in growing your business. Using lead generation tools also increases output. Nowadays, there are effective lead generation tools that will take your business from zero to one hundred if you stick to the best practices. Here are the top real estate lead generation tools you should be using:
CTA Plugin

– Helps automate your website calls to action to easily attract traffic and close more deals

Lead Capture Plugin

– Easily add customized pop-ups, forms, and sections on your website to increase engagement, traffic, and organic lead generation

SEO/Content Creation Solution – With Realtyna's content creation solution, busy real estate professionals can enjoy evergreen content and SEO services from a team of content experts. Contact Us to find out more about our SEO/Content Creation Solution.
4. QR Codes
QR Codes are currently making a big statement in the real estate market, and if you haven't jumped on the bandwagon yet, join the wave and start making the most out of your marketing campaigns. With QR Codes, Realtors can expand and maximize their exposure while drawing in traffic and generating new leads. Add QR Codes to your emails, property listing showcase, posters, business, social media accounts, and more to increase your business visibility. Learn how to create a QR Code for your business here.
5. Using Social Media
It is no news that social media is one of the effective ways to market both your real estate listings and your brand. As a matter of fact, social media has become a necessity in marketing. Therefore, Realtors should be more active on all social media platforms, sharing valuable information as well as their products and services. Tools such as the Social Impact Add-on helps agents effectively generate organic leads on social media as they can generate unique links to their web pages and add them to their social media bios. Gain more exposure by increasing your activity on social media. A little goes a long way.
To Sum Up
Generally, succeeding in your real estate business depends more on the tools and strategies you use to market and communicate with your clients. Therefore, getting your business back in the game this 2023 implies improving existing marketing tactics while incorporating new ones.
To know more about tools that can set off your business in the right direction, read Top Must-Have Tech Tools for Real Estate Agent