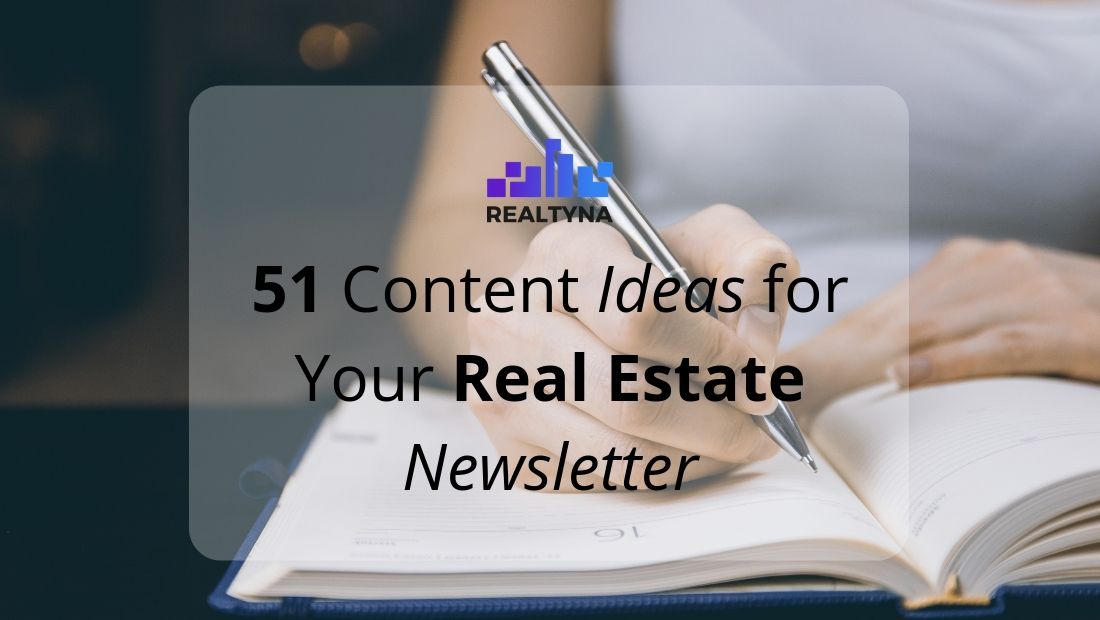 51 Content Ideas for Your Real Estate Newsletter
04 Jul 2019

Posted at 12:11h
0 Comments
A Real Estate Newsletter is a great way to generate leads and develop brand identity. But you need to fill these newsletters with content that is unique and valuable to your readers.
Your first step in developing content for your newsletter is to define an audience. Who is going to read your newsletter? You can design your newsletter for first time homebuyers, investors, general readers, etc.
Once you know your readers, you can start producing content for them. To get you started here are 51 content ideas for your real estate newsletter.
1. Local business openings/closings
As a real estate agent you are a community expert. You are well placed to know the comings and goings in your city or town. You can use this knowledge to develop content that no one else has.
2. Town council meeting summaries
You may want to attend town council meetings to build out your professional network and keep track of developments in your community. While you are there, write a summary of what takes place to give your readers news they might not otherwise get.
3. Market data
You use a wealth of data and statistics to do your job. Some of this information may be interesting for your readers. Package your market data, using graphs and visuals to make it more approachable for your readers.

Disclaimer: The product mentioned in this article as "Market Reports Add-on" has been renamed to "User Analytics Add-on".
4. Interviews with local homeowners/business owners
Local home and business owners have great perspectives about your community. You can create great newsletter content simply by capturing this knowledge in an interview.
5. Commentary on other blogs
Providing new insight or a fresh take is a useful strategy to develop a conversation around your newsletter.
6. Home improvement tips
If you can help homeowners do something, or somehow make their lives easier, you are providing valuable content.
7. Business announcements
Do not forget that your newsletter is about you and your business as well. Be sure to mention any milestones or accomplishments to demonstrate your strong position as a real estate agent.
8. News about community events
Most small communities lack adequate news coverage. As a real estate agent with intimate community knowledge, you can fill this need and generate new newsletter subscribers
9. Home product reviews
Buying furniture and appliances is a big decision. You can reduce some of the burden by providing reviews in your real estate newsletter.
10. Personal finance tips
If you can get more people to save for a home you can generate more potential clients. This is a good use of your real estate newsletter.
11. Landscape design tips
You can also develop content by helping people decorate their yards. Provide tips from local landscapers or feature a few homes with exquisite properties.
12. Blog roundup
Sometimes you can provide value by sorting through the noise. Your newsletter will not be the first out there. Try to provide some clarity for your readers by curating content they might like.
13. Reader contributions
You can seek reader contributions for your newsletter by hosting little contests. Asking readers to submit photos of the best vegetable garden is a good place to start.
14. Interviews with other agents
Your newsletter does not need to be all about you. By featuring each other two or more agents can grow their newsletter subscribers together.
15. Information about a new law or regulation
State and local laws and regulations often have an effect on homeowners. If you can understand this effect and communicate it clearly, you can provide a valuable service.
16. Survey of local homeowners
Your content does not always need to be in paragraph form. If you can survey homeowners and publish the results, this may be just as interesting to your readers.
17. Featured properties
Do not forget that your newsletter is a marketing tool. Use it to bring your listings to a new audience.
18. Local photos
Everyone likes photos that put their community in a good light. Put some in your newsletter to keep people feeling positive about your community.
19. Local history
Every community has a history. For many communities, this history resides with long-time residents. You can generate interest by learning some historic stories about your town and including it in your newsletter.
20. Tax information
Every year, homeowners and businesses need to file taxes. Anything you can provide to make this process easier will be well-received by your readers.
21. Contractor and handyman reviews
Homeownership requires constant upgrades. Appliances break, pipes burst, electronics fail. Getting your readers though these difficult periods faster and more efficiently is a great service to them.
22. Restaurant guide
Help residents of your community new and old take advantage of the local food scene with a guide to local cafes and restaurants.
23. Home buying guide
Home buying is a confusing process. If you can make it less daunting for your newsletter readers they are more likely to turn to you when they are in the market for a new home.
24. Classic car sightings
Your newsletter can be fun. It can include your hobbies. If you see a cool car, snap a pic. Others will be interested in it too.
25. Buy versus rent calculations
In most communities it is better to buy than to rent, if you can afford it. If you can provide the cost breakdown in your community, that would be useful and interesting information.
26. Q&As
As a real estate agent, you have a lot of useful knowledge. Use your real estate newsletter to open up this knowledge with a reader Q&A.
27. Best kitchens
Your job as a real estate agent involves showing a lot of homes. You get to see some really high end interior designs. Show off some of the best in your newsletter with a list of best kitchens.
28. Before and after photos
Real estate agents get an intimate view of the evolution of their community. You can highlight its progression in your newsletter by including before and after photos of notable streets and buildings.
29. Local weekend guide
A local weekend guide is a useful resource for new as well as long-time residents of your community. Include one in your newsletter regularly to generate consistent readers.
30. Major property sales
Your newsletter is a good place to highlight major moves in the housing market. If you are involved in a major property sale, or even if you are simply familiar with one, include it in your letter.
31. News from the school district meeting
A lot happens at local school district meetings and often not many people are able to attend. You can take an inform-the-masses approach by including important district information in your newsletter.
32. Local transit change
People need to get around. Any change in the transit has an effect on real estate. Include this information in your newsletter to provide a comprehensive view of your community.
33. Good biking/running routes
Access to the outdoors and good exercise locations are hugely important for a lot of young adults. If you know a good running or biking route, include it in your newsletter to help develop your niche.
34. Neighborhood guide
Neighborhood intelligence is becoming more and more important as more and more home buyers take walkability into account in their decisions. You can provide what others do not by including a neighborhood guide in your real estate newsletter.
35. Home staging tips
Home staging can help increase offers. Helping home sellers get better offers can help you generate leads.
36. Major employer news
A number of factors affect the local housing market, including news from major employers in the area. If this information is useful to you as a real estate agent, it is probably useful to your readers too.
37. Social media roundup
By being active on social media you are able to stay tuned to some of the leading conversations about real estate. Help your readers stay informed by including some of the highlights of these conversations in your real estate newsletter.
38. Reference guide for new residents
New residents are potential future clients. Include some information to help them get settled in your community and do some early lead prospecting.
39. Market comparison
Context is always important in real estate. Your market may be doing well. But how well is it doing in comparison to others? If you have data on other markets, include it in your real estate newsletter to provide context for readers.
40. Best people to follow on social media
Not everyone has time or motivation to seek out the top real estate tweeters. If you can do this for them, you are adding value to your newsletter.
41. Highlight local charities
If a local charity or nonprofit is doing some good work, you can show solidarity with the community by providing highlights in your newsletter.
42. Backyard BBQ tips
You can help homeowners get the most out of their homes by providing backyard BBQ and other seasonal tips.
43. Interview local AirBnB owners
AirBnB owners have a unique perspective on your community. They can see what is most marketable to visitors from the feedback they receive. Find the right AirBnB owner, and you could have a great interview subject.
44. Answer the most common questions you get asked
Every real estate agent has those questions they get asked repeatedly. Why not preempt them by providing the answers in your real estate newsletter.
45. Guide for home inspections
Home inspections can be a confusing step in a real estate transaction. Any clarity you can provide will be valuable for your newsletter subscribers.
46. List of homes where prices have dropped
Use your newsletter to generate new interest for home with price reductions.
47. Tips for working with an HOA
Some of your readers may be members of a homeowners association. Providing tips on working with an HOA could be useful and unique content.
48. Best happy hours in the community
Not all readers will want market data and statistics. To attract a more general audience to your newsletter, include some lighter content, like a list of best happy hours.
49. Relocation resource guide
Before anyone moves in or out of your community they will need information on services that can help them. The more of this kind of information you can provide the more you will be able to promote your business.
50. List of community activities for kids
Do not forget about the little ones. Any content you can provide for the whole family in your newsletter will be greatly appreciated by mom and dad.
51. Drone photos
Everyone loves an aerial view of the community. If you have access to a drone, try taking it out in the evening when there is good lighting and snap some photos. They will surely be a hit in your real estate newsletter.
Now you have content ideas for your real estate newsletter. Now you just need to find some initial subscribers and get started. Leave any questions or feedback in the comments. Or for more Realtyna content, check out 11 Tips For Running Your Real Estate Business From Home.