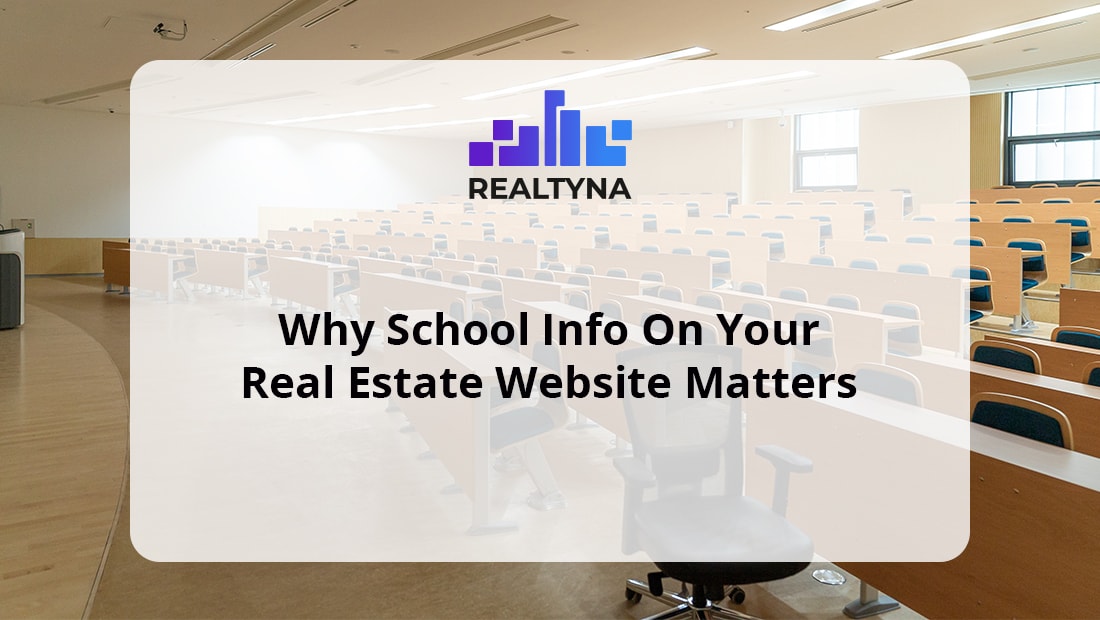 Why School Info On Your Real Estate Website Matters
31 Aug 2019

Posted at 10:00h
0 Comments
Homebuyers with kids under the age of 18 say the neighborhood is an important factor in their decision-making process. According to NAR research, 53% of those buyers made their decision based on the quality of schools in their potential neighborhood, 50% chose a neighborhood by convenience to schools.
As you can see for families with kids school info is a major factor in the process of buying their future home, so what you, as a real estate agent, can do to provide this information swiftly and conveniently to your leads? The easy answer is- you need a school info add-on on your website.
Here are the reasons why:
Value
Additional information about schools provides additional value to your leads through your website. They don't need to ask about the schools in the neighborhoods after they consider and decide to act on a property. Your leads can actually take into consideration all the school data they need while they are just looking and make an informed decision whether they want to act on the property or not.
Dwell Time
Parents who are interested in buying the house tend to check out the school info thoroughly. With school info add on, every property on your website will have its own information which schools are nearby and how good are they based on the grades and test scores. The more useful information you provide, the more time you can keep your lead on your website.
More time spent on your website will influence its SEO ranking very positively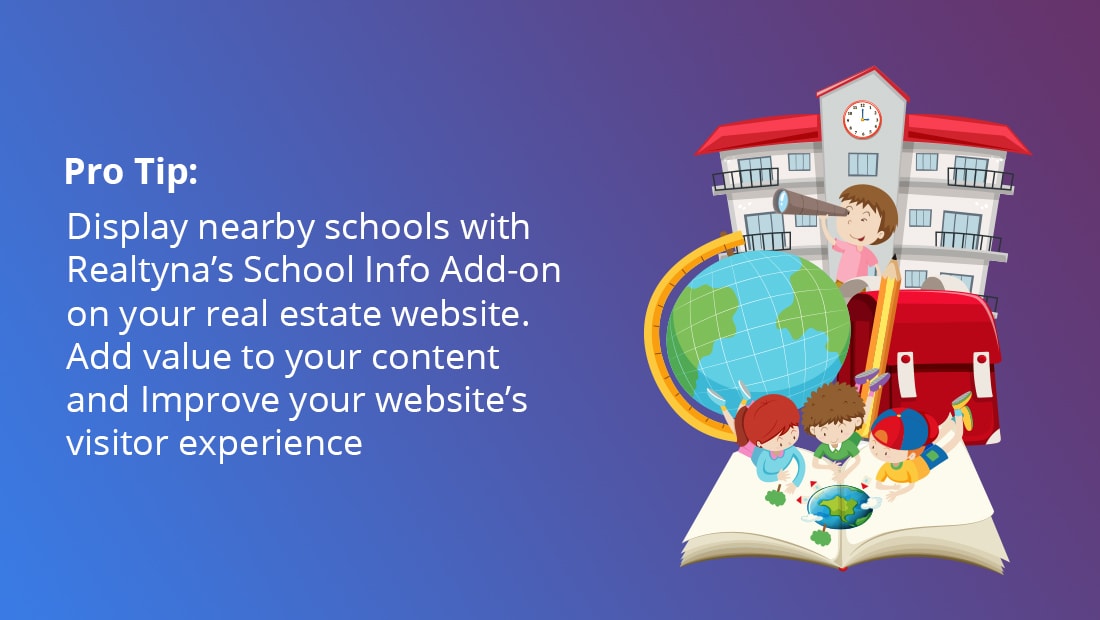 Stand Out
Statistics show people care about good schools very much and showing that your business takes this seriously make you seem professional and able. It's also a great chance to stand out among the competition.
That's precisely why it's so useful for a real estate website to have specific and straightforward information about nearby schools so the visitor can get the maximum amount of information they need on your website and not have the reason to look for another agency
It's Not Only Families
Your target audience, when you implement the school info add-on on your website is not only families, it's much bigger.
School district matters even if you don't have kids and not even planning to have them someday. The reason for this is the following- buying a home in a good school district is a great investment. Nearly half of the potential buyers look at homes with good schools than those with poorly rated schools. Homes in good school districts can be valued nearly 50 percent higher than otherwise similar homes.
Also, good schools nearby could be an indicator of the other qualities the neighborhood may have. It is often perceived that such districts have more family-oriented and caring neighborhoods. Your leads may be looking for something like that and school info could be very useful to assess the situation
Bottom Line
Information your website provides about nearby schools could be vital in your leads' decision-making process. Realtyna offers a school info add-on for your WPL website to help you in the lead generation process.
Realtyna's WPL School Information Add-on uses external sources like GreatSchools for finding schools. GreatSchools ratings are based on test scores and additional metrics when available.
For more information about our School Info add-on visit this page right here or check out our blog about How School Ratings Data Can Help You Generate and Convert More Leads