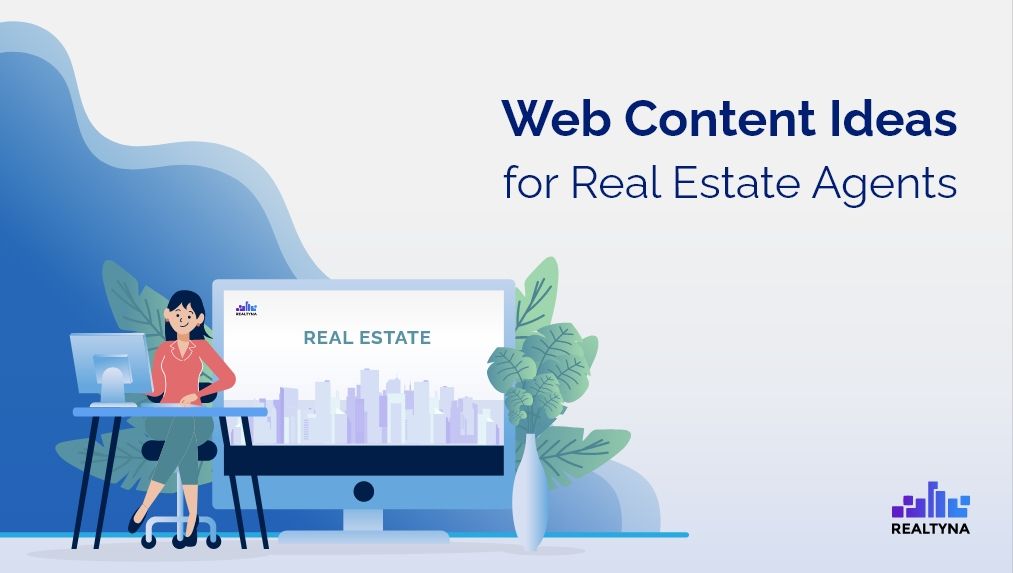 Web Content Ideas for Real Estate Agents
02 Nov 2021

Posted at 11:00h
0 Comments
If you are searching for content ideas for your real estate website or thinking of ways to spice up your blog, we got you covered. In this article, we will list all the things you should include on your real estate website.
Listings
A professional real estate website includes the newest listings and a detailed description of the properties on sale. For example, include the number of bedrooms, the houses' interior and exterior appearance, and much more. Make sure that your website has all listings up to date. Lastly, don't forget to add your contact information so that you can make it easy for your potential client to contact you.
News Updates
A good website should have a page dedicated to the latest trends and news in the real estate marketplace. If you want to attract more clients, post blogs about the latest news updates in the real estate market. Keep your audience engaged and up to date with all things real estate so that you can keep them coming back for more.
Blog Posts
Speaking of blogs, a significant aspect of having an informative website is dedicating time to your blog posts. You'll be surprised as to how impactful blogging can be for your real estate business. Blogging helps you connect with your existing and prospective clients through written content. It also helps you build more trust with your clients and better your company's overall image. With a high-quality blog, you are on your way to increasing your website traffic and lead generation, as well as showcasing your expertise and knowledge.
Home Tours and Guides
Home tours have been immensely popular for years, but showcasing your home tour in an artificial 3D virtual environment will surely drive more traffic to your website. By using 3D virtual tours, your clients can have a unique experience while touring your property directly on your website. With the help of VR, aka virtual reality, your clients can easily take tours of your property in the comfort of their own homes, view everything at their speed and make adjustments based on their preferences. You can also envision your ideas for future developments and test them out before spending on real changes. Clients can also take advantage of VR benefits by sampling ideas before committing to decisions.
Client Reviews and Testimonials
By posting your clients' reviews and testimonials, you provide your customers with information about your company. For example, what did your past customers like most about your services, or what you could have improved on. Testimonials, give your clients a sense of comfort, knowing that they are in trusted hands. So make sure that you include them to give your clients a better understanding of your work.
Events
It's always a good idea to include a page of upcoming events in your city. For instance, upcoming open houses, or networking events for real estate professionals. You can also include videos and photos of these events for your audience to get a glimpse of what your events are like.
Partnerships
Another great addition to your real estate website is to dedicate a page to partners in your business. Share stories with your partners and dedicate a page to your shared work achievements. This shows that your company is willing to expand its horizons and form partnerships with those that share the same values.
About Page
The about page is an important addition to your real estate website. Why? Because it adds a hint of personality to your website. It gives your audience a peek into your personal life. Whether the website is personal or for your brokerage, it's always good to include an about page where your clients can get to know more about you and your brokerage. A good website should include information about your brokerage. The work you do and your expertise, how many years of experience your agents have in real estate, your company's core values, and mission.
Contact Page
Last but not least, have a contact information page. We recommend that you have your phone number at the top of your home page so that your clients can easily reach you. Still, a separate page dedicated to your contact information is also very useful. Ensure that your contact page includes all the necessary information such as your brokerages' email, phone number, location, etc. The more accessible it is for your clients to connect with you, the better the chances are for them to consider your brand as their primary choice.
Thanks for reading. For more tips, make sure to read more of our blog posts.
Why Is It Important for a Real Estate Agent To Have a Personal Website?
A Guide to Online Presence for Real Estate Brokers