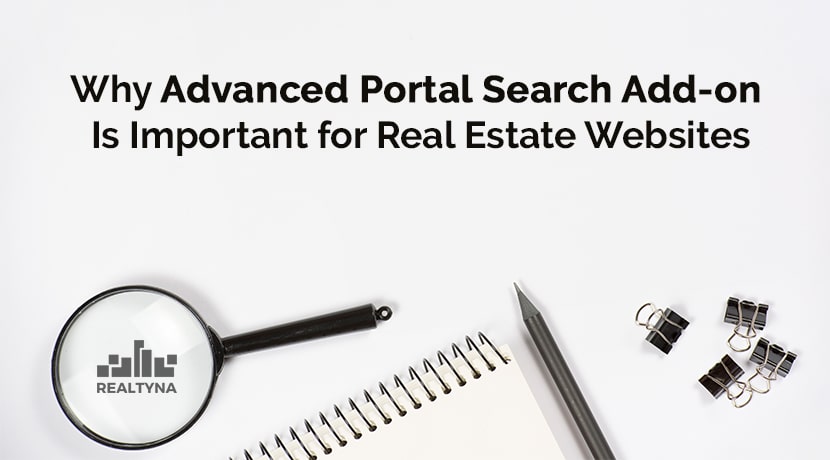 Why Advanced Portal Search Add-on Is Important for Real Estate Websites
27 May 2020

Posted at 11:00h
0 Comments
Even though in many states real estate services were considered essential, real estate business has slowed down. People are practicing social distancing by staying at home to flatten the curve and not make the situation worse. With the limitations put on real estate activities and the general inactivity of real estate clients, the next question arises: "How to attract new leads and keep past ones?". The answer is simple—provide a better virtual experience for your audience. These uncertain times will pass and the real estate industry and the whole economy will slowly but surely get back to normal. But for now, real estate agents should think about improving the online experience for clients and creating a more user-friendly experience.
Today we will focus on Advanced Search Portal Add-on and it's usefulness for real estate agents during the COVID-19 outbreak.
What is Advanced Portal Search Add-on?
APS or Advanced Portal Search Add-on is a powerful extension to WPL Pro. It enables IDX websites to add AJAX and map search functionalities. APSA is not your simple search engine. It has a richer design and it includes all those important features that make your website visitors stay for a longer period of time.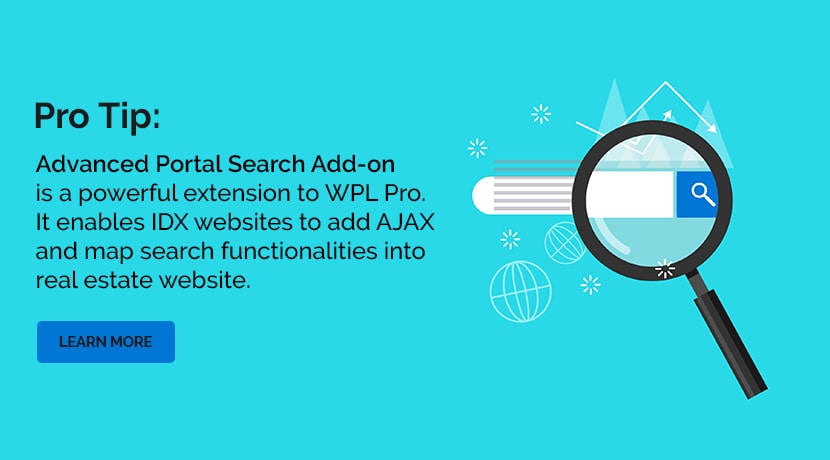 Why Should You Implement Advanced Portal Search Add-on?
Despite the real estate industry being put under strict limitations, there are still many real estate clients who want to purchase property and are waiting impatiently for this lockdown to end. Until then, they are searching virtually for a perfect new home. That's why it's so important to provide the best user experience. This is possible with Advanced Add-on's rich design and many features.
Let's discuss in more detail what are these features and why your real estate website needs them.
Ajax-based search

– Did you ever have a negative experience with a website when you needed to constantly refresh the page to get a new update? With APS's Ajax-based search, you will instantly update your content and search results without refreshing the page. In a nutshell, it's a more subtle and classic way to update your information without reloading your pages again and again.

MySQL

– It's one of the most popular and reputable database engines for storing data. WordPress and the most powerful applications out there use this database engine.

Map View

: Map view is a section on the property listing page. The WPL property listing page uses a Google Maps activity to show properties on the map but this option is customizable. The Map View is a very comfortable feature to help users search for properties. You can draw circles/polygons and zoom the map to narrow down your search. It's even possible to narrow the search down to a specific school district. With the Zooming/Panning option, you can browse new searches on the map and it will instantly update the information. So you'll be able to receive the latest and freshest information about properties.

Saved Search

– With the saved search function, your clients are able to save searches of the properties they like. It's very convenient since many real estate transactions are limited and many clients aren't able to purchase property right now due to the coronavirus. Most importantly the saved search number is unlimited. Saving properties gives your clients an option to stay aware of their preferred listing types.

Email Notifications

– More importantly, clients are constantly updated about their saving searches. Your clients won't need to constantly check the property updates on the website. Every new information will be sent to their email. That way, when any coronavirus limitations are removed, they will be able to quickly check the property they are interested in and have the latest updates about it.
P.S Interested in other Realtyna's Add-ons? Check out this article: Benefits of Using Membership Add-on for Your Real Estate Business.