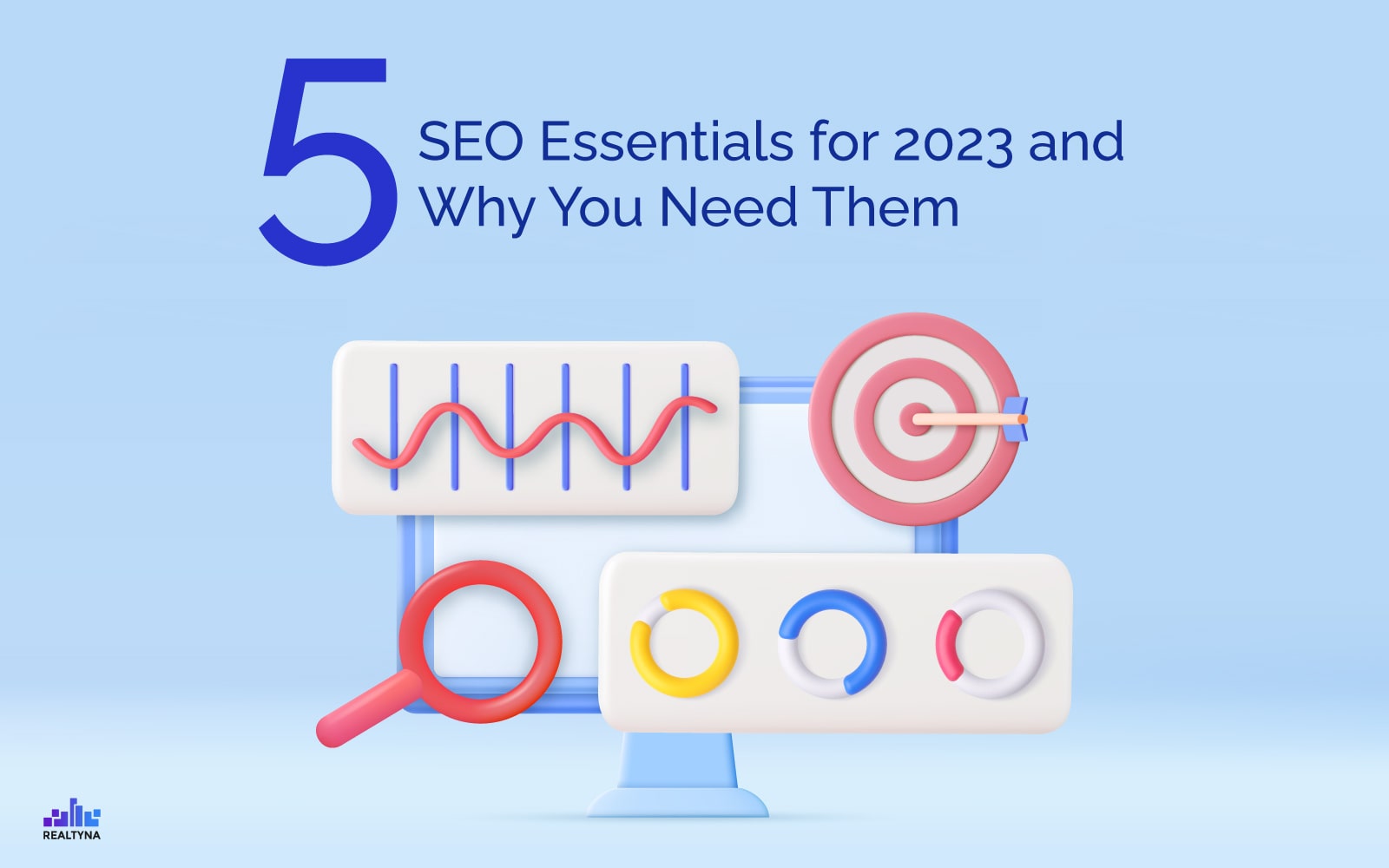 5 SEO Essentials for 2023 and Why You Need Them
15 Jan 2023

Posted at 11:57h
0 Comments
Marketing in real estate continuously evolves, and that is same for real estate SEO marketing. The Google algorithm is considerably more sophisticated than it used to be, and now, more is needed to have a website and rank for keywords. To stay at the top of search results, you must grasp current SEO trends and how they affect your marketing plans.
Content Is Forever Needed
Indeed, you can dive into the finer details of statistics all day, but you wouldn't have data to examine if there's no content for an audience to consume. Fresh and updated content is essential for real estate SEO, but it doesn't end there. Visual content is necessary. Using images, videos, infographics, and other media will increase traffic and make your site more user-friendly, enhancing engagement and accessibility.
Google's search algorithm also appreciates when you constantly update your website with high-quality material that provides value to users. Marketers can also benefit from the power of video content. Video is more compelling than text and images.many individuals want more video material in the future.
A captivating video on your website can entice visitors to stay longer, which Google rewards with higher search ranks. In addition, videos provide an excellent opportunity to share your videos to social media platforms like YouTube and more to market your business.
Know Your Audience
To master real estate SEO, you need to be interested in learning as much as possible about your customers. Understanding user intent and valuing user experience, like what the users are searching for and how the users think after using your website, is highly crucial in 2023.
Make a Dynamic, Mobile-friendly Website
Optimizing for mobile search goes hand in hand with optimizing for voice search. The number of phone searches is likely to rise in2023 and beyond.
To optimize your site's performance on mobile devices, ensure that you build it with responsive coding and a framework that adjusts how it looks based on the device used to view it. It would be best to use caching, a content delivery network, and compress pictures to improve page loading times.
Need help with your website? Check out our Ultra-Fast Real Estate Web-Hosting.
Always Use Structured Data
Structured data is essential for search engines because it allows web crawlers to comprehend what information is accessible on your website. They can only effectively index your site if you provide the necessary information. If someone searches for something on Google, it will be easier for users to locate your site rather than other sites that may offering similar services.
Check out How to Make a Real Estate Website SEO-Friendly?
Analytics Is Required
Marketers can use Google Analytics to gain SEO insights, such as Monitoring mobile traffic to collect data on bounce rates, engagement, and other metrics. Site search bar tracking to determine what users are looking for when they visit your website and whether there is a content or service gap that you could address. However, the sheer amount of information can be overpowering at times.
Fortunately, some systems will automate data collecting and analysis, so you won't manually have to monitor your stats. Automating SEO duties with technologies or Realtyna's SEO specialists can significantly simplify your campaign and free your team to focus

Why Do You Need Realtyna's SEO Services for 2023?
Improving and managing your real estate SEO may be a time-consuming and technically challenging task. Realtyna's SEO services include support from a team of seasoned SEO specialists who will take care of everything from setting up your SEO tools to structuring your website and even assisting with advertising and ongoing administration.
Each plan includes tools you need to improve your website ranking, content production, data analytics, and social networks, thus, increasing organic lead generation.
As a result, you get more exposure while at it. Therefore, save time and get back to what you do best as your website gets more visitors from a feature-rich SEO toolset.
Check out Realtyna's SEO Packages page to get started.