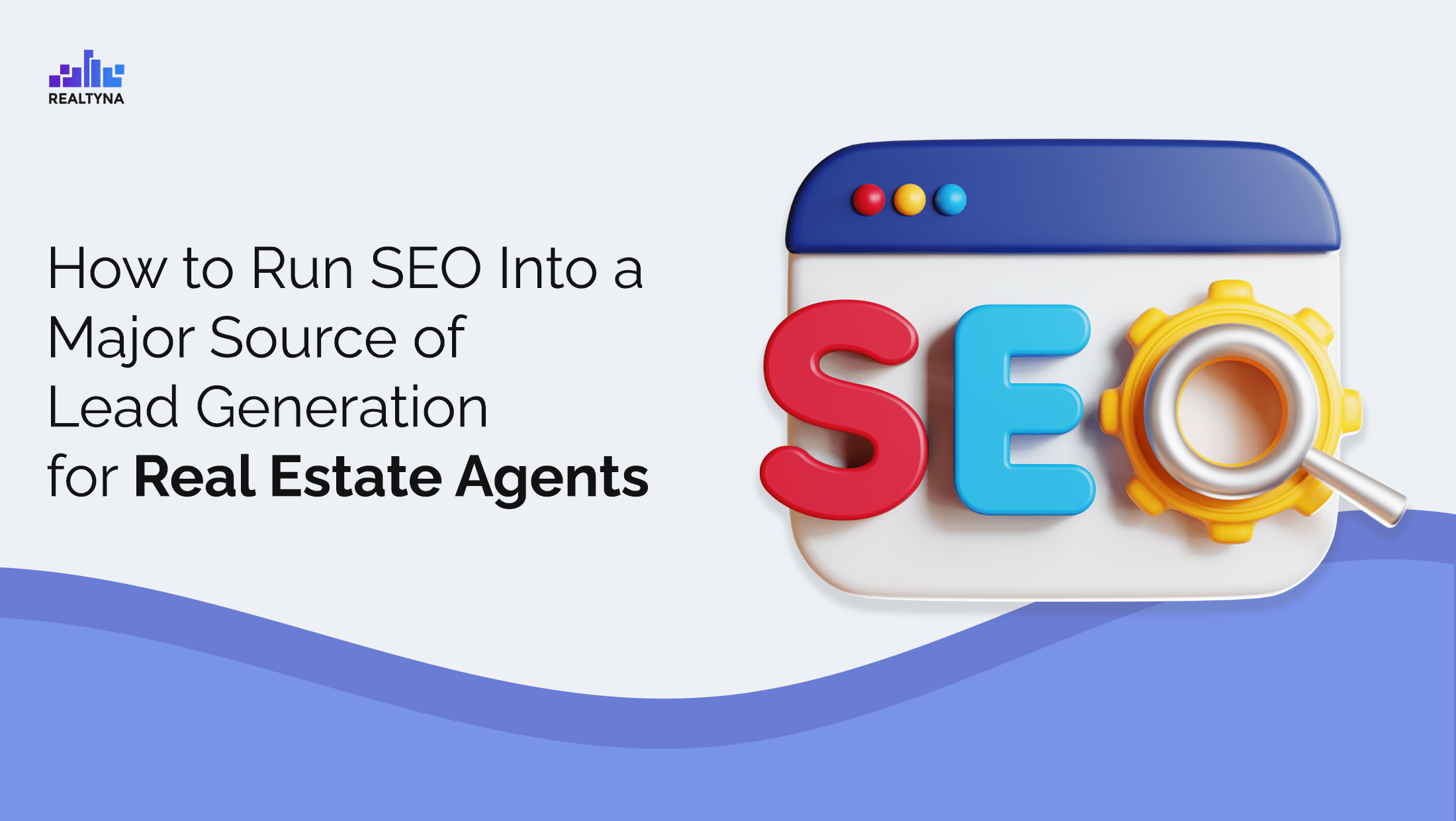 ​​How to Run SEO Into a Major Source of Lead Generation for Real Estate Agents
06 Jun 2022

Posted at 11:00h
0 Comments
Every real estate agent's goal is to have a steady flow of leads without making hundreds of cold calls. Lead generation is vital for real estate business success. As a professional in the industry, to achieve long-term goals, it is essential to have an effective, up-to-date strategy and tools to help you generate consistent organic leads. Today, we are going to talk about how you can use SEO as a major source of generating real estate leads.
If you have trouble generating leads for your real estate business, continue reading this article to get some tips and tricks to capture real estate leads through SEO.
Why Is SEO Important for Real Estate Websites?
Like everything else, people search for homes online before getting in touch with a professional. You want your real estate website to rank among the top sites that show up in the search results during these searches. ​​Having a high-performing website, making sure you are visible in local searches, and listing your business on major real estate platforms is the way to go. A solid online presence establishes credibility for your business while attracting more leads.
If you're not visible online, your business will be missing big time on potential clients or new leads. That is why effective SEO should be a part of your overall marketing strategy. Without this, clients might find it challenging to locate your website, hence low conversion rates.
SEO for Real Estate Lead Generation
First of all, when discussing SEO for lead generation, you have to consider that your business needs a real estate WordPress website to leverage this tool. Your real estate brand's visibility on Google and other search engines is highly dependent on how your website is optimized. Real estate agents should learn how to use SEO to engage prospects through organic search results and how real estate websites can boost their SEO and improve their visibility across the web. So, without further ado, let's discuss how real estate agents can leverage search engine optimization as a major lead generation source.
Claim Your Google My Business Listing
One crucial fact about Google My Business Listing is that it helps target users in your local area. This implies that when potential clients search terms related to your business, your website will be among those that show up on the local area business map. This is one of the first steps to ensure that your business appears on the knowledge panel of Google search, Google SERPs, and Google 3 Pack. Now, how do you claim your Google My Business listing?
Head over to Google My Business and create a real estate business profile. Next, list all other details about your business, such as your business name, address, and business phone number. Always make sure that these three details are consistent across all your other social network accounts. When your GMB account is verified, you can also create citation accounts on Yelp, Facebook, Yellow Pages, etc. This ensures that when users search for real estate listings or agents on any of these platforms instead of Google, you still appear in the results.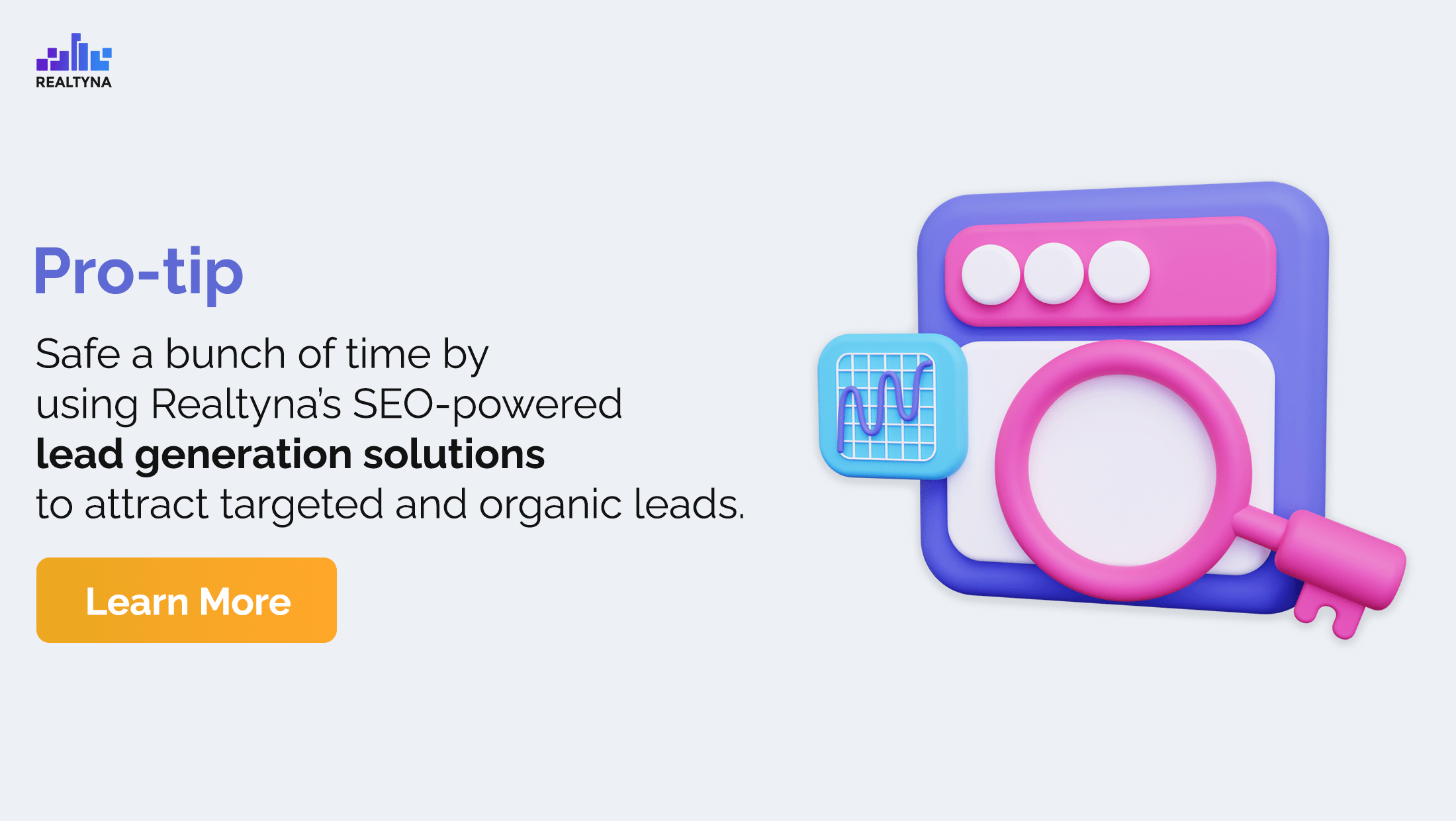 Blogging
Leverage your website's blog and create city/area-specific content. An organized and informative city-specific content can be beneficial to your marketing funnel. For example, you can create blogs detailing important information about neighborhoods, cost of living, security, and other amenities in your city to properly guide your users around your sales funnel to make a better decision. If you provide useful information to people during their research stage, the chances are that they are likely to come back to you and trust you when they are in the decision stage.
Keywords
Competition and volume play an essential role in attracting more leads. So if you are not sure about what to write in your blogs, make sure to research niche-specific keywords and other keywords related to your line of business to attract more organic traffic.
Schema Markups
This is a more technical SEO practice. These are snippets of codes that indicate to Google how you want your website pages displayed on SERPs. There are several types of codes applicable to this technique. By using schema markups for local real estate businesses, you are helping Google's crawlers know what type of business you are, your work hour, reviews, and more. Pages that use schema markups have higher click-through rates, and as a real estate professional, this is essential for lead generation.
Get Help From Professionals
Realtors and agents who find it challenging to implement a successful SEO for lead generation effectively, Realtyna's team of experts has got you covered. Besides helping you find your target clients, Realtyna has packed everything you need to maximize your lead flow through its lead generation bundle. From creating real estate websites, increasing your website traffic, boosting conversion rates, developing blog content, optimizing search engines, to providing the necessary technology to place you ahead of the competition.
Final Thoughts
With the high level of competition in the real estate industry, professionals have to get more creative with their lead generation strategies. A real estate SEO plan that incorporates these tactics will yield the best results.
People Also Search:
How to Migrate Your Website Hosting Without Affecting SEO
Lead Generation Guide for Remote-Working Realtors®
Top 5 Products Offered by Realtyna That Can Improve Your Lead Generation