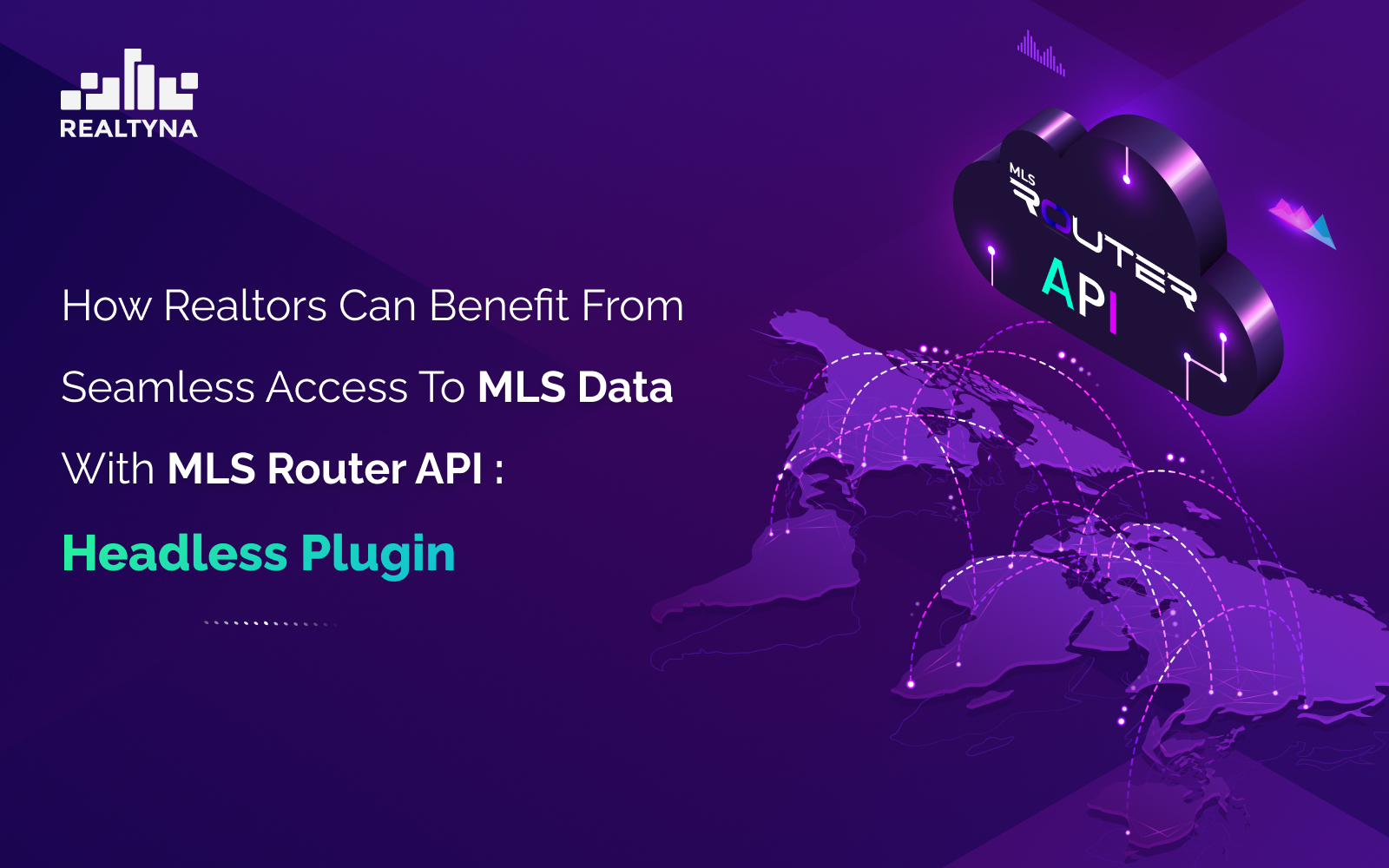 How Realtors Can Benefit from Seamless Access to MLS Data with MLS Router™ API: Headless Plugin
14 Mar 2023

Posted at 08:53h
0 Comments
The real estate industry is highly competitive. That is why real estate professionals need access to the most updated property information to stay ahead of the game. By providing access to data about properties for sale and information about market trends, MLS Router™ API presents new and advanced ways to access and use MLS data. From super-fast speed, seamless integration, and low cost to improved user experience, MLS Router™ API provides a feature-rich solution for high performance on real estate websites/applications.
What Is the MLS Router™ API?
MLS Router™ API is a headless plugin that allows developers to access MLS data through a standardized REST API. The headless real estate plugin allows developers/webmasters to easily integrate MLS data into real estate applications, websites, and other digital platforms. In addition, MLS Router™ API is designed to be flexible and customizable, making it an ideal tool for developers who want to build custom real estate applications.
Even better, the real estate data API is highly customizable and flexible, allowing real estate professionals to access MLS data without any hassle. Realtors can retrieve MLS data in real time, providing them with updated information about properties for sale, recent sales, and market trends.
Features
MLS Router™ API is driven by both speed and security, powered by AWS.
Real estate professionals get access to top-of-the-line MLS data from the most prominent MLSs in the USA and Canada
Realtyna's team of seasoned experts deliver high-quality client support
Comprehensive documentation to ensure easy access and use.
Technical features include:
CRM Data IO
Scheduling Data
Neighborhood Data
Open House Data
Saved Search Data
Market Stats
CDN Service
Demographic Data
Open Street Map
Authentication Service
Tags and Notes
Google Search Console/Analytics Integration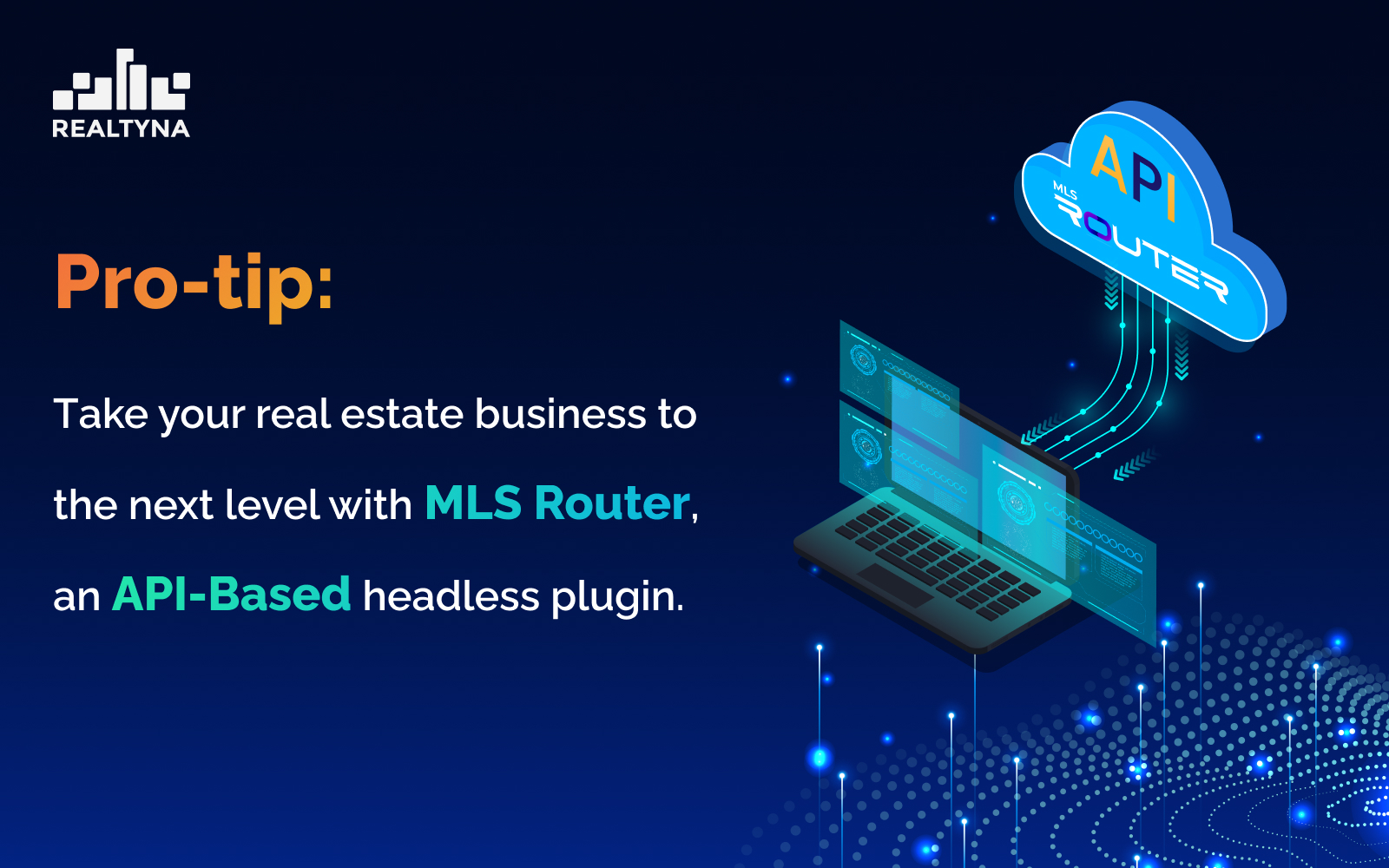 How Can Real Estate Professionals Benefit from MLS Router™ API?
Real estate professionals can benefit from MLS Router™ API in many ways. Not only is it one of the best real estate APIs, but it is also packed with a myriad of features. Keep reading to take advantage of this high-performance solution.
1. Managing Complex MLS Data
MLS Router™ API's ability to manage complex MLS data structures is one of its key benefits. Data can sometimes be complex and difficult to analyze due to multiple layers of information and connections between different features. However, MLS Router™ API streamlines this procedure for developers by offering a standardized API for real estate listings. As a result, developers won't waste a lot of time and resources on a single project, allowing them to focus on building websites/apps.
2. Seamless Integration with Existing Tools
Real estate professionals often use a variety of tools, including websites, applications, and customer relationship management (CRM) software to manage their businesses. MLS Router™ API is compatible with a majority of this software, providing real estate agents or web developers with access to MLS data without leaving their existing solutions. This means time and increased efficiency, allowing real estate agents to focus on their business.
3. Real-time Data
With MLS Router™ API, Realtors get real-time data, with access to the most current information about properties for sale, recent sales, properties for rent, and market trends. Real estate agents and brokers can use this data to make better choices while staying ahead of the competition.
4. Enhanced Customer Experience
Besides its technical advantages, MLS Router™ API is also designed to be user-friendly. The plugin's easy setup, configuration, and simplistic UI further streamline the MLS data retrieval process. As a result, learning the plugin in depth before using it won't be required for developers.
Further, MLS Router™ API enhances customer experience by providing users with updated information about existing properties for sale/rent. This information can help customers make informed decisions about properties they are interested in and can increase their satisfaction with their real estate agent.
5. High Speed
The speed of your website is a critical factor in its ranking. Following the recent Google Core Web Vitals update, site speed can dramatically improve user experience. The faster your website is, the better user experience you can provide for your clients. Hence increasing your chances of obtaining a higher search engine ranking. MLS Router™ API is developed to create a fast real estate content delivery system through headless architecture.
Unlike the traditional and more expensive CMS framework, a headless CMS bypasses certain time-consuming processes and helps you create a highly customizable real estate website/application, increasing speed.
6. Increased Efficiency
MLS Router™ API increases efficiency by providing real estate professionals with necessary data to make informed decisions quickly. The plugin allows them to focus their attention where it belongs, i.e., on expanding their businesses. As they save time and boost productivity thanks to the MLS Router™ API.
7. Increased Revenue
By providing real estate professionals with access to current property data, MLS Router™ API can increase revenue. Since Realtors will be able to quickly identify new opportunities and close more deals.
Conclusion
Overall, the MLS Router™ API is a powerful tool for Realtors to access information as they strive to achieve their goals. The headless plugin allows developers to focus on core projects while increasing efficiency by simplifying the process of accessing and handling complex MLS data structures. MLS Router™ API is one of the most advanced MLS APIs available now for real estate professionals. Consider implementing the MLS Router™ API to stay ahead of the competition while growing your real estate business.
Contact us for more information: