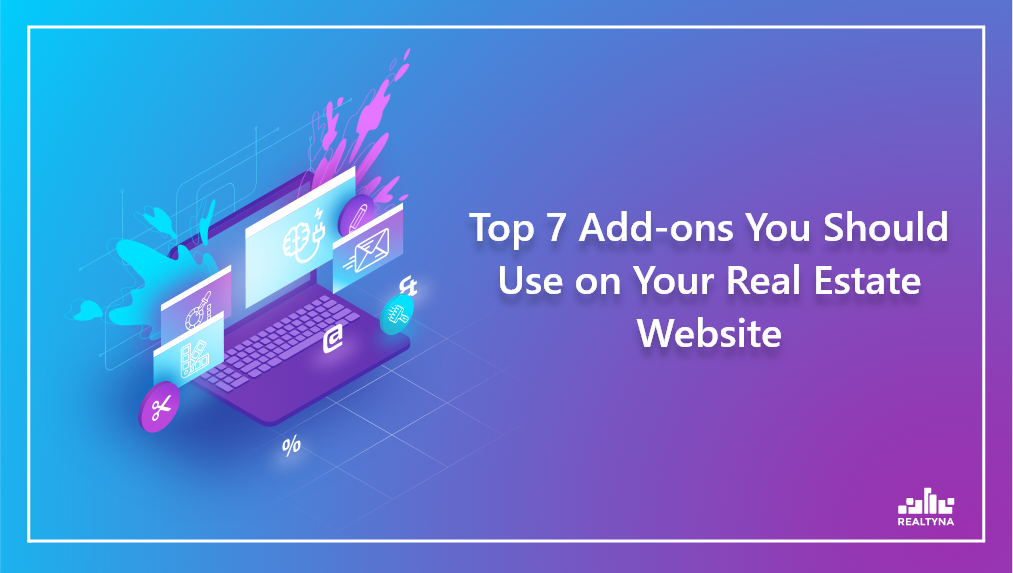 Top 7 Add-ons You Should Use on Your Real Estate Website
07 Jun 2021

Posted at 11:00h
0 Comments
Online marketing plays a huge role in every industry, especially the real estate industry. Billboards have been replaced by stunning listings available on real estate websites. It is a huge responsibility to run a successful website.
Competition between real estate websites is at the highest level. Quite simply, when there are thousands of real estate websites, it is very hard to run the leading website. There are many useful tools, add-ons and more that can be used for a successful real estate website.
Today, we are going to highlight some of the useful add-ons, mainly seven of them, and we will outline the importance of them. If you are planning to run a real estate website, then this article will definitely help you.
Let's dive in!
Most Useful Add-ons for Your Real Estate Website
Sometimes, it is very difficult to choose exactly what add-ons should be used in order to run successful real estate websites. Although there are many different and useful add-ons, today, we are going to highlight the top 7 useful add-ons that can be used for your website.
MLS Add-on
If you already work in the real estate industry, then you definitely know what MLS stands for, but let us outline its meaning. MLS simply means multiple listing service. MLS integration means a service that allows you to pull data from your MLS provider and publish it directly on your real estate website. Listings are the main tools for real estate businesses, and quite simply, every real estate website should have property listings available on it. Want to know how to integrate MLS on your real estate website? Check our article on how do I add MLS to my website?
Membership Add-on
Speaking about listings, when you have many users on your real estate website and they are listing their property, there should be a controlling tool to manage the users activity and the amount of listings they are posting. Membership Add-on is definitely something that you need in this situation. This add-on takes your website to the next level by allowing you to have different membership packages for different users. Membership packages can be defined by user types, price, membership validity period and more. For more, check our article on benefits of using Membership Add-on for your real estate business.
CRM or Customer Relationship Management
No matter how well-structured your real estate website is, without any customer relationship management, there is no way to achieve success in this industry. CRM, or customer relationship management, supports unlimited agents and contacts and helps you to manage new contacts and leads. CRM simply captures leads from various online forms and allows you to monitor their activity on your real estate website. Want to know how it works? Check our article on the ultimate guide to real estate CRM.
Brokerage Add-on
Having management controlling tools are essential for every website, especially real estate websites. If many agents are working on your website, then you should definitely have Brokerage Add-on. With the help of Brokerage Add-on, you can add a new level of management by allowing agents to add or edit listings like normal users. This will allow brokers to edit the listings of their agents. For more information about this add-on, check our article on how to improve listing accuracy on your real estate website with the Realtyna Brokerage Add-on.
Demographic Add-on
The decision making process is very hard and time consuming when customers are choosing the right property for them. In most cases, demographic information plays a huge role in the decision-making process. With the help of Demographic Add-on, you can easily define information about each region. It also allows you to arrange defined regions on the map based on already defined color shades. Do you want to know why this matters on your real estate website? Check my article on the importance of demographic tools for your real estate website.
Neighborhood Add-on
The real estate industry is all about location. When a client is searching for property, the main concern is where the property is located. You should have all information related to the location, if you want your real estate website to be the leading one in the industry. Neighborhood Add-on is something that will help you in this case. It simply creates a hierarchy of neighborhoods and shows the center of the neighborhood on the map. To know more about neighborhood strategy, check our article on 7 neighborhood intelligence strategies to boost lead generation from your IDX real estate website.
School Information Add-on
There is definitely a relationship between property values and the quality of schools in the area. Parents are always concerned about schools and quite simply, when they are searching for properties, the first thing they are looking for is nearby schools and the quality of them. This type of information allows your website visitors to have more information about the properties they are looking for. This add-on simply adds value to your content because each property gets its own data and more. For more, check out our article on why school info on your real estate website matters.
Last Several Words
Having a real estate website is very difficult and requires a lot of thinking about strategies and having different add-ons. In this blog, we discussed the main 7 add-ons that should be used in every real estate website.
Are you interested in useful tools for vacation rental websites? Then you should definitely check my article on what you need to have while running a vacation rental real estate website.
Promoting websites are the key tool towards success and these add-ons are useful for promoting your real estate website. Want to know how? Check our article on how MLS Integration and WPL Neighborhood Add-on can help Realtors promote their websites.
Question or feedback?
Leave us a comment below.