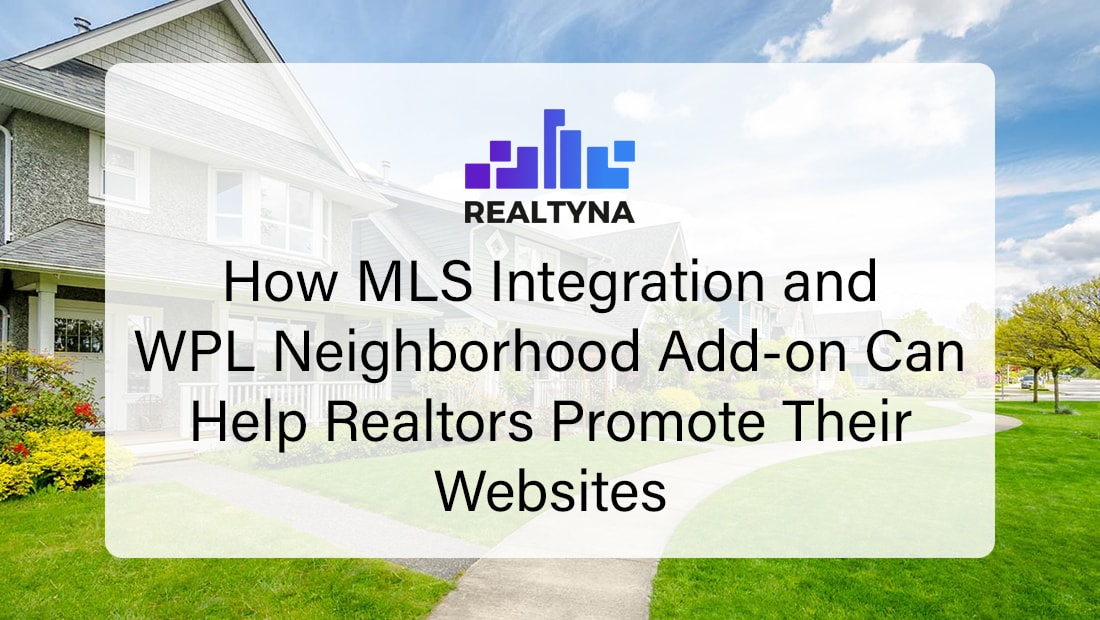 How MLS Integration and WPL Neighborhood Add-on Can Help Realtors Promote Their Websites
27 Aug 2019

Posted at 10:00h
0 Comments
Being a good real estate agent means knowing what your customers really want. To show your expertise, and to help with a realtor lead generation website, MLS Integration combined with WPL Neighborhood Add-on may help.
Why You Need A Good Realtor Lead Generation Website
Imagine you decide that you want to buy a house, what would you do first?
Although there are some exceptions, there is no doubt we all start looking online for different properties for sale.
As the National Association of Realtors (NAR) suggests, the first thing 44% of recent buyers did during the house-buying process was surf the internet, while only 17% of buyers decided to contact a real estate agent first.
That is an important fact to bear in mind while taking care of your Real Estate Website as a realtor.
How MLS Integration + WPL Neighborhood Can Help Your Realtor Website
If you already have a real estate website, you already know that you need to generate leads. Leads are the prospects who are interested in your services or company. By generating leads you become aware of your customers' needs. In order to convert strangers into your leads, you need to make your website user-friendly. The more user-friendly it is, the more leads you can get.
Without a doubt, if you are going to buy property, you will want to explore a specific neighborhood. If your website does not have this function, it might be uncomfortable for a user to search properties all over the city or state when in reality, they only consider certain areas.
In this case, we have a suggestion for you –custom neighborhood pages. In addition, if you have MLS Integration on your real estate website alongside WPL Neighborhood Add-on, you will be able to import thousands of listings and automatically send your listings to the right neighborhood. This will give you the opportunity to have a complex, sophisticated realtor website and meet your customers' needs.

You Can Organize Your Listings
WPL Neighborhood Add-on gives you the chance to categorize your listings into different neighborhoods. You will be able to add your listings to different neighborhoods and then create a single page for all of them. Additionally, you can use the carousel widget and the photos of all neighborhoods to draw the leads' attention.
For further neighborhood details, you might consider adding demographic information for the area by drawing and defining different regions & neighborhoods on the map displayed. With this, you can also use graphical settings, add more information (such as distance from downtown, average home value) and sort them.
You Can Indicate More Amenities
Of course, when researching a specific area, leads will probably want thorough information. Do not make them leave your website and search the neighborhood details somewhere else. There is a great chance they will not come back to your real estate website.
That is when WPL Neighborhood gives you the best opportunity to keep the lead interested by indicating all the amenities of the neighborhoods to your pages. Give your prospects a chance to find out that the neighborhood they are searching fits their interests without leaving your site.
For this, make sure you have marked the distance from shopping malls, stations, restaurants or cafes to the neighborhood.
Moreover, you should also think about including the information about schools located nearby. They will appreciate the convenience. Besides, the home-buying process consists of many families with children and are likely to look for neighborhoods with certain schools nearby.
You Can Show You're An Expert
Being trustworthy means a lot. If you are aware of the needs and interests of people in your area and you know neighborhoods well, that gives you a huge advantage.
Try to learn more about your coverage area and its amenities and culture. Show your prospects you are an expert. This will make them trust you. On the other hand, by creating quality content, your customers will stay longer and keep browsing your realtor website. This will help you convert them into leads and improve your service and business.
For more on using WPL Neighborhood Add-on, follow the steps of How to Create an Impressive Neighborhood Page That Will Generate Real Estate Leads