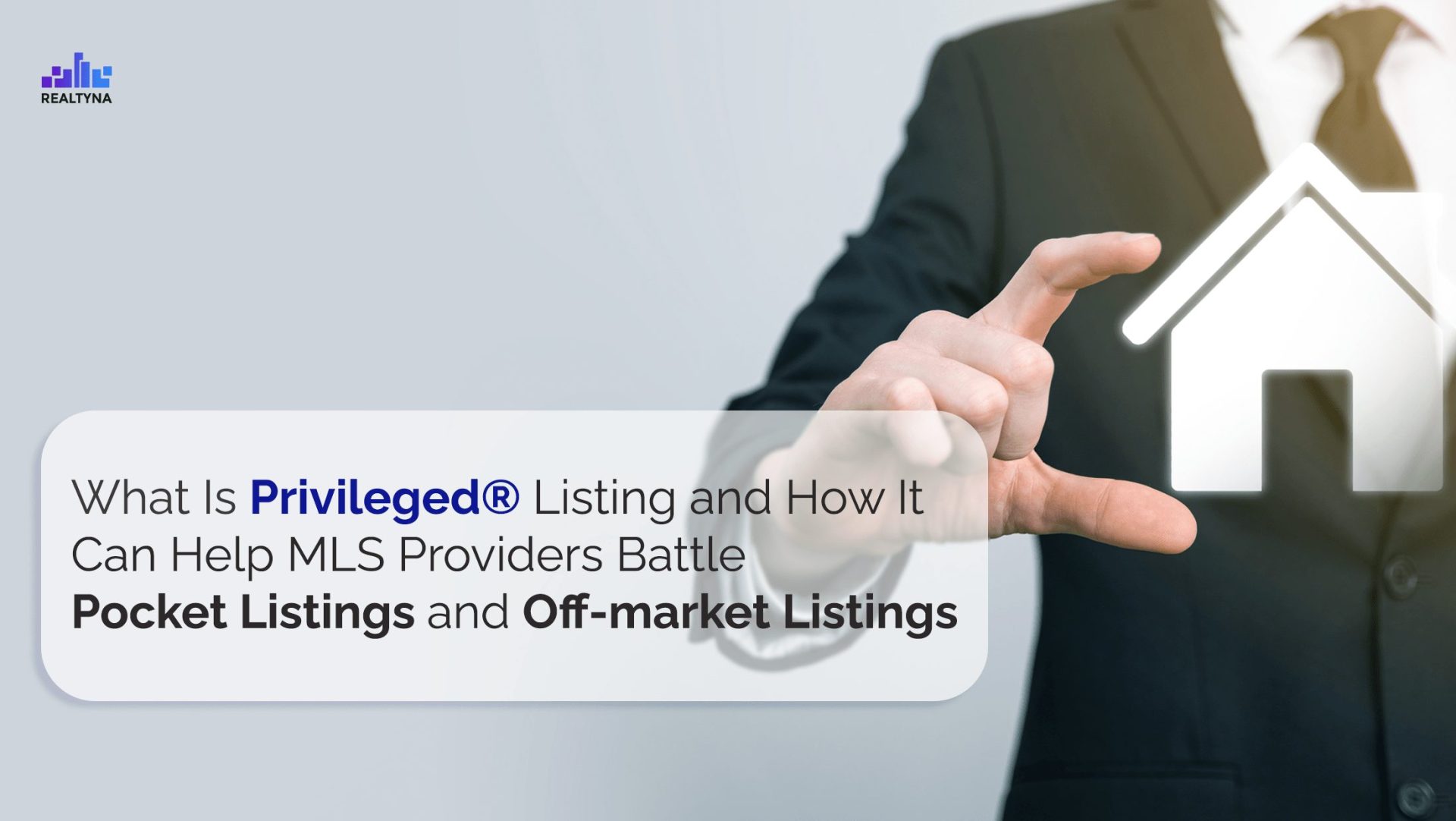 What Is Privileged® Listing and How It Can Help MLS Providers Battle Pocket Listings and Off-market Listings
06 Jul 2022

Posted at 11:00h
0 Comments
In today's competitive real estate market, it is not unusual for a hot property on the MLS to receive a handful of reasonable offers from interested buyers. But does the hassle of competing with so many other buyers result in a better sale than just selling a home privately?
There are essentially three reasons why home sellers might attempt to sell their homes as off-MLS listings, pocket listings, or an off-market sale: confidentiality and privacy, avoiding spam calls or multiple showings, and also because it might fetch them the best price.
While some real estate agents and brokers argue that buyers have a better opportunity to enter the market when homes are not marketed publicly, others believe this practice violates fair housing laws. So, before delving into how Privileged® Listing can help MLS providers battle pocket listings and off-market listings, let's get a refresher on what pocket listing is all about.
What Is A Pocket Listing?
Pocket listings or off-market real estate listings are properties not currently available on the Multiple Listing Service (MLS). This implies that real estate agents prefer to sell homes within closed networks rather than selling on a public market. As a result, even while the seller is in the process of selling the house, you would not see that property publicly posted for sale.
What Is Wrong With Pocket Listings?
Pocket listings or off-MLS listings have become commonplace these days. Some people question whether it is unethical to have pocket listings or not. In a market where demand greatly exceeds supply, brokers and buyers see these off-market listings as a boon. But what makes this type of listing so questionable and contentious?
Pocket listings have become so common that the National Association of Realtors (NAR) banned them for its 1.5 million members. In addition, the NAR requires all Realtors to publish properties on the MLS within a day of publicizing them. But there are always loopholes. For example, while some Realtors are real estate agents, not all real estate agents are Realtors. Meaning they can sell pocket listings without any implications from the NAR. But are they free from the liabilities of fair housing laws? This is one of the issues Privileged® Listing is out to resolve.
Furthermore, the proliferation of property technology companies (Proptech) has swamped the market, driven customers to buy real estate online, and ramped up pocket listings. Some real estate agents post properties on syndication websites, label them as "coming soon," price them much higher with the hopes of getting someone to buy the said property that is "not yet on the market," and remove the listing a week after. This sort of curated, private database of off-MLS listings is unethical, although some agents might argue otherwise.
A majority of listings MLS listings that end up in such portals create an unfair, destructive bidding war between agents, fighting to be seen for their own listings. However, real estate professionals can avoid getting into such tight spots or potentially a lawsuit with Privileged® Listings. So what then is a Privileged® Listing?
What Is A Privileged® Listing?
Privileged® Listing is a new real estate listing that gives you complete control over privacy and exposure. Offered exclusively by Associations who have the license and technology from Realtyna, Privileged® Listing allows you to publish your listing and target the right audience of potential buyers. So with this listing, your property gets marketing exposure while maintaining privacy without any unethical practices.
How Can Privileged® Listing Help MLS Providers Battle Pocket Listings and Off-market Listings
Advertisers and data aggregators have created enormous profits from real estate professionals and property owners for a long time. However, Privileged® Listing is your most valuable online asset as it tackles issues such as data transparency, privacy, discrimination, and competitiveness that have plagued the real estate industry for decades.
Now, let's discuss how MLS providers can use this tool to battle pocket and off-market listings.
You (all real estate brokers/agents) and your client (the seller) have control over the level of data sharing and privacy associated with your Privileged® Listing. You can both select your privacy and sharing options. Using these settings, you'll have absolute control over the visibility of your listing on Privileged® MLS portals.

Furthermore, suppose a buyer or a buyer's agent comes across a Privileged® Listing. In that case, they will be able to view the information available to the public, but additional specifics will be concealed. If the user is very interested in viewing the property, they can submit a request to join your network to have full access. This aspect of Privileged® Listing makes it easy for sellers who wish to exercise some level of privacy or who want to avoid many showings to unserious buyers to get inquiries from serious individuals only.

Unlike pocket listings or off-MLS/off-market listings, Privileged® Listing allows sellers and sellers' agents to publicly market properties while maintaining a suitable level of privacy.

Every Privileged® Listing you submit on RealtyFeed will be made available for public search,

improving your ranking on Google

and other search engines.

With Privileged® Listings, not only do you

generate more leads

for your listing but also leads that are more qualified. This is because only potential buyers who are seriously interested in your listing will request full access to the property information. Hence, making them more qualified prospects.

Also, users can choose to post their listings either globally or in a more localized area. You can determine a suitable alternative with your customer.

Another issue that Privileged® Listing will tackle is discrimination. With this system, everyone can access some of the property data publicly, and if they are interested enough in the listing, they can request complete access. This will also promote competition, avoiding any issues with fair housing laws

Added Value for Associations With Privileged® Listing
Easy implementation

Artificial intelligence/machine learning

Data API

Consolidated billing

Quality of Agent2Agent lead generation

Promoting more MLS-based collaboration between agents to close their leads.
What's More?
Privileged® Listing provides a long-lasting solution to several issues that have plagued the real estate industry for a long time. Now MLSs, Realtors, agents, homebuyers, and sellers have a shot at listing private listings with favorable conditions. So it's a win-win for everyone. Project confidence with Privileged® Listing, knowing that your listing data will remain secure and receive excellent leads from connections you trust.
For more information about Realtyna's Privileged® Listing, contact us here.
In the meantime, here are some helpful articles for you:
How to Build a High-converting WordPress Real Estate Website with WPL and Organic MLS Integration – Udemy
Rising Use-case for RESO Web API: Headless Real Estate CMS!