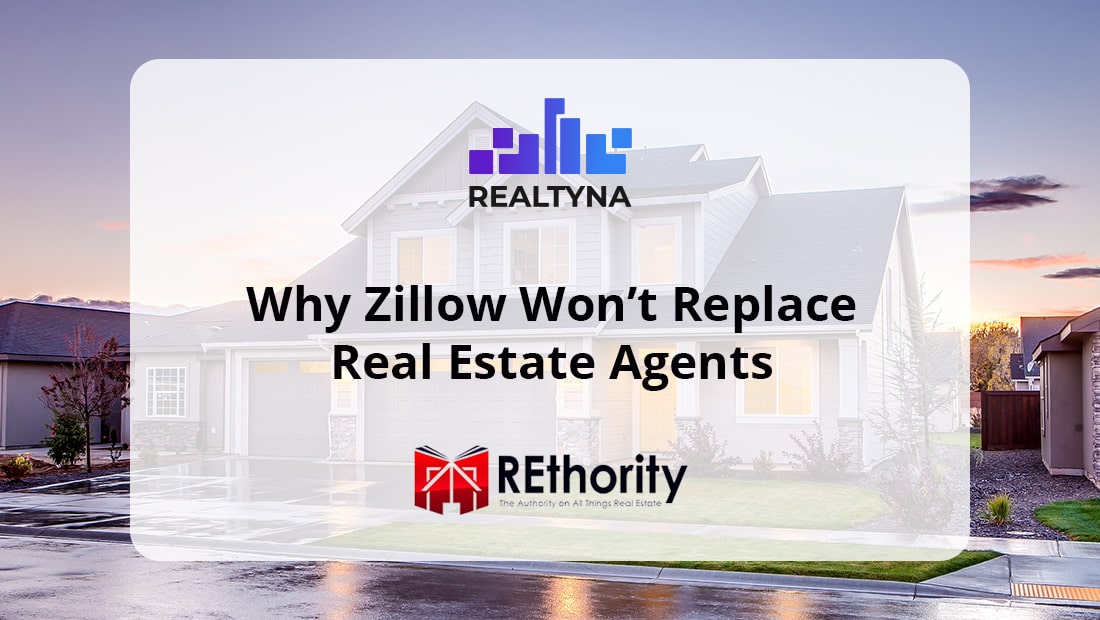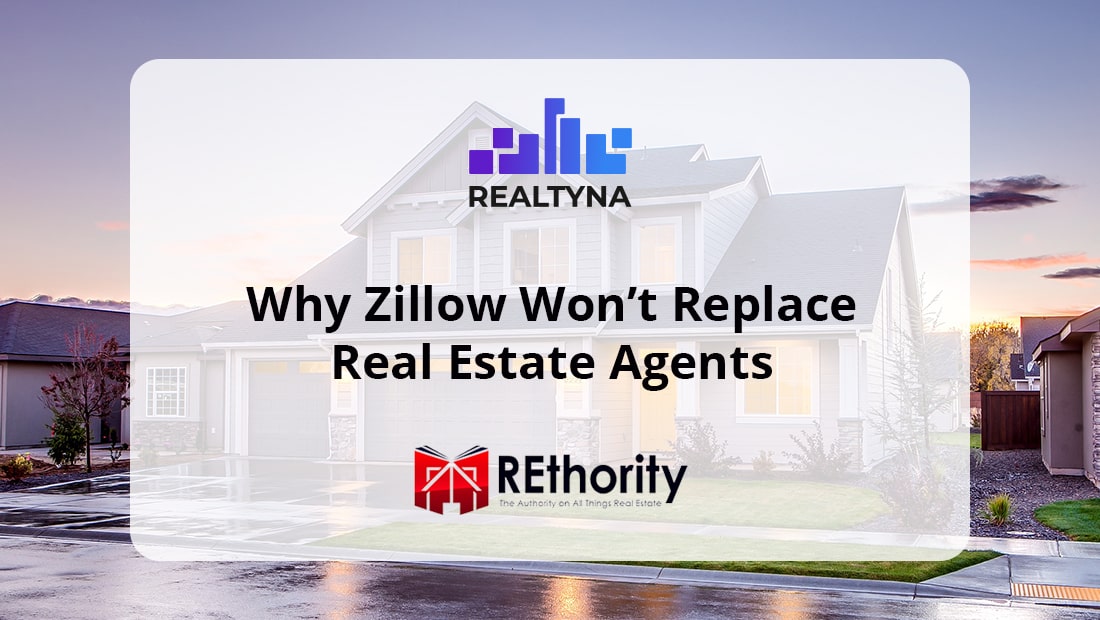 Why Zillow Won't Replace Real Estate Agents
20 Sep 2019

Posted at 10:00h
0 Comments
The last decade has brought change to an otherwise stagnant real estate market at a mind-numbing rate. A number of venture-capital backed websites have launched online platforms that have revolutionized the way buyers find homes. Everyday consumers can now browse listings from their couch, significantly reducing the time spent sourcing a home.
While there are many of these platforms, Zillow leads the pack. It generates millions of dollars in annual revenue and continues to grow as it expands into new industries like mortgage lending and iBuying. At first glance, one may think technology like this will make real estate agents and brokers obsolete. After all, that's what happened to stock brokers and travel agents. However, a few basic factors reduce this risk.
Zillow Hasn't Replaced Traditional Brokers
Zillow is a popular tool, and there's a reason it's a household name. Traditionally, buyers toured many homes in person before finding one they loved. Zillow allows buyers to find, tour, and price properties, all from the comfort of their home. Gone are the days of blocking off an entire day to see a handful of homes. With Zillow's newly-launched lending arm, buyers can also apply for a loan online.
However, even though these features make it easy to find and view a home online, the transaction still takes place through a real estate agent. Even if a buyer does the work of finding their perfect home, they still need an agent to make an offer, negotiate the terms, and facilitate the closing process. At this point, Zillow can't help with these things.
Even if Zillow finds a way to automate the entire homebuying process, there's one thing it can't do: manage someone's emotions. Buying or selling a home is perhaps the biggest decision a person will ever make, and they naturally want guidance to ensure they're getting the best deal. Most of this is simply putting the client at ease with the process, and that's where an agent is worth their weight in gold.
Most real estate agents would say the main function of their job is to manage the client, something a computer simply can't do. Think about how many phone calls you get about little things like whether or not you should touch up paint. Or whether you can get by with this or that because of the hot housing market. At the end of the day, data is data, and a house is worth the price the market sets. But the client still has to feel heard, appreciated, and ultimately reassured that things will go as planned. And computers are simply not capable of managing a person's emotions.
Additionally, a computer can use an algorithm to generate a price estimate, but it's not always right. An accurate market price estimate is the result of logic and critical thinking, and computers do not yet possess those skills.
Although Zillow has not replaced real estate agents, it's certainly enabled them to be well-educated consumers. Traditionally, buyers and sellers relied heavily on agents for market knowledge. Agents had exclusive access to the MLS, meaning buyers and sellers couldn't see listing information without hiring an agent.
With Zillow's online listings, buyers and sellers can form their own opinions about the market. But this is not necessarily a bad thing. It actually helps the client set reasonable expectations, making an agent's job easier. Finally, the virtual showings reduce an agent's workload because they can weed out undesirable homes from the comfort of their own home.
Real Estate Brokers Are Still Required
While Zillow enables consumers to find properties and gather market knowledge, it still cannot replace them. However, this does not mean that agents and brokers should become complacent. Prudent agents leverage this platform to their benefit.
Instead of being scared of this new technology, embrace it. It's human nature to fear change, but change is inevitable, so you should use it to your advantage. Yes, technology has changed how buyers and sellers interact with each other in the marketplace, but it's also helping brokers and agents work more efficiently.
Products like Zillow Premier Agent let you streamline your prospecting activities while expanding your sales funnel by getting in front of prospects searching for homes online. CRMs allow you to make a list of names and nurture them from introduction to closing.
With email drip campaigns, you can automatically connect with leads to ensure they don't fall through the cracks. And with auto-dialers, you can connect with hundreds, or even thousands, of prospects without ever picking up a phone.
Aside from the benefits of streamlined prospecting, digital signatures and cloud-based document storage also reduce the time it takes to close. This makes makes your clients' lives easier, ultimately bringing you repeat business. And not to mention online real estate schools, which make it easier to get a real estate license by allowing you to complete your education requirements in the comfort of your own home.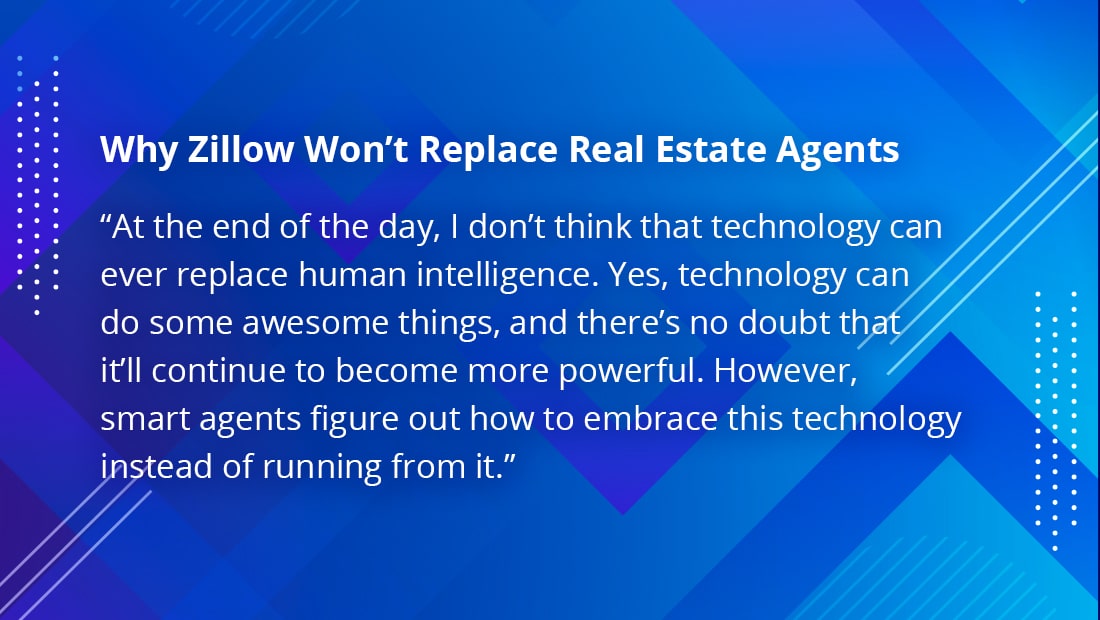 Negotiation Skills and Knowledge
As we stated above, technology provides many benefits. However, buying is an emotional process, and a computer simply cannot manage a clients' emotions like an agent can. But agents should not get complacent. In order to stay relevant, agents need to find new ways to bring value to the client. These may include personally calling clients, sending small (but thoughtful) gifts on birthdays, or helping them move.
Additionally, being a shrewd negotiator is possibly the best way to bring value to your client. As a human, you have the ability to read the seller's actions, determine their next steps, and position them for the best outcome. This takes intelligence, intuition, and skill, but is another skill that can make you indispensable.
Armed with these skills, you're still able to stand out in a market full of generic agents. As long as you maintain relationships, continually hone your skills, embrace technology, and do not become complacent, the lazy agents will be the ones weeded out by technology, not you.
At the end of the day, I don't think that technology can ever replace human intelligence. Yes, technology can do some awesome things, and there's no doubt that it'll continue to become more powerful. However, smart real estate agents figure out how to embrace this technology instead of running from it.
Author Bio:
Andrew Helling is the founder and editor of REthority.com, an online resource for real estate professionals and their clients. His experience as a real estate investor and property manager brings a unique insight to his writing. You can follow him on LinkedIn.