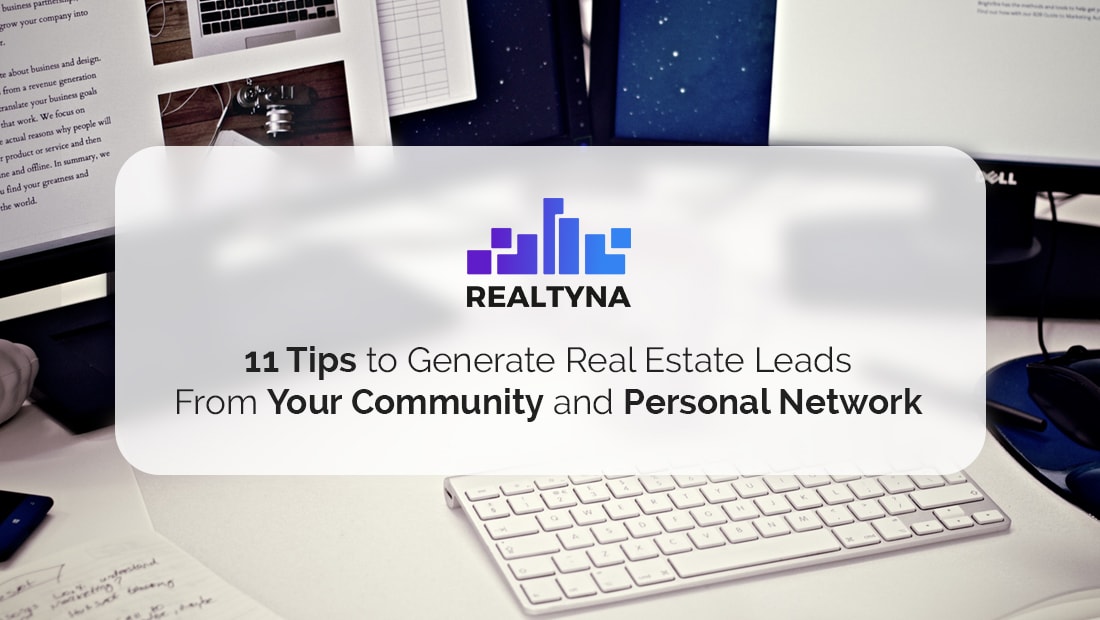 11 Tips to Generate Real Estate Leads From Your Community and Personal Network

Posted at 06:50h
0 Comments
Real estate is a referral heavy business. To succeed you need to know people and people need to know you.
For many agents, this means family and friends are important factors in their business.
It's a difficult balance, though. How do you let your friends know that you need their referrals without sounding sleazy and desperate?
In this article we will review 11 techniques to generate real estate leads from your community and personal network without hammering them over the head with self-promotion.
Buy Your Closest Friends a Coffee
Let's start with the people you know well—your close friends. These are people you trust and that trust you. They can be good advocates for your business because they can provide insights to who you are as a person.
You certainly want them to know you are in the real estate business. So block out some time to meet with them. The key is to meet in a way that you normally would. If you meet for coffee, get a coffee. If you play golf together, schedule a round.
DO NOT call them on their office line. This will put them off and make your conversation strained.
When you meet, ask them what is new in their life. Listen and ask questions. Let them talk until they naturally finish. Almost certainly the question will follow: "How about you? What's new with you?" To which you can speak about your business and how things are going. And then ask for referrals.
"Hey can you do me a favor? Keep me in mind if you come across anyone looking to move. Most of our business comes from referrals, so I'd appreciate it if you would just keep me in mind."
Simple. Sweet. Your friend almost certainly will say "Sure, of course." At which point you say, "Thank you. How's your family?"
Call Your Family
Another group in your inner circle are your family members. They too can vouch for your business and provide referrals.
Just like with your friends you want to meet with your family in the way that you normally meet with them. Me? I call my family.
When you speak, use a similar script. Let your family member talk for a while. Be generous with your time and ask questions to show that you care.
And when your family asks how you are doing, explain your business, and ask for referrals.
Leave a Business Card With Acquaintances
Just outside your inner circle are the people you encounter on a regular basis. This could be your barber or hairdresser, a barista, your dry cleaner, etc.
You may not always have lengthy conversations with these people, so it's OK to be a bit shorter.
You might say, "Hey, I'm a real estate agent, and I'm always looking for new referrals. Can I give you my card?"
You can expect a lower referral rate than with your friends, but you might get lucky. Leaving a card certainly helps your case.
Post On Social Media and DM Some Close Followers
The goal is to have everyone you know associate your name with buying and selling a home. Naturally, social media has a role here.
Like most of us, your followers are probably a mix of high school friends, people you know from college, co-workers, and others you've met along the way.
You probably do not communicate regularly with most of them. But you may like their posts and comment every now and again.
The key to asking for referrals on social media is authenticity. If you haven't spoken to someone since high school, it's probably a bit inauthentic to suddenly DM them out of the blue.
Instead write one lengthy post about why you became a real estate agent. Explain how you count on referrals from friends to keep growing. Post it. Then provide weekly updates on how your business is going and other real estate news.
If you've messaged someone in the past 6 months, it's probably OK to DM them. Say hello, ask them how they are doing, and go through your script.
For more on maximizing social media as a real estate agent, check out Break Through on Social Media with These 10 Tips for Real Estate Agents.
Deliver a Postcard to Your Neighbors
You may not know all of them, but your neighbors and the people that live around you can be a strong source of leads.
Here we recommend a postcard, a magnetic calendar, or something you can deliver by hand. Go door to door, introduce yourself as a neighbor working in real estate. Give them your address so they can place you to a home.
Then leave your postcard. If they are not home, slip the card in the mail slot or leave it on the porch. Make sure it includes your photo, so your neighbors can recognize you if they see you on the street or in the grocery store.
If you know many of your neighbors well, you may consider throwing a BBQ. This will get everyone together and allow you to talk to many people at once.
Volunteer
You should have exhausted everyone in your personal network at this point. Now you should think about expanding your network in your community.
Find a cause and volunteer for it. Volunteering is a great way to meet a lot of new people at once, build a connection with them, and demonstrate a love for the community.
You will have plenty of time to get to know everyone in your group and talk about your business, especially if your service is monthly or bimonthly.
Work From a Public Space
Part of generating leads is being at the right place at the right time. You can never know when the right time is, but there are some things you can do to make sure you are in the right place.
One of them is working in a public space. This could be a coffee shop, a library, or a park if the weather is nice.
This makes you available. You may bump into leads, or pick up new ones.
If you overhear someone talking about moving, introduce yourself. Say, "I'm sorry I couldn't help but overhear your conversation. I'm a real estate agent in the area. Here's my card in case you need anyone to help represent you. I'd be happy to talk more whenever it is convenient for you."
Contribute to Local Media
We wrote about some community lead generation strategies for social media. What is the Facebook for some older generations? It's the Pennysaver or another local newspaper.
These community publications provide classified ads and local stories. They are a great place to target older clients, and those who have already bought or sold a home at least once.
So contribute. Many accept letters to the editor. Others may allow you to write a column. You can write anything you want, as long as it ends with "Your Name, Real Estate Agent."
Sponsor a Local Team
Many local sports accept sponsorships. This includes local little leagues, local 5ks or other running events, or the local hockey rink.
Buying a sponsorship is a good way to do some self-promotion while supporting the community.
Start a Local Blog
The benefits of blogging are well documented on this website.
A blog can help you attract readers to your site and demonstrate an expertise in the industry and area.
This is especially true if you blog about local topics and develop a niche.
A blog can also help you engage with potential clients regularly and develop a community of followers that know you and your work.
To get started blogging check out 12 Real Estate Blogging Tips for Beginners. For some real estate blogging ideas, visit What Should I Write About on My Real Estate Blog?
Market Trend Email
Unsolicited emails are generally NOT a good way to generate leads. It frustrates people and can have a net negative impact on your business.
This is not necessarily the case, however, if you are able to provide people with some sort of valuable information.
As a real estate agent, you have access to some powerful market tools—the MLS, RPR, AVMs, and more.
Why not take a glance at these on a semi-regular basis, and develop a market trend report.
Email this to a few people. Get their feedback. Make changes based on their recommendations. Then send it to a few more people, and repeat.
Some of the nation's biggest newsletters and columns started this way.
Say Thank You to Anyone Who Provides a Referral
Our last tip for generating leads from your community and personal network is to be appreciative.
If someone provides you a referral, thank them. Send them a gift card, or show your appreciation in another way.
Once a lead pipeline starts flowing, you want to keep it open. So make sure those who refer feel good about their decision.
That should be everything you need to generate real estate leads from your community and personal network. Did we forget something? Leave a comment below.
For more, check out How to Break Into a Competitive Real Estate Market as a New Agent.