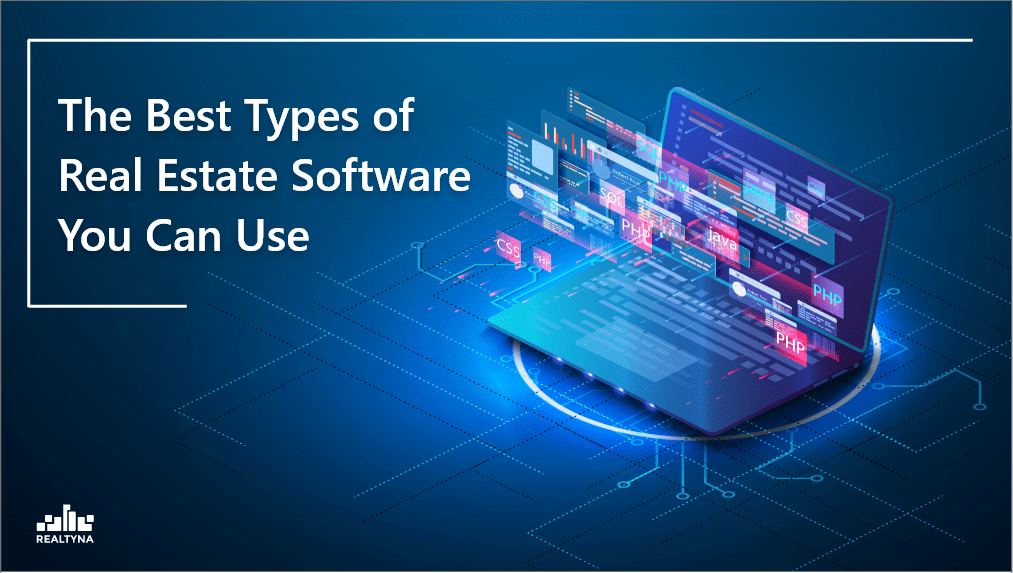 The Best Types of Real Estate Software You Can Use
25 Jun 2021

Posted at 11:00h
0 Comments
Real estate is changing both in terms of its outlook and its operations. There are several subjects to explore that make it challenging to keep track of in the long run. As a result, there is an apparent need for effective real estate software to facilitate the business's operations. Real estate software is built in such a way that it simplifies processes while reducing the Realtor's work.
Most real estate professionals understand that real estate software systems can automate basic tasks and handle the whole transaction cycle, from the initial call to matching listings through negotiations and closing. However, some real estate agents find it difficult to choose from the ever-evolving modern technology. That is why we will discuss the best types of real estate software that Realtors can capitalize on in this tech world.
4 Best Real Estate Software To Help You Crush Sales
Real Estate CRM Software
Given that the customer is the primary stakeholder in every real estate transaction, real estate agents and property managers prioritize developing good client relationships. CRM (customer relationship management) software can be used in two ways for your business: as a tool for marketing and as a tool for communication. Real estate CRM software enables agents and executives to manage client interactions more effectively.
What Are the Features of the CRM Software?
Lead generation

Managing contact information

Contract and transaction management

Monitors the online activity of clients on your website

Equipped with a follow-up system

It gives you the ability to distribute roles in the system.
What Are the Benefits Of a Real Estate CRM Software?
Increased customer engagement

Reduced inconvenience during peak periods

Efficient marketing

Immediate response

Improved company communication

Increased sale opportunities
Many companies develop real estate management solutions to represent the entire client relationship cycle. Among the most popular is Realtyna's WPL CRM. Which helps real estate professionals manage leads using a simplified system that automates lead generation, lead follow-ups, and lead capture. It also allows you to manage your clients' demands and track their interests all in one place.
Real Estate Management Software
Real estate property management software automates and tracks back-office activities, property-related processes, and finances for real estate professionals. Property management software should have the following features:
Features of Real Estate Management Software
Integration with listing services, reporting, and analytics

Property tracking

Maintenance management

Accounting and budgeting

Document management

Investment management

Tenant management

Rent payment processing
Benefits of Real Estate Management Software
Data privacy and security

Better communication

Real-time access to information

Easy administration

Backup and recovery are simple

Property inspections that are completed quickly
MLS Interface Software
Prospective clients expect to quickly use the MLS (multiple listing service) on real estate websites. However, most Realtors believe that MLS interfaces are cumbersome to use and look archaic.
Several MLS interface software allows you to obtain MLS data without navigating through many dropdown menus and hundreds of checkboxes that do not save your information throughout searches.
Augmented and Virtual Reality Software
Technologies such as augmented and virtual reality are disrupting our society today. These technologies are now making headway into the real estate industry. Augmented reality (AR) and virtual reality (VR) are becoming more popular in real estate because they provide innovative viewing properties. Virtual tours with AR and VR technologies enable clients to view homes virtually before purchasing. The features of these technologies include:
3D product visualization

Object recognition

Drag-and-drop object upload
Final Thoughts
There are many useful real estate software that real estate agents can capitalize on to streamline their workday and advance their careers. Real estate CRM software is a good choice if you want to increase customer interaction and set up automated marketing campaigns. With proper tools and applications like these, you can boost your productivity while retaining your clients and leads.
Read: 3 Ways To Add a Video Background to Your WordPress Real Estate Website and WPL MarketPlace/WPL Pro: How to Develop Web Tools for Real Estate Agents for more real estate information.