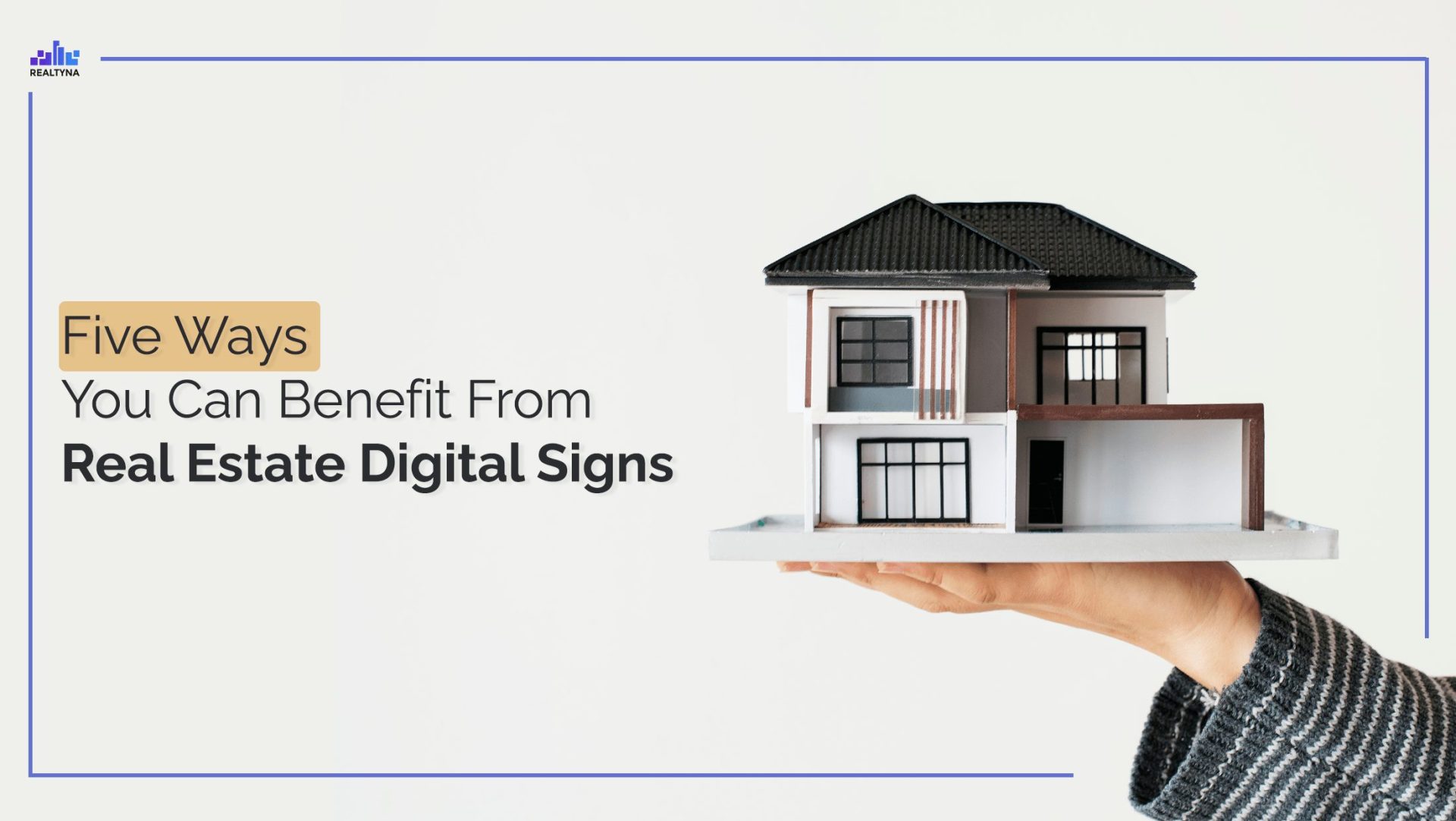 Five Ways You Can Benefit From Real Estate Digital Signs
05 Apr 2022

Posted at 11:00h
0 Comments
Real estate signs are a familiar term for most Realtors and agents and have been an effective marketing technique for decades. With ever-changing technological developments, real estate signs are now accessible digitally. From handwritten signs to digital signs, the role of real estate signage can't be overemphasized, as they are critical in creating awareness about listings and other projects.
Competition in the real estate industry is quite thick, and agents need to employ all the necessary strategies to promote their listings. However, competitive times call for competitive measures! Read on for the benefits of real estate digital signs.
Top Five Benefits of Real Estate Signs
Here are a few advantages of using digital signs for your real estate business.
Convenient and Cost-effective
What makes real estate digital signs stand apart from the standard real estate signs is that they are convenient and easier to use instead of traditional real estate signs. With digital signs, you can update your listings without dealing with printers. Also, you can display listing information across the various brokerage branches you have.
Digital signage helps you save costs on your advertising. Although you might have to shell out a significant amount initially, the return on your investment will be well worth it.
Automation
Another benefit of using real estate digital signs is automation. Digital real estate signs allow you to Update your listing data automatically while saving your time.
Customization
Unlike the typical real estate sign, you can choose what you want to promote within your brand with digital signage. For example, you can display your listings while showcasing your franchise content. Moreover, you can share other information about your brand, such as office hours, holiday greetings, and other services you want to promote.
Eye-catching Designs
By displaying visually appealing content, digital signage can improve your workplace's mood and environment. A screen installed in your office display hundreds of listings, making digital signage a highly effective marketing tool. To attract prospective clients, use digital screens to show pictures of the most desirable houses. People are more likely to pay attention to a slideshow on screen and remember details.
Share Client Testimonials
Besides sharing your MLS listing data and information about upcoming virtual tours, you can also share testimonials of your customer experience. Your clients and prospects will know that their real estate agents and brokers are reliable and trustworthy when you share testimonials of your successful deals. The more your clients know you, the better it is for your brand.
Take a Chance
Digital real estate signs offer a lot of benefits to real estate professionals. They are eye-catching, convenient, easily customizable, cost-effective, and more. Use this to your advantage and effectively grow your real estate business.
Related searches:
How to Use Digital Flyers to Market Your Real Estate Business
How Do Interactive Touch-Screen Signs Help Market Properties?