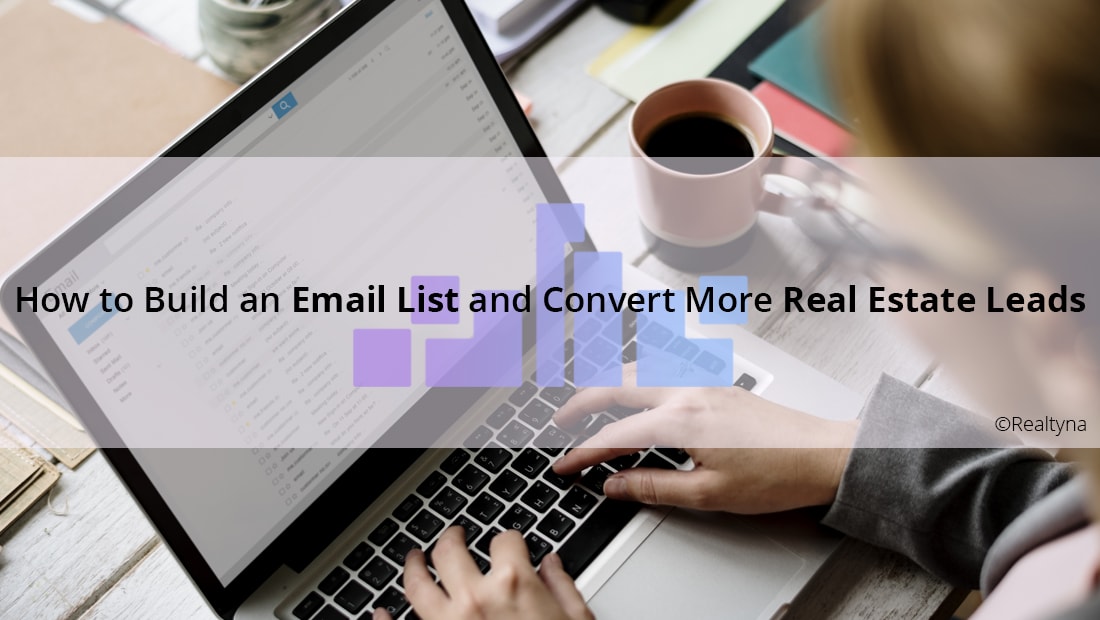 How to Build an Email List and Convert More Real Estate Leads
14 May 2019

Posted at 10:00h
0 Comments
Despite the explosion in social media over the last decade, email marketing remains the most effective way to reach customers.
Leads say they both prefer email content and they are more likely to act on it.
In real estate, email marketing can be an essential tool to promote listings.
So how do you get started?
In this article, we'll show you how to build an email list and convert more real estate leads.
*Remember to Subscribe to our Blog Blast above*
Get Email Software
Before building your email list, you should investigate some email software. While there is nothing stopping you from running your email list from a generic webmail account, you will find this method tedious and time-consuming.
Our favorite solution is Zoho CRM, but there are many others available. Find one that works best.
How to Build an Email List and Convert More Real Estate Leads
Now that you have some email software to help you manage your email list, you can begin building it. Collecting subscribers takes a combination of online savvy and old-fashioned shoe leather. Check out our 18 tips for building a real estate email list below.
1. Sign-In Sheet
Few events give you more face-to-face time with leads than open houses. So use them to collect as much contact information as possible. You should greet attendees as they arrive and direct them to a sign in sheet where you ask for their name, email address, and other details.
2. Save Search
The more features you provide on your IDX website, the more opportunities you will have to collect emails for your email list. By including saved search, you can allow leads to save a search and receive an email update when a new property matching that search becomes available. This keeps leads informed about market changes and it gives you another email for your list.
3. Membership
Some agents also offer a members-only section. Here they provide more IDX content than they offered to the general public. Members-only details might include data analytics, school ratings information, or neighborhood intelligence. By requiring an email login, these agents are able to offer more information for their most engaged leads and expand their email lists.
4. Contact Agent
Everyone one of your IDX pages should include a contact agent form where leads can email you directly with questions and showing requests. These forms allow you to capture the email from any leads that reach out.
5. Email a Friend
Many agents now include social share buttons on their listing pages, but not as many include email to a friend. This is a huge missed opportunity because email a friend allows you to capture two emails (the sender and the receiver) for every listing sent.
6. Review & Comments
Real estate agents are constantly striving to build a sense of community around their IDX sites. One of the best ways to do this is through reviews and comments. Reviews and comments generate a conversation around your content. And if you require an email login they can help you grow your email list.
7. Share Contact Lists
Sometimes opportunities present themselves to swap contact lists with someone else in your professional network. This usually works best when the other person is in a related industry such as home loans.
8. Provide Incentives
It always helps to provide a small incentive. If you have a discount or coupon you could offer for one of your services, provide it to those who sign up for your email list.
9. Email notifications
Many IDX sites allow leads to sign up for new listing notifications. These notifications provide a daily or weekly round up homes recently listed for sale. To get a notification, leads need to provide a working email address.
10. In Your Email Signature
Real estate agents are constantly emailing. So why not include a subscribe link in your email signature. It's an automatic way to announce that you have an email list and to remind people to subscribe.
11. Exclusive Content
If you don't have a discount or coupon to give, you could consider another sort of incentive—exclusive content. If you produce a monthly market report you could offer this report exclusively to email subscribers as an incentive for them to sign up for your email list.
12. Ask for Business Cards
Many other methods may prove to be more effective, but this does not mean you should ignore what is traditional. If you are at a social gathering and you meet someone new, swap business cards and sign them up for your email list.
13. Call to Action
Your site should include pop-ups, slide-ins and other calls to action for your email list. These messages should remind your users the benefits of subscribing and encourage them to do so.
14. Social Media
You can promote your email list on social media, by including a subscription link in your bio or posting it to your feed occasionally. You can also do a sort of passive promotion by posting subscriber only content that requires a login to access. If you follow any reporters online, you will see they do this often with pay-walled stories.
15. QR Codes
If you produce paper mailings and door drop fliers, include a QR code that allows those who receive them to subscribe with their smartphone.
16. Create Survey
Consider creating a survey for your website. There are a lot of widgets and plugins that will allow you to do this quickly and easily. A survey can help you gather information about your leads, and if you require an email submission to complete it, it can help you expand your subscriber list.
17. Testimonials
If you have a successful client interaction ask them to provide a testimonial for your email list. You can post this on your IDX site as social proof of its value.
18. Show Subscriber Counts
Subscriber counts is another way to demonstrate social proof. Once you have a fairly large list of emails, you should post the number your website. This will demonstrate to your leads that others have found your email list to be useful.
Now you know how to build a real estate email list. For more lead conversion tips, Subscribe to our Blog Blast below or in the top right of your screen. For more Realtyna news, subscribe to our newsletter.
And check out our new blog posts How to Use Google Analytics With Your WordPress IDX Site and How to Choose a Strong Domain Name for an IDX Real Estate Website.