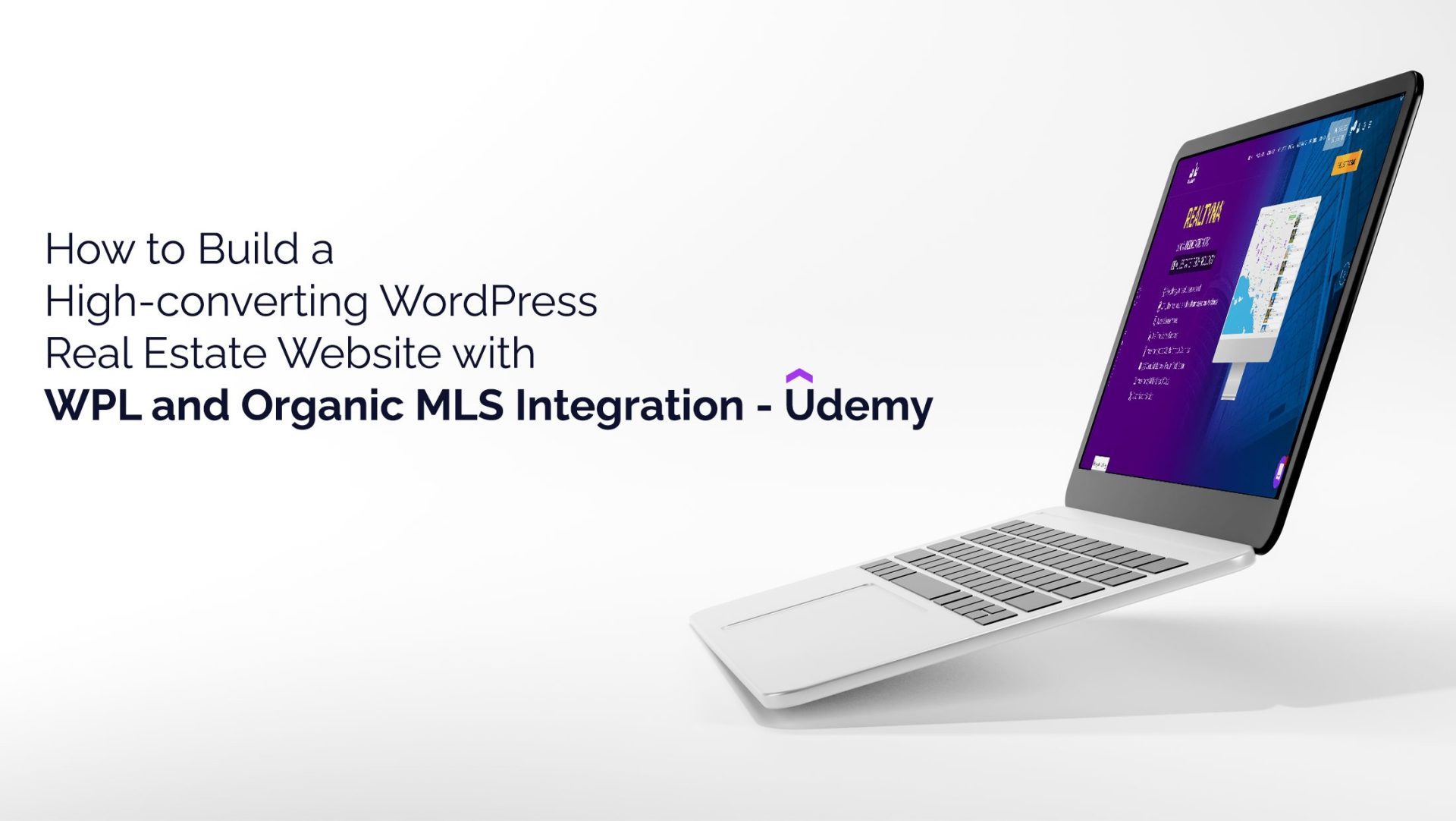 How to Build a High-converting WordPress Real Estate Website with WPL and Organic MLS Integration – Udemy
15 Jun 2022

Posted at 11:00h
0 Comments
There's no doubt that most people start their search for properties online before getting in contact with a professional. This is true for people looking for various property types ranging from apartments for rent, homes for sale, or landed property for investment and personal use. As the world becomes more technologically advanced and processes become more digitized, which saw its peak with the outbreak of the COVID-19 pandemic, there's a need for all industries, including real estate, to stake their claim online.
While it seems like people are already getting the hang of it as we see a gradual increase of real estate agents and brokers setting up platforms online, many find this procedure daunting. So, to help streamline the process for real estate professionals and developers, Realtyna has launched a Udemy course on how to build a real estate website with WPL and Organic MLS Integration.
The Benefits of Having a Real Estate Website for Agents and Brokers
Real estate agents don't always get the credit they should deserve when it comes to marketing. They're just seen as salespeople and negotiators, when in fact, they're excellent marketers entrusted with selling pricey properties. Thus, it is reasonable to expect that real estate brokers will want to enhance their online presence, particularly concerning websites. So, here are some reasons why you should create and maintain a high-quality website:
Search engine visibility

Organic lead generation

High return on investment

More exposure to properties

Creates brand awareness

Local authority

Easy communication with potential clients

Why Use WPL Builder and Organic MLS Integration?
The goal of all real estate agents should be to increase the number of "sold" signs associated with their company's listings. However, it might not always be the case, especially if you don't have a high-quality website. In today's world, where remote working is the new norm and the internet is more widely used now than ever before, real estate professionals must establish a solid online presence with high-performing solutions such as WPL and Organic MLS Integration.
When it comes to WPL, real estate professionals are particularly interested in the ease and efficiency with which MLS and IDX services can be incorporated into their respective real estate websites. On the other hand, Organic MLS Integration helps real estate agents and brokers connect MLS data directly to their websites. Combined with WPL, your real estate website ranking on search engines will increase, leading to an increase in lead generation.
Benefits of WPL and Organic MLS Integration on Your Real Estate Website
The benefits of these two robust solutions include:
Flexibility

A plethora of theme

Unlimited plugins

Unlimited listings and users

Data ownership

Organic lead generation

Easy MLS listing Integration to your website

Easy search engine indexing

Independence from the provider (optional)
Building Your Real Estate Website: What You'll Learn on This Udemy Course
About web hosting for real estate websites

How to select an SEO-friendly domain name for your real estate website

What WPL is, and how to install WPL

How to install WordPress

Build an audience and grow your website traffic

How to select and install website plugins and themes

Custom listing URLs

Generate leads through your real estate website

How to create pages on your real estate website

Refining your website so perfectly that it works for you 24/7

You'll learn the ins and outs of how your website works in detail and the specific step you need to take to make it perform even better.

Step-by-step tutorials on designing and developing the website

How to create listings on your real estate website

How to customize your real estate listings

How to build an

SEO-friendly real estate website

How to use Elementor page builder
And more.
Who Is This Course For?
Real estate agents/brokers who need a website

Real estate investors looking to capture more leads while they sleep

Web designers and developers working with Realtors

Mortgage brokers looking to generate more leads through their website

All real estate professionals
What to Do?
It is not an easy task to build a website for real estate using WordPress. However, you can learn how to build a high-converting WordPress real estate website with WPL and Organic MLS Integration from scratch with this course.
Register here for the course.