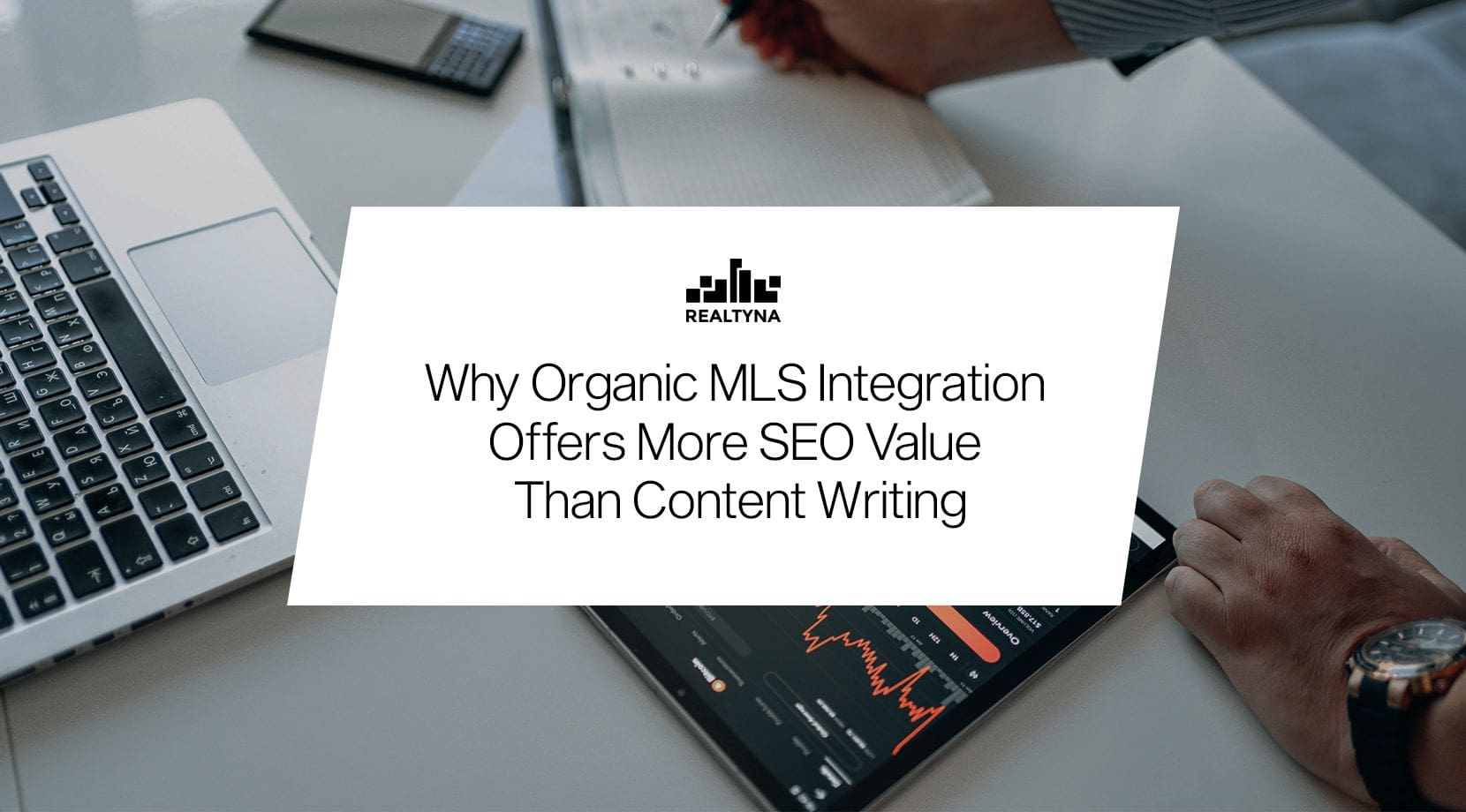 Why Organic MLS Integration Offers More SEO Value Than Content Writing
26 Feb 2021

Posted at 11:00h
0 Comments
The real estate business depends on online searches now more than ever. The recent complications of doing business due to the pandemic have pushed almost all real estate transactions online.
One of the most important features of online marketing for real estate websites is SEO. Clients will begin almost all of their research from the comfort of their homes and through the internet. So, if your website and content make it to the first page of Google search results, you are in for a treat.
Creating fresh content seems to be the best way to make it to the top of the results. However, IDX websites can benefit from a different resource of organic content, Organic MLS Integration. Before we get to this, let's review some of the best ways that a real estate website can help lead generation using search engine optimization.
Real Estate Websites and SEO Value
Real estate websites have a lot of opportunities when it comes to search engine optimization. This is why there is often a high level of competition for some keywords. Here is a review of what IDX websites can do to rank higher on Google search results:
Write fresh and regular content

Receive referrals and backlinks from authority websites in the niche

Have a good social media presence and bring traffic to the site

Target specific and local keywords

And more.
Please check out the following article for further information on this:
Real Estate Ultimate SEO Guide
What is Organic MLS Integration
Organic MLS Integration is a solution by which real estate websites can bring organic MLS data to their websites. It is technically a service that allows you to pull listings data from your local MLS. This solid solution offers the following benefits:
Display data from your MLS provider on your website

Lifetime license

Ownership of web service solution

Ownership of data

Independence from a provider (Optional)

And most important of all, receivership all of the SEO value!
Now that we have a good understanding of what Organic MLS Integration is and how SEO works for real estate websites, let's compare two of the strongest real estate SEO tools in the hands of Realtors.
How Is Organic MLS Integration Better Than Content Marketing
Writing freshly and regularly is unquestionably a great way to impress Google. This search engine pays a lot of attention to valuable and timely content. If you can get a few links to and from high authority sites in the niche, then your chances of getting ranked on the first page are even higher.
The only thing that can cause problems is the fact that procuring original content can be time-consuming and labor-intensive. Realtors don't have time for this, and they often have to hire a content specialist for this — in other words, extra costs.
This is where Organic MLS integration comes into play. When your IDX website uses this service to pull data from the MLS, these listings act as fresh and organic content. All the information that is attached to a listing will be deemed as valuable content for Google. Your website will rank higher without the need for you to actually worry about publishing daily content.
Not only will it bring SEO credit to your website, but it will also save you a lot of time and money!
Check out the following video to see how it works:
How Can I Get Started?
Organic MLS Integration is now available for RETS and RESO Web API. To get started, you need to install our WordPress plugin, WPL. This plugin helps you build an SEO-friendly website. Our tech team will take it from there. You can contact us today for a free consultation or try a demo:
Contact us for a free Trial