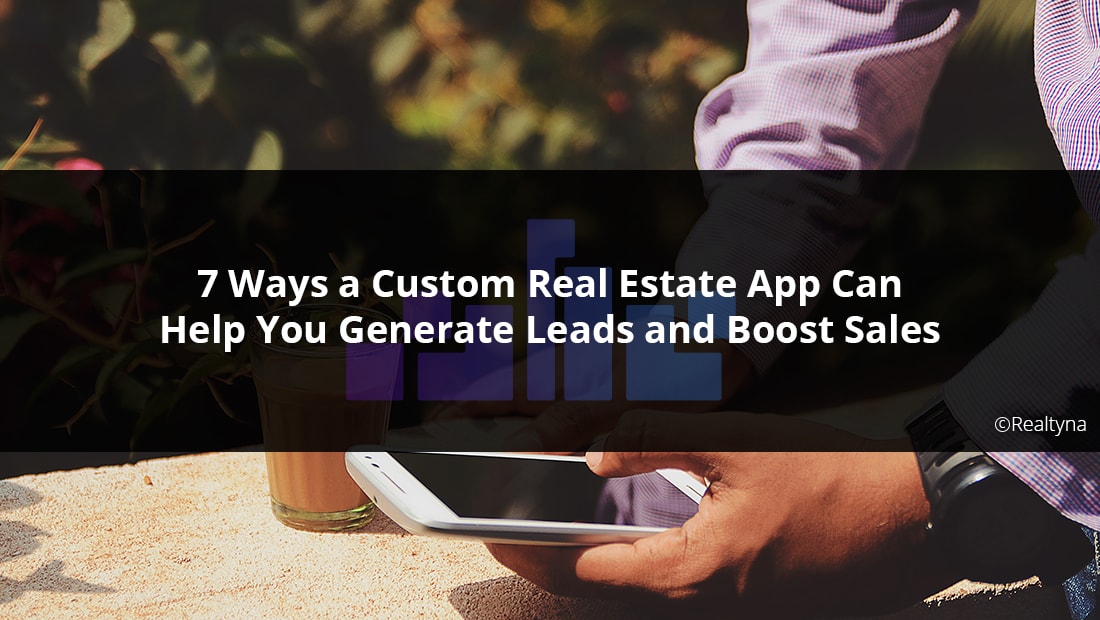 7 Ways a Custom Real Estate App Can Help You Generate Leads and Boost Sales
Real estate is trending toward mobile. More leads are looking for homes on their phone or tablet than ever before. There is little doubt about this.
But how can agents take advantage of the mobile space to generate leads and boost sales?
This is very much still an open question.
In this article, we will review some of the basics of mobile app lead generation for real estate agents.
1) Geolocation features
Most mobile devices now have geolocation services. Theses features represent an opportunity to personalize home search in a real estate app.
With a few clicks, leads can change a map based on where they are. If they find themselves in a new city or town, they can quickly browse available homes. If they go for a stroll in their neighborhood, they can view the listed homes around them.
Instead of going to a portal and launching bulk searches of many thousands of listings, leads can come to your app to see what is in the immediate vicinity.
2) Notifications
Mobile phones offer a suite of alerts and notifications that are not available online. One of the most important is push notifications.
With push notifications you can alert your leads that a new property has been listed that matches a saved search. You can also alert them if there is a price change or another update to a favorite listing.
Push notifications from your custom mobile app provide real-time notices to your leads that help them stay active in their home search.
3) Barriers to Engagement
Looking for homes can be daunting. In many locations there are hundreds of listings to look through, dozens of filters to set, and thousands of photos to check out.
In our busy day-to-day lives, it can be hard to actually sit down and sort through all this information. It's even easier to lose motivation once we get started.
A custom mobile app, lends itself to more manageable browsing. You can scroll through homes while waiting in line, before bed, or in a taxi.
It brings down barriers to engagement and makes the home search process more consistent.
4) Direct Call or Text
On a mobile app, leads also have the option to call or text directly about a listing. Even though your number is listed on your website, few leads will actually call from their desktop.
Instead they may say, "I like this listing. I have to remember to call tonight."
The direct call/text option can help leads act faster. This benefits your leads by giving them an edge in a competitive market, and it helps you accelerate your sales process.
5) Calendar Integration
Calendar integration can allow you and your leads to schedule showings and book them in your calendar seamlessly.
This adds a level of precision and professionalism to your business, which can improve efficiency and help you serve more leads.
6) Sharing
A custom mobile app also permits more direct content sharing on social media.
Most social media users access their accounts from their phone. By adding a custom mobile app with social media sharing features, you can get more likes and retweets because your leads may be logged into their accounts already.
7) Mobile Only Content
A custom mobile app also gives you the opportunity to develop and promote mobile content only. This can help you develop a segment of VIP or exclusive customers.
It can also help you promote your app. For some content ideas, check out our list of possible real estate blog posts.
8) Branding
Finally, do not underestimate the branding power of a mobile app. Simply having a custom app on a leads mobile device means your brand has the opportunity to be seen on a daily basis.
For more on generating leads for your real estate business check out How to Blog Faster and Produce More Content For Your IDX Real Estate Website and 7 Steps To Use LinkedIn Correctly and Generate More Real Estate Leads.