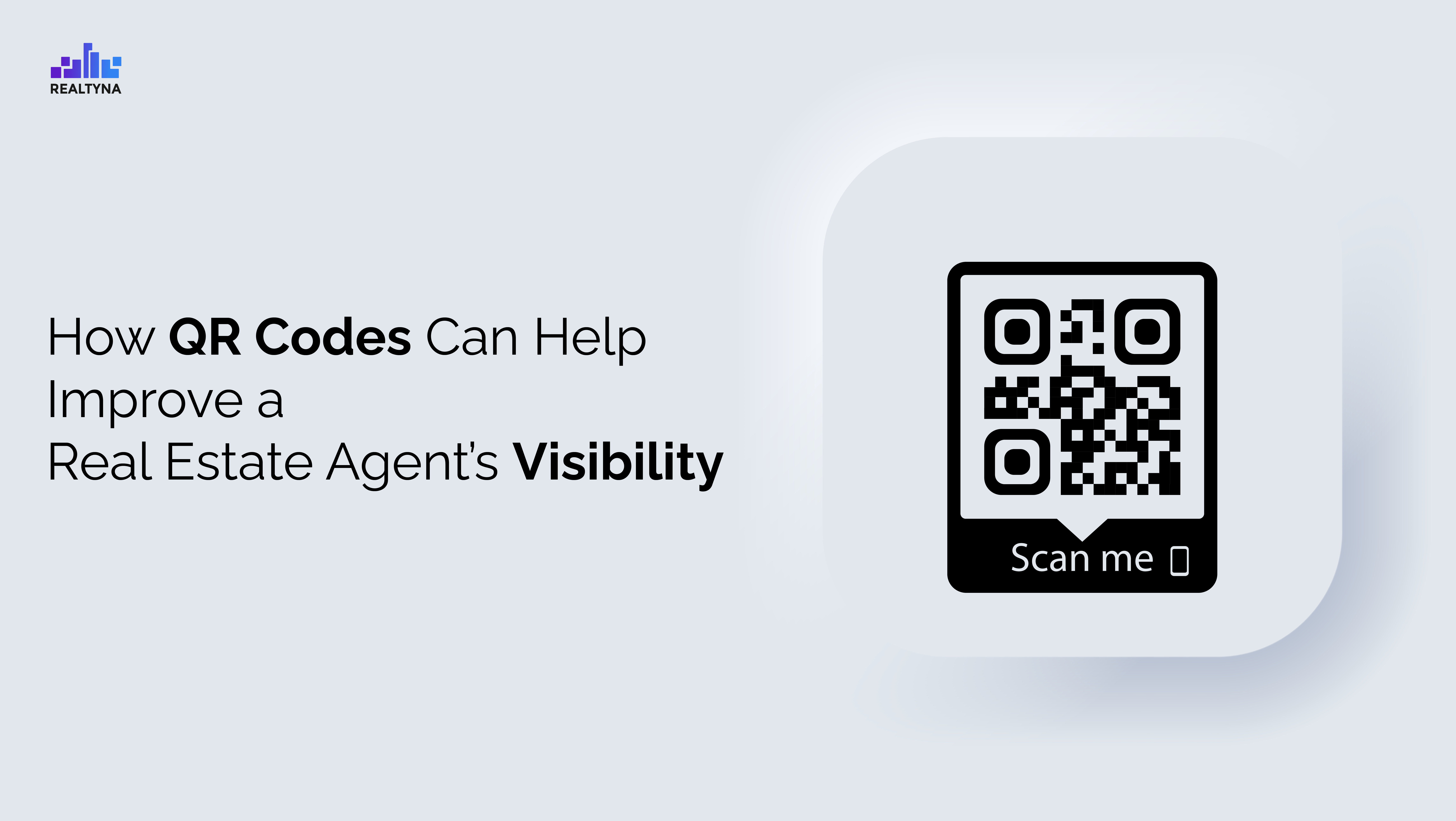 How QR Codes Can Help Improve a Real Estate Agent's Visibility
19 Aug 2022

Posted at 12:00h
0 Comments
Most often, when people hear about QR codes, they immediately think it is something for a developer or they don't immediately think of it as a helpful tool. While all developers know a thing or two about codes, the benefits of QR codes in improving a real estate agent's visibility can't be overstated.
As a result of the ever-increasing use of mobile devices, providing customers with immersive experiences has developed into a vital component of business marketing strategy for real estate professionals. Adding a QR code to your online storefront is an amazing way to increase brand awareness and drive traffic to your business in this increasingly competitive real estate market.
What Is a QR Code and How Does It Work?
A QR code is an image of little black squares and dots on a white backdrop. Business cards, menus, brochures, pamphlets, and, most recently, signage displaying the NHS QR code for consumers to scan using the NHS Test and Trace app all include QR codes. You must have seen one of these as restaurant menus or even the COVID-19 pass app. This is what real estate agents get through RealtyFeed®. And here is how the QR codes work:
You may use a QR code to access information encoded within them. People can scan these codes and get redirected to your real estate website landing pages, social media profiles, app, etc. This is done by creating an image that can be scanned via a smartphone. Real estate professionals can use QR codes to streamline the process of attracting more clients.
How QR Codes Improve Agent's Visibility
Realtyna's real estate-specific QR code is the new solution to help real estate agents get discovered by the masses. Agents can access this advanced innovative form of marketing tool through RealtyFeed®. RealtyFeed® has designed these QR codes to fit the personalized marketing needs of real estate professionals in this ever-advancing digital world.
Not only can real estate have a dedicated real estate application through the platform, but they also have the possibility of generating specific QR codes for their marketing campaigns. Continue reading to find out more about increasing your visibility through QR codes.
You increase your chances of being discovered by linking your QR Codes to your online social profiles and real estate website. Using RealtyFeed® QR codes that direct visitors to your website is a fantastic strategy for increasing your online followers, shares, and likes.
Users can quickly and easily access your signup page or other landing pages/website by scanning a QR code.

Promoting your social media profiles through QR codes will increase your profiles' user engagement on these platforms.

Using QR codes is cost-effective.

You can also send

marketing emails

and newsletters through QR codes. This will also help you read and monitor email analytics through these QR codes.

You can also use QR codes to request customer reviews. It presents a unique technique that piques the clients' interest and improves engagement. In addition, clients will most likely try to discover what is hidden in a QR code, increasing your visibility through the linked page.
How Can You Get a QR Code for Your Real Estate Business?
You can create a QR code for your real estate business through RealtyFeed®. This platform allows you to seamlessly generate QR codes for your marketing campaigns without hassle. For more information on how to get a QR for your real estate website, contact one of Realtyna's experts here.