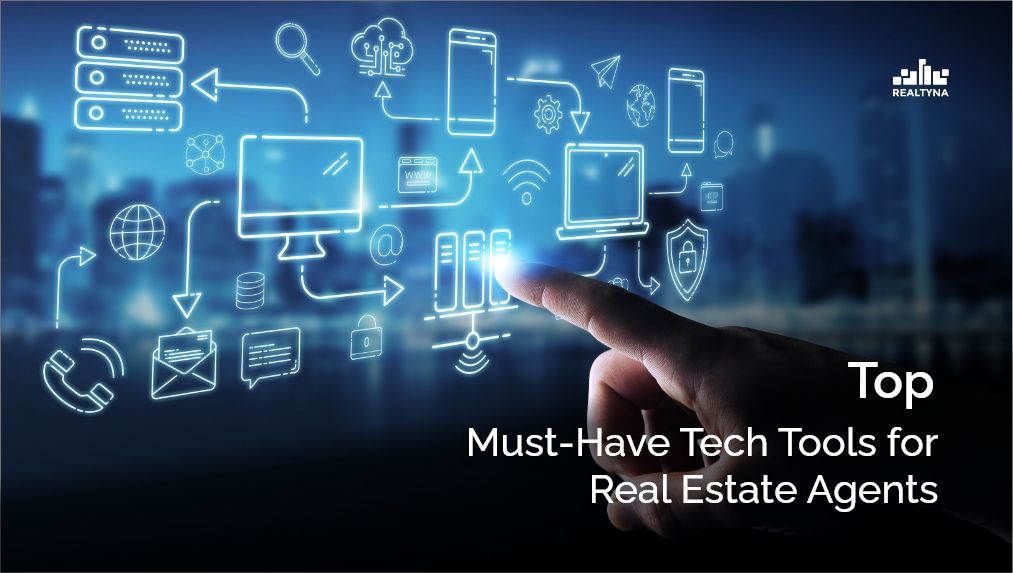 Top Must-Have Tech Tools for Real Estate Agents
12 Oct 2021

Posted at 11:00h
0 Comments
An agent's secret weapon in establishing a successful and wealthy profession is the use of real estate software. Real estate technologies may aid agents with various tasks, ranging from lead generation to video editing, expense tracking, and open house administration. From making your life easier to growing more productive at what you do, tech tools can help you both on and offline. In addition to making your life easier, tech tools also help you convert more leads. But with so many tools available, how does an agent know which ones to use?
Agents worldwide are benefiting from these top real estate tools by getting more done in less time. Continue reading for detailed information.
Top 5 Must-have Useful Real Estate Tech Tools
Although many successful real estate agents started their careers with minimal money, investing in real estate on a tight budget is neither recommended nor comfortable. In fact, starting with a few basic real estate tools is, well, really important!
1. Smartphone
Not only is a mobile phone essential for responding to leads on time, the "smart" aspect of it also helps you complete several tasks remotely.
If you don't have a smartphone, you will do well to get one. It's one of the most practical yet underrated tools you'll need throughout your real estate career. Moreover, this is perhaps the most vital of these real estate tech instruments.
2. Real Estate Website and Website Builder Tools
In today's technological world, having a real estate website is top on the list of tools you'll need to succeed in your real estate business. Client interactions are increasingly taking place online, and your website is usually the initial point of contact for potential clients.
Nevertheless, a real estate website is not very effective without builder tools. WPL Pro is one of such tools. It is a powerful WordPress plugin for building real estate websites packed with features.
The WPL Pro WordPress plugin gives website owners total control over website content and quality add-ons, and it allows you to have more than 100,000 listings available on your real estate website. You can also use drag-and-drop tools and professional-looking themes to customize the look and layout of your website with WPL Pro. To build a fully branded agent website with IDX search, area profiles, SEO, and lead capture, this is your go-to tool.
3. CRM
A customer relationship management system (CRM) can assist you in matching clients with the appropriate specialist at your brokerage, setting follow-up reminders, sorting and organizing your leads, as well as automate your lead nurturing processes.
The progressive Real Estate CRM software from Realtyna is one of the most effective alternatives available. It assists agents in keeping track of customer relationships, managing lead generation, and moving real estate transactions through the market.
4. Social Media Tools
Most agents understand that it is critical to be active and visible on social media to promote your brand, provide relevant insight, and generate new leads. ​​However, like the most successful real estate agents, you should use technology to save time and automate your social media processes with proper tools like Membership Add-on, Facebook Add-on, and more.
Real estate agents can also use social media management tools to enable easy management of all their social media platforms.
5. Lead Generation
Leads can originate from various sources, including word-of-mouth, website visits, and social media posts and comments. Successful agents adopt a proactive strategy, offering themselves where buyers and sellers are most likely to be found — on real estate websites and other online platforms.
More sales opportunities result from increased lead generation. Therefore, you must have a method for consistently bringing in high-quality leads through your sales pipeline.
Final Thought
In this profession, you'll have to deal with a lot of tedious work that will take your time, productivity, and energy. However, with the proper tech tools, a lot of real estate agents have seen substantial growth in their business.
Fill in the form below to get full access to our latest tips and tricks to expand your real estate business!!
Contact us for a free Trial