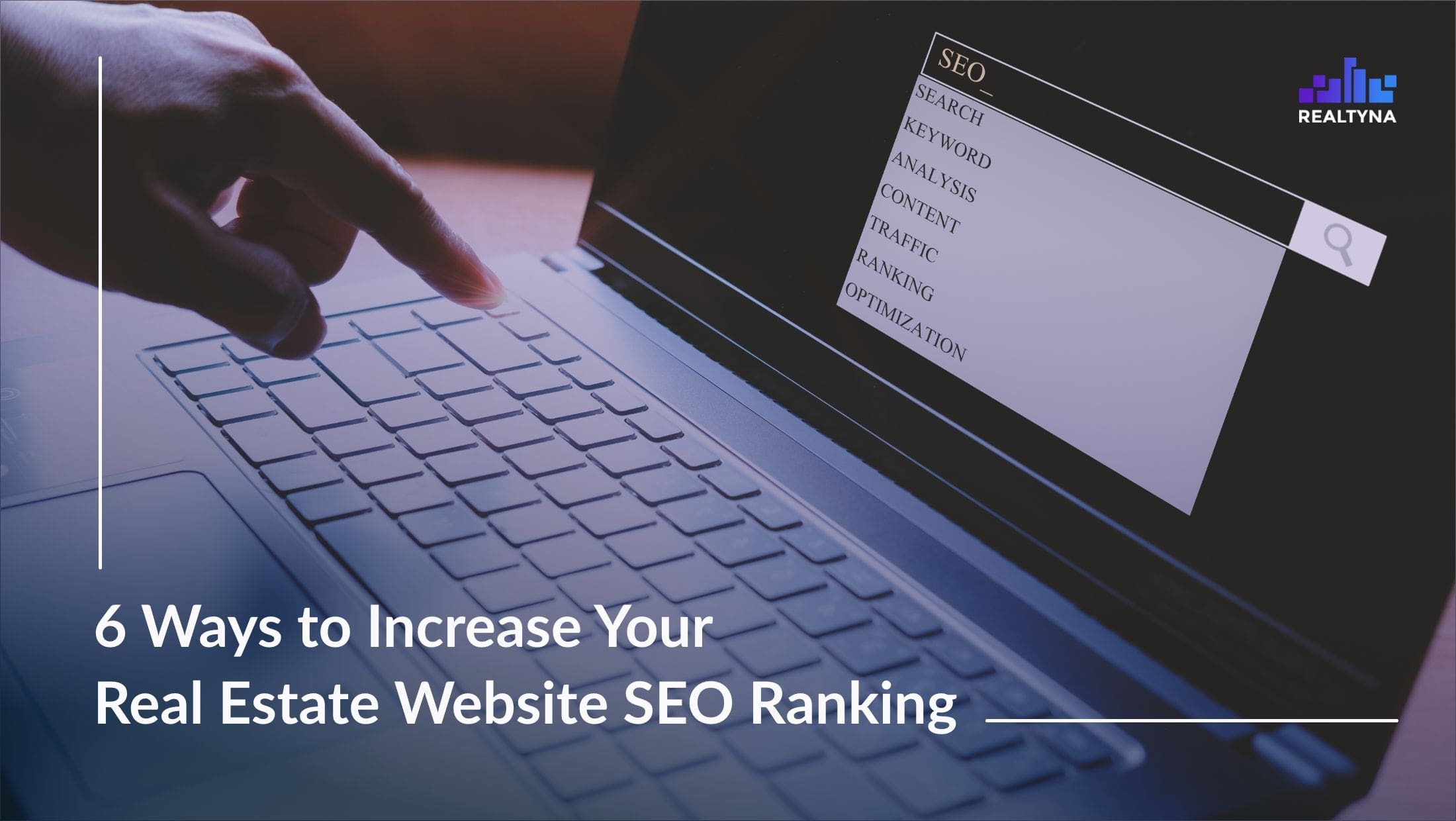 6 Ways to Increase Your Real Estate Website SEO Ranking
19 Nov 2021

Posted at 11:00h
0 Comments
To gain more website traffic and attract more potential leads, you must have a professional real estate website that your clients can easily navigate. That is why in today's article, we will offer you tips to improve your real estate website SEO ranking and its overall performance. If you are interested in learning more, keep reading.
Analyze Your SEO Audit
The first step to improving your website performance is analyzing its achievements. The best way to do that is with SEO Audit. An SEO Audit is a tool used to determine whether your pages are doing well or needing improvement. With the help of SEO Audit, you can analyze your website's local rank, attract organic traffic, generate inbound leads, and convert clients. To ensure the long-term success of your real estate website's performance, it is necessary to regularly perform an SEO audit.
First Impressions Matter
Once you get your clients to check out your website, your next goal is to make them stay. That's why the first impression that your clients have of your website matters. The best way to ensure that your clients stay on your website longer is by making it easy for them to navigate. A professional real estate website should have a well-designed template, fast page load speed, and have easily accessible information. Read our blog on Web Content Ideas for Real Estate Agents for tips on what to include on your real estate website for better engagement and great first impressions. Here are some things to take into consideration:
Provide your clients with an eye-catching logo of your company

Make your website scannable and easy to navigate

Post high-quality images and content

Make sure that your articles have no grammatical errors

Devote your time to perfecting your site
Make Your Website Mobile Friendly
Another way to improve your site's SEO ranking is by making it more mobile-friendly. Often, clients tend to use their smartphones to search for listings. That is why it's essential to make your website easily accessible through desktops and mobile devices. With the help of Realtyna's iPhone/Android app, you can easily customize your logo and create powerful branding for your real estate website. The app provides direct sync to your website, comes with MLS listings that can be automatically updated, and sends out push notifications to your clients. Real estate professionals can also download Realtyna's iPhone/Android app easily on Google Play and iTunes app store. If your customer scrolls through your website using a mobile device, it will invite them to download your app.
Avoid Having Too Many Ads or Popups
If you tend to use too many advertisements or popups on your website, that may be the reason why your website traffic and its overall ranking decreased. Too many ads and popups often drive customers away from your site. However, that does not mean you should not include them at all. You may do so in moderation.
Publish More Visual Content
Clients often prefer visual content over written text. So it's always recommended to make visual content for your website visitors. Some examples to start with are colorful HD photos, videos, webinars, infographics, interactive tools, memes, etc. The more interesting and eye-catching your content is, the better traffic it will drive to your real estate website. However, don't forget to include a blog on your website as well. Maintaining a daily blog doesn't only help improve your real estate SEO but also helps build more trust with your clients and better your company's image.
Display Your Website on Google My Business
Last but not least, another great way to improve your website SEO ranking is by displaying your site on Google My Business. That way, with the help of relevant keywords, your potential customers can easily find your business through Google search. While you're at it, make sure to include your website link, name, address, and phone number.
For more information on how to improve your real estate website SEO, check our article on Ways To Increase Your Website Traffic.
Thanks for reading! Here are some recommended articles for you.
How Your Hosting Provider Affects Your Site Speed – Real Estate Edition
5 New Ways to Make Your Property Listings Stand Out