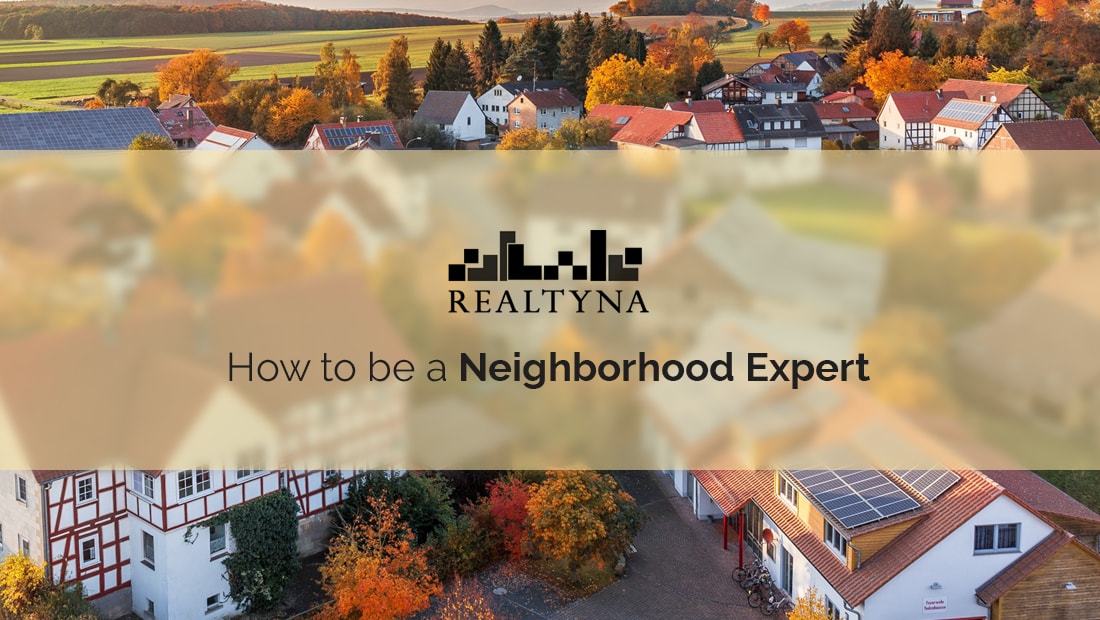 7 Ways to be a Good Neighborhood Expert
17 May 2018

Posted at 10:49h
0 Comments
Real estate agents do much more than sell homes. They are also indirectly responsible for the new phase of life their clients are about to embark on.
Similarly, home buyers know that they are investing in more than just a few support beams and a roof over their heads.
You might get caught up in your day to day work, but here is a reality check that you need to address: clients are trusting you with their futures.
The decision of buying a home and choosing a realtor to find it is a significant task and should not be taken so lightly.
To be a good, successful and trusted realtor, you must be one thing: A neighborhood expert.
Being a neighborhood expert will gain your clients trust, build rapport with the local community and ensure that every move you make is an intentional one.
The great thing about this is, all you need to become an expert is a little determination and perhaps a cup or two of coffee. Below is a list of 7 ideas you can implement today. The list is not definitive, however, will get you on the road to success.
1. Study your MLS:
Being a neighborhood expert will require a little bit more than knowing its personality. It may also require you to be a bit of a statistician. Knowing the ins and outs of the housing market in your area is a necessary prerequisite to becoming an expert. The hidden information you find
behind the numbers will give you an invaluable lead when trying to buy and sell these homes. Know things like- Selling prices, price points within the neighborhood, average time it takes to sell a home and why. Your quick knowledge on all things technical within your community's market will also give your clients an added layer of confidence when coming to you with less technical questions.
2. Visit schools:
One of the most important things for families on the move is the school situation. Any realtor can memorize the names of the school in the district, and pull up a ranking website, but only neighborhood experts can give first hand information about them. Not only know the rankings, but also visit the schools, take a tour and talk with the administrators there. Learn about the school's culture, policies and all the unique things they have to offer. Often, good schools will sell the home before the realtor does.
3. Check out the community center:
As with schools, many people are very specific about the kind of community they would like to live in. A great way to learn about your community first hand, is to visit the community center and find out about all of the town events, clubs, organizations and people. This is also a great place to get to know the locals, gain rapport and indirectly generate leads and referrals.
LUKE'S TIP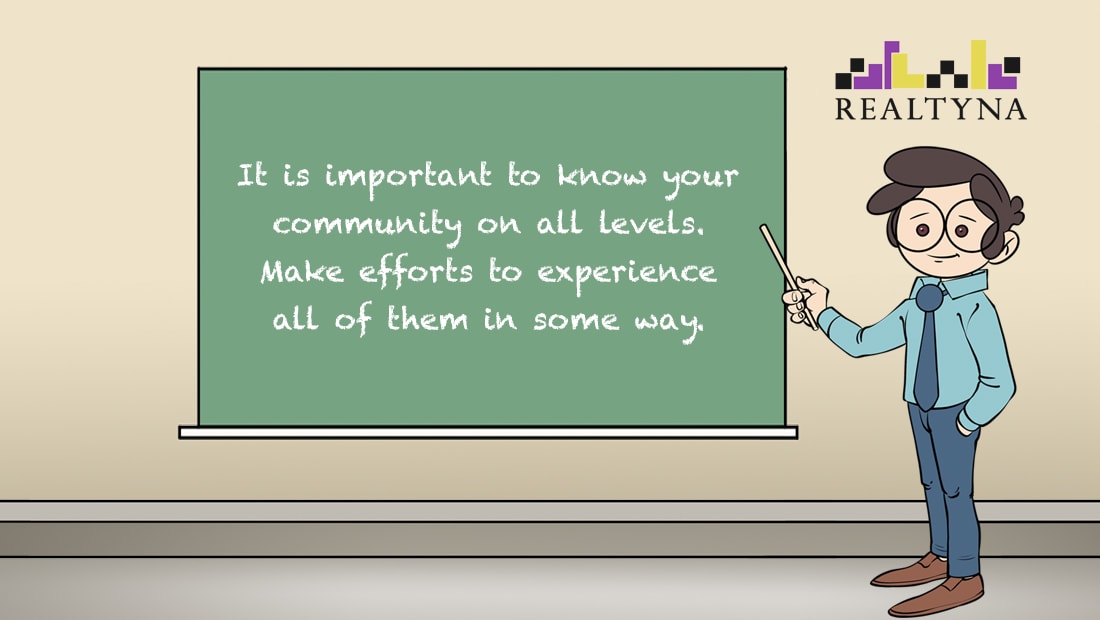 4. Join a club:
A step further from simply visiting the community center and checking out what you could be involved in, is to actually get involved. If you have a hobby or focused interest, find a club in your neighborhood that suits you. Being directly involved with the community you serve will give you a special perspective that you can relay to your clients interested in moving there. This gives you a chance to connect with people and learn about the area on a deeper, more intimate level.
5. Go to meetings:
You want to know about the town on intimate, superficial, and also business/political levels. Take part in town hall meetings and getting to know what your local government is up to. Being the first to know about town developments will give you an edge and also show your clients that you are invested in the town's (and their) future. Things like a new grocery store bid or planned park renovation can be significant factors for your clients. You knowing about them first, will be even more significant.
6. Walk:
As simple and obvious as it may seem, it is still worth noting. Take casual strolls through your neighborhoods. Go back to the basics and use your 5 senses to get insights. Connect with the neighbors. Open your eyes to any changes, see any moving trucks? Make notes on the neighborhood culture. How many kids are out playing? Do you smell any backyard cookouts? These simple observations are something you cannot Google. You must experience them.
7. Neighborhood Profiles:
Arguably the most important part of being a neighborhood expert is being a published neighborhood expert! Show off your knowledge and include neighborhood profiles on your real estate website! Take all the knowledge and photos you have gained along your journey and post a snapshot of what each neighborhood in your community has to offer. Leads will appreciate the convenient information and be more inclined to reach out to you thanks to your trusted advice.
To summarize: It is important to know your community on all levels. Make efforts to experience all of them in some way. It is equally important to make sure people know that you have this knowledge to share. Do not hide it. Now, go out and be the neighborhood expert you always wanted to be!