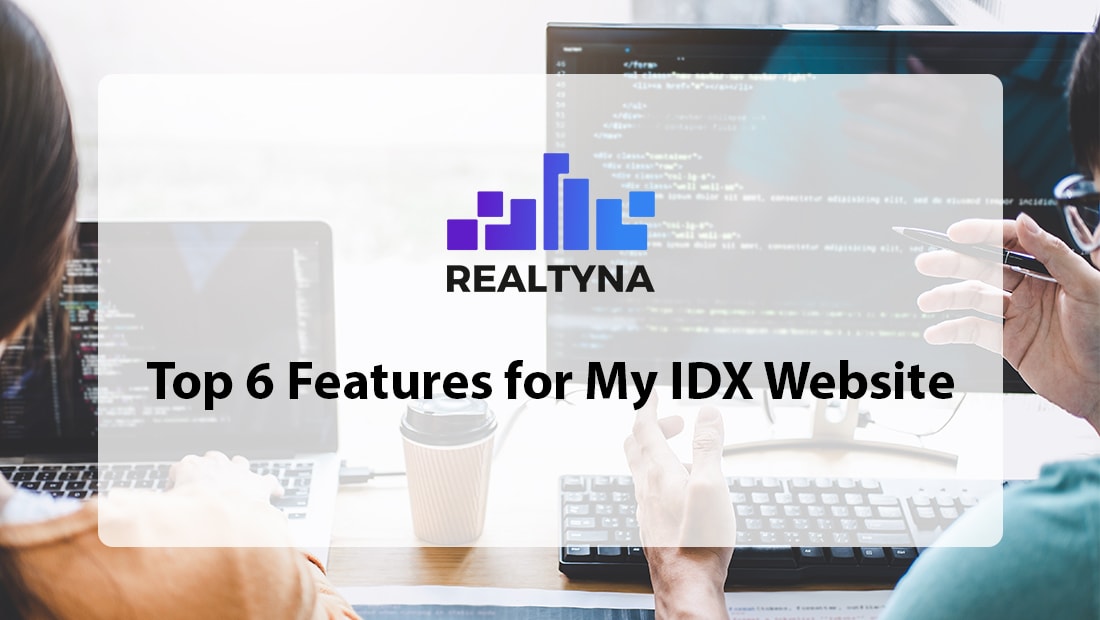 Top 6 Features for My IDX Website
07 Nov 2019

Posted at 10:00h
0 Comments
You can be a main player in the real estate market if you know the rules of the "game". Good and powerful strategy for your business is the main factor to make progress as a real estate agent. In order to have a powerful strategy, you must always be focused on the market and have an idea about the recent updates and trends.
A website plays an important part in your business. Today every agent tries to improve their website design, make it more useful for buyers, and include as many interactive tools as possible. As you have organized MLS listings on your IDX website, used an appropriate theme, made the listings look impressive, are you sure that that's all? There are still some more important features for an IDX website you might have missed that can be used to improve your website's user experience. Here, we will discuss 6 of the top features for an IDX website.
1. Advanced Search Features
Advanced Search Features are very important for every IDX website. With these tools, you can make your user's life significantly easier and help them to find the desired data in a short period of time. For example, custom search widgets based on the fields necessary for your listings, interactive maps, polygon & radius search, search notifications and more.
With Advanced Portal Search you can generate more leads as it includes all the necessary features itself. You can be sure that your users will find this function useful and stay on your website longer.
2. Demographic Tools
Demographic information is a must have on your website. Buyers always want to know as much as possible about the place they are going to buy a property. Providing your IDX website with information about the schools nearby, the average age of the population, the average price for a property, and the Neighborhood situation will help you in the lead generation process.
3. Tracking Tools
Observing how users behave on a website has been a well-established marketing strategy for years. In order to have an idea of what visitors find important on your website, you can research their behavior. It can be done in different ways: Reviewing your site visitors' opinions by asking them several questions online or by doing different kinds of research.
One of the most popular and effective ways is using different analytical tools to track user activity, feedback and behavior. For example, one of the most popular tools is google analytics. It works by showing how different keywords and links were used on your website. It gives information on how the leads were operating while searching for some information on your webpage.
Another important tool is the Google Marketing Platform. The platform is more focused on marketing channels and less on website analytics, which is what differs it from Google analytics. It shows you how marketing efforts are performing.
For a more personalized approach, you can collect all important data about listing, neighborhood and search popularity by using Realtyna's Market Report Add-on. By choosing a date range, you can see how certain listings, searches, neighborhoods or complexes were used. With the Add-on, you can get more detailed information and be aware what was your website user behavior like and then tailor your marketing and website strategies around it.
4. Social Media Tools
The power of social media marketing is huge. As a real estate agent, you should consider using different social media platforms for your business. Moreover, you can Integrate social media on your IDX website and maintain connection with your real estate leads.
For example, with Dynamic Facebook IDX Ads, you can keep connection with your leads on your website even if they browse in social media.
5. Mobile Responsive Web Design
A big number of homebuyers are using mobile devices for property searches. In order to respond to your clients demands, you have to make your website responsive. The first impression is a determinant factor sometimes.
If the website design fits any equipment and can change the size and alignment for any device, the users will stay longer on your website. Thus it will reduce bounce rate, too.
Moreover, a mobile responsive website is a ranking factor for Google. So, it will improve the website SEO as well.
6. Website Blogs
Every website needs a blog. A blog is a great source for the owner of the website to make a business look bigger. Blogs can include the information which can be useful for buyers. Information which can lead users to other products or services or even simply, entertainment.
Furthermore, video is an important component for blogs. Relying on Hubspot research, 71% of people watch more video than they did a year ago. Doing video blogs about different important tasks, which lasts approximately 2-6 minutes, will improve your website user experience, views and indirectly your SEO and lead generation.
If you want to know more about the best website types for your real estate check the blogs: 9 Design Tips for a Great IDX Real Estate Website and How to Improve Your Real Estate Website Design?
If you have a question or feedback, drop a comment below.