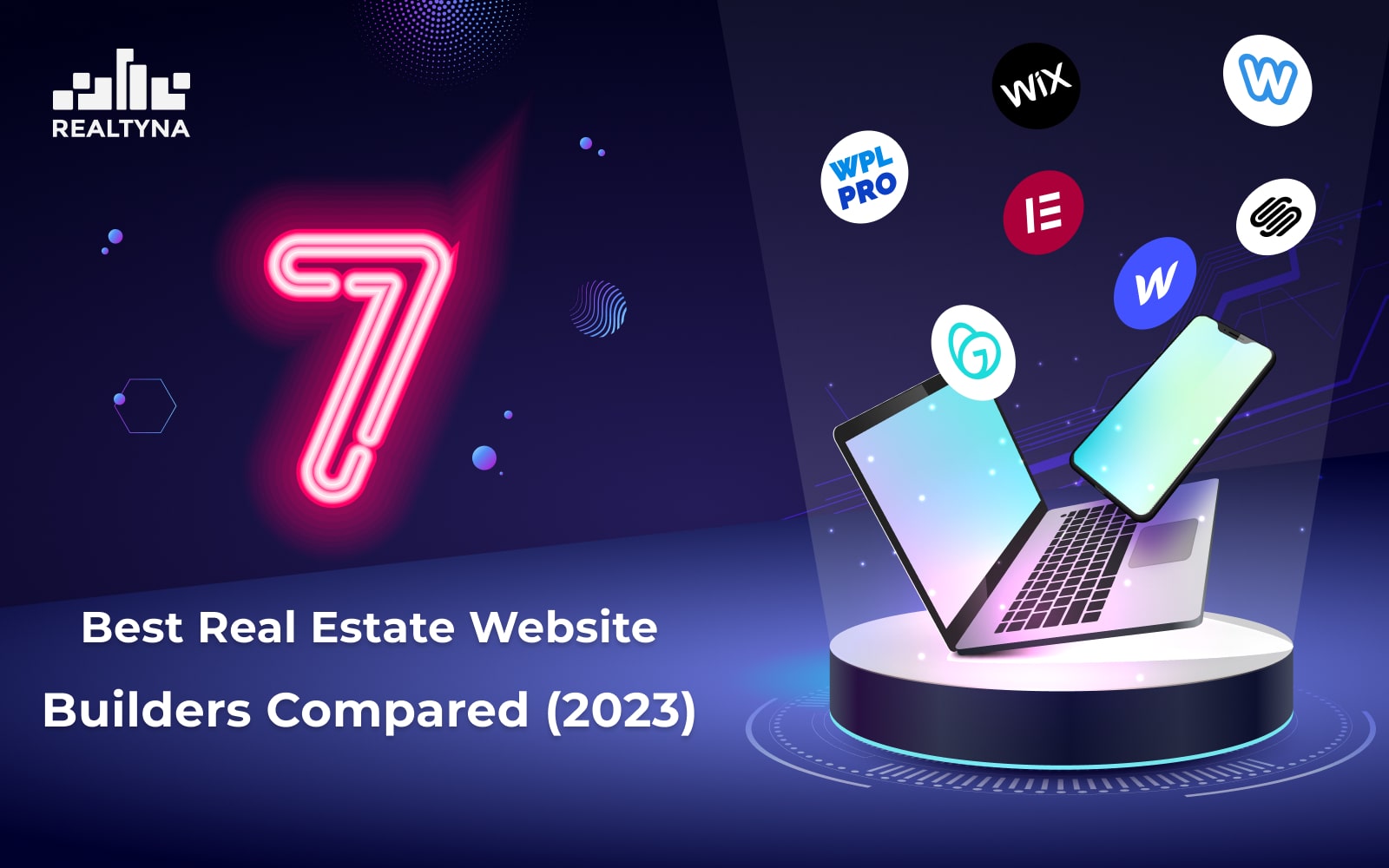 7 Best Real Estate Website Builders Compared (2023)
27 Apr 2023

Posted at 10:00h
0 Comments
When choosing a website builder, you want to ensure your website is highly responsive, scalable, flexible, SEO-friendly, and user-friendly. Your real estate website is crucial to your business, driving lead generation and converting prospects into clients. Whether you're a single agent or part of a larger brokerage, your website is vital.
With this in mind, given the myriad of available tools, you can only imagine how difficult it is to choose a website builder. All of them are good at very different things, and it can take time to understand which one will suit you or your customers best. That is why we have conducted in-depth research and handpicked some of our top headliners for real estate website builders to improve your website in terms of design, ease of use, functionality, SEO, and more.
So keep reading to see our comparison of the top WordPress real estate website builders that will improve your overall visibility on search engines and place your real estate business ahead of the competition.
Which Website Builders Are Most Effective for Creating Real Estate Websites?
Real estate websites need various features and functionality to properly promote properties and provide necessary information to potential clients. Each of the following picks is packed with a unique set of functionality, from creating beautifully designed, user-friendly, high-performing real estate websites to developing more visibility for your business.
Wix: User-friendly real estate website
Elemetor: Top real estate website builder with a myriad of widgets and templates
GoDaddy: Best for smooth publishing and digital marketing
WPL Pro: All-in-one feature-rich IDX & MLS WordPress website builder for advanced real estate websites and portals
Creating a professional real estate website with Wix is quick and hassle-free. The website builder's drag-and-drop feature has made it even easier for real estate professionals with no coding skills. Additionally, Wix offers a large selection of templates to choose from and an extensive app market to customize your site as you see fit.
Weebly's easy-to-use interface and price make it ideal for new agents or smaller teams that only require a limited amount of customizations. With Weebly, agents can create a professional real estate website without breaking the bank. In addition, the plugin's drag-and-drop feature makes building a website easier than ever.
Additionally, Weebly's free version offers users lead capture, an Instagram feed, chat and email support, and an SSL certificate, which embeds codes from third-party sites.
Elementor is a robust page builder that is highly recommended for real estate websites. The real estate website builder is perfect for those who want more control over their website design. With its drag-and-drop editor, you can customize every element of your website, from the layout to the fonts and colors. Elementor also offers a range of real estate-specific widgets, including property listings, maps, and contact forms. Also, the platform is highly flexible and allows users to add custom code and integrate with third-party apps.
However, it requires more technical knowledge compared to Wix and Weebly. One advantage of Elementor is that it is highly optimized for speed and performance, which can help improve your website's loading times.
Hostinger Website Builder accommodates all website creation processes, including those for professional real estate. They have an extensive template library with the latest design trends in mind. In addition to the drag-and-drop builder, Hostinger offers AI Builder tool for users to design their website and generate top-quality website copy with AI.
The builder plan comes with web hosting and a domain name. Additionally, users can integrate marketing tools – allowing them to market the website and optimize it for search engines in one place.
Due to its user-friendly design, sleek and modern themes, and advanced functionalities, Squarespace is one of the best website builders for real estate professionals that helps establish their brand identity and a solid presence online. Also, Squarespace allows you to create a basic, mobile-friendly real estate website in just a few clicks.
In addition, Squarespace provides comprehensive email marketing features that allow Realtors to automate email marketing activities, simplify the maintenance of their contact list, and customize every message.
Although GoDaddy is mainly known for quick publishing and digital marketing features, real estate professionals or web developers are in for a treat with its sophisticated real estate templates and the ability to schedule online meetings via Zoom.
Additionally, GoDaddy helps even new digital marketers improve website SEO, run social ads, send emails, and make posts all from the same dashboard. The only setback about this website builder is that it is not designed specifically for real estate websites. But it offers a variety of real estate-specific templates.
WPL Pro is a real estate website builder designed to provide all you need for your real estate website under one roof. The plugin is an excellent choice for your IDX website as it comes with many useful features and add-ons for your real estate agency. With WPL, users have two versions—Basic and Pro. The WPL Basic version is free, and you can upgrade to the Pro version for a standard fee.
Regarding real estate website builders, agents are particularly interested in the ease and efficiency with which MLS and IDX services can be incorporated into their respective real estate websites. And that is exactly what WPL Pro offers. It helps Realtors easily upload thousands of listings on their native websites and rank higher on Google and other search engines. With the help of WPL, you can also keep track of your site visitors by documenting the login details and list of saved searches through the Advanced Portal Search Add-on. It is also worth mentioning that the feature-rich IDX website builder allows unlimited users. You can install this on your hosting server.
Conclusion
Building a real estate website from scratch can be time-consuming and expensive. That is why choosing the right builder for your real estate website is vital. Although there are many options, each has advantages and disadvantages, and the best option for you will depend on your individual needs and preferences. However, overall, WPL Pro is our top pick for real estate website builders in 2023 as it offers an all-in-one feature-rich IDX & MLS WordPress for advanced real estate websites and portals.