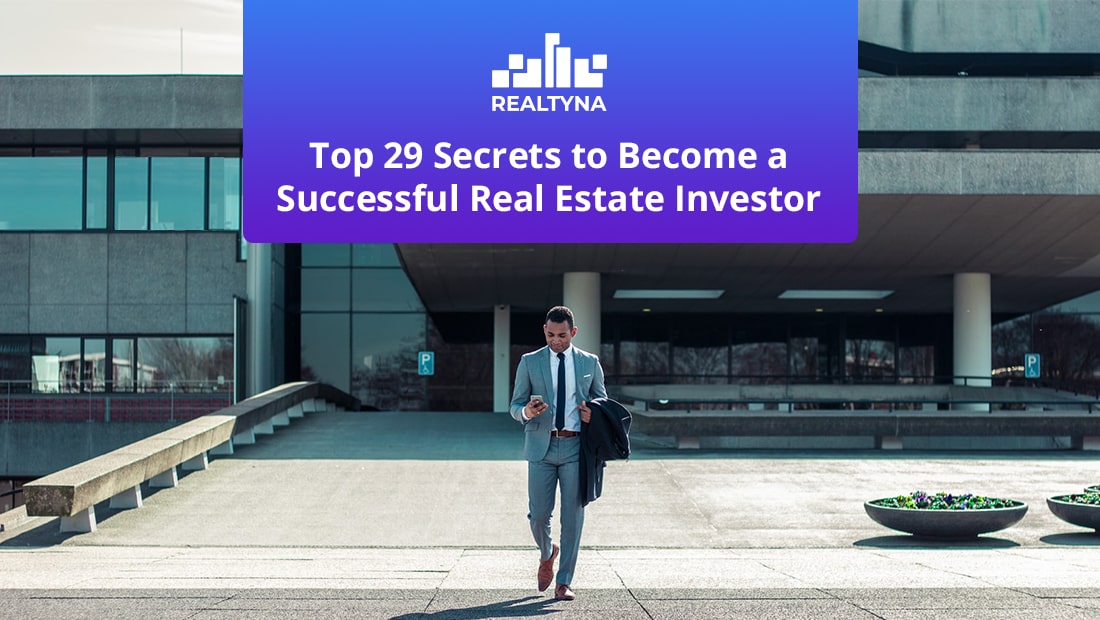 Top 29 Secrets to Become a Successful Real Estate Investor
15 Mar 2020
Posted at 11:00h
0 Comments
Many real estate investors already feel an overwhelming amount of stress. This can come from an overemphasis on profit, money and wealth. Unfortunately, in most cases, this pressure can stop investors from progressing in their career. The lack of efficiency makes them disappointed, and eventually, they stop working. In this article, I try my best to provide all the investors out there with a new mindset to be more successful on the road ahead.
1. Be an Early Bird:
Financially successful people tend to be early risers.
2. Socialize More:
In my opinion, one of the most important factors of success in the real estate market is making friends and developing your network.
3. Find a Business Partner:
To find a helpful and experienced partner, you need to understand your own abilities and weaknesses, and be able to evaluate how someone else can compliment you.
4. Reduce Negative Influences Around You:
Spending time with happier, goal-oriented, successful, and more educated people can inspire and motivate you.
5. Write Down Your Plans:
While it is important to be specific in your goals for the entire week, your days should be flexible to adapt and change. Have a clear and significant goal for each week's end. In addition to planning out your next week's activities and goals, review what has worked and failed this past week.
6. Visualize Your Future:
Visualize yourself as the person you want to be. Visualize the sounds, feelings, looks, smells, and social interactions of the ideal you.
7. Start Celebrating:
Every real estate investor should know how and why to celebrate. Both the purchase and the sale of every real estate transaction large and small is worth recognizing. Do not compare your success or progress to anyone else but your past and future self.
8. Begin Your Day With Meditation:
Your successes will almost always begin from within and not from outside yourself. Regardless of your current opinion on meditation, having a clear mind and committing just ten minutes a day to sitting still and focusing on your breathing can have long-lasting benefits.
9. Start Working Out:
It is a fact that exercising boosts your energy throughout the day. Morning workouts eliminate the possibility of flaking out later in the day.
10. Read to Become a Better You:
Another equally important method for learning how to effectively perform a new skill or ability is to learn from others through books and audio programs.
11. Begin Smiling for Little Reasons:
Begin looking for small things to make you happy and laugh throughout the day. Turn a negative into a positive and master your emotions at all times.
12. Surround Yourself With Motivational Images:
By keeping motivational and inspiring pictures around you, you are forced to confront your current actions and station in life.
12. Welcome Feedbacks:
Start asking everyone you interact with for honest reviews and testimonials.
13. Be the Last One:
Everyone likes to be first. But often, it's better to be last—he last to give up, the last to leave, the last to keep trying, the last to hold on to principles and values.
14. Delayed Gratification:
Delayed gratification is the ability to know what rewards you want and deny yourself these things until you have achieved a set goal.
15. Show Off Your Achievements:
Be proud and willing to show others the good deals you have already managed.

16. Reward Yourself:
Reward yourself with time to yourself. This is a very productive delayed gratification technique that encourages more, sustainable and efficient work.
17. Start Networking:
Networking and referrals are a great way to attract more sellers and buyer leads. Aim to attend a new real estate investor group every week.
18. Get Noticed and Stay Remembered:
Step outside your comfort zone and be confident and persistent at your next local real estate investor's club meeting.
19. Expand Your Marketing Methods:
No matter the advertising methods you decide to move forward with, it is wise to have multiple advertising methods generating multiple sellers and buyer leads for your business.
20. Specialize in a Specific Niche:
Take the time to build your reputation as an expert in just one or two niches max.
21. Be Down to Earth:
Realize that you should aim to only place expectations on tasks within your control. Do not place your expectations on anyone else but you. Deadlines on others are necessary. However, people can be unpredictable.
22. Walk Around While Calling Clients:
Surprisingly enough, walking around when speaking to sellers and buyers can have a positive effect on your phone call efficiency.
23. Stop Saying "I":
Start saying "we" in place of "I" when you are speaking to sellers and buyers. This secret will help buyers and sellers realize that you are (or may be) working with a partner or group of other investors.
24. Call Old Sellers:
Keep in contact with past sellers. Remind each seller that your company is still here to help, that you want their property if a win-win offer can be arranged, and your past offer(s) may still stand.
25. Understand Your Seller's Hot-button(s):
By asking the right questions and understanding your sellers, you can better tailor a winning and acceptable purchase offer for each seller to accept.
26. Befriend a Foreign-speaking Investor:
If you cannot speak a foreign language and you are receiving calls from foreign property sellers, it is important to start working with a translator and/or current real estate investor that does speak this language.
27. Say "no" More:
Having the confidence and foresight to say no makes you stand out.
28. Automate Your Selling Funnel:
Try using an automated voicemail system to send instant emails to your potential buyers, once they respond to your FSBO advertisement.
29. Procrastination Killers:
If you procrastinate regularly, try looking at difficult tasks with a confrontational attitude. Prepare to learn, beat, and overcome any obstacle or task to achieve your end goal.
I hope by taking into consideration the above-mentioned secrets you will be more successful in your career. If you need more help, try reading the following articles as well or reaching out to our team. How To Sell More as a Real Estate Agent and Major Real Estate Advertising Practices and Their Implementation on Facebook
We are waiting for you at Realtyna.
Contact us for a free Trial