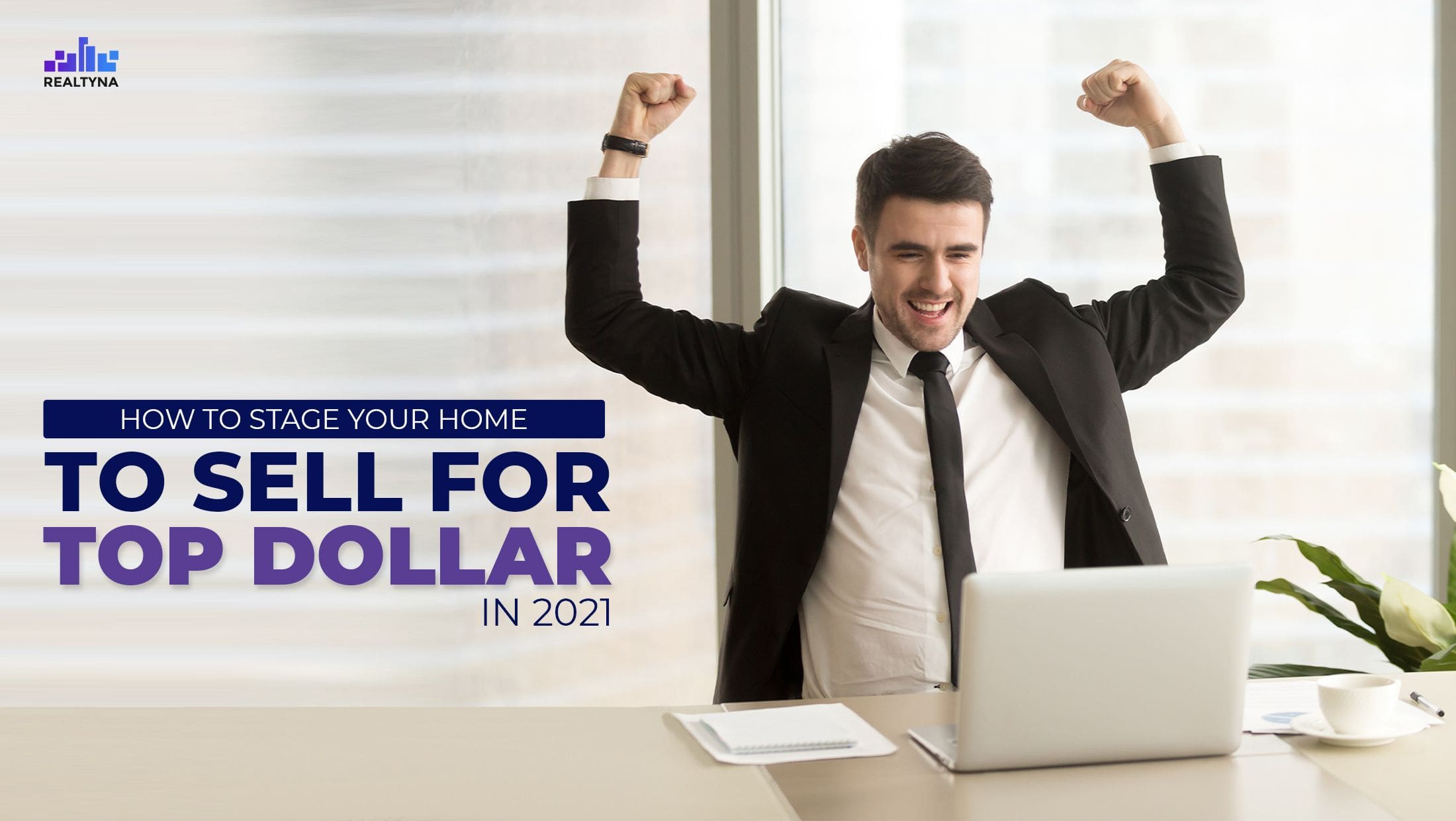 How To Stage Your Home To Sell for Top Dollar in 2021
23 Sep 2021

Posted at 11:00h
0 Comments
In the real estate industry, when agents talk about staging your home, they're talking about the process of preparing a property to sell on the open market. This is done to impress potential buyers and sell the house as fast as possible for the best price. Although most property owners think staging is costly and a waste of time, you'll have an edge if you choose to stage your home. You don't need to spend loads of money. Here are some great staging ideas to help you sell your property quickly for top dollar.
7 Best Tips To Stage Your House for a Top-Dollar Sale
Make the Entrance Welcoming
First impressions always go a long way. Make it count! Create a welcoming entrance and the rest of the house will do great justice to your home. You should have the lawn mowed, hedges trimmed, door handles cleaned and polished, and of course, an open house poster if need be.
The appearance of your house can help convince potential buyers that you took good care of the property. To achieve the best results, clean every inch of the home, from its floors to its ceilings and everything in between!
Declutter
There are two major issues when it comes to displaying too much furniture during a showing. One is that it diverts buyers' attention away from the features of the home. The second concern is that it gives the impression that the house is smaller.
If you are staging the house through a staging company, ensure that you don't clutter the house with too many things. If you are staging the house for a client who already has furniture in the house, box up some of the unnecessary clutter and keep them in storage.
Don't Push Furniture Against the Walls
Many people have the misconception that pushing furniture against the wall creates more space in the living area. If they are out of the way, you will have more floor space, right? Well, that's not the case. Instead, interior decorators will advise you to use the "floating" technique. The "floating" is a conventional interior decoration technique where furniture is placed at least 12 inches from the wall. Not only can it create a more comfortable environment, it may also help the room appear larger than it is.
Concentrate on Your Top Selling Rooms
Kitchens and bathrooms are the two most common selling points in a home. If you can't afford to stage your entire home, focus on these areas. The most important thing you can do is eliminate the clutter. A cluttered kitchen will distract potential buyers from seeing its main features.
Additionally, for your bathroom, include small details like fragrant soaps, and make sure there aren't any unnecessary objects in the space. Some choose scented candles to provide a more pleasant environment, while others use fresh flowers to give more oomph to the room.
Lighting
Allow the sunlight to penetrate the room by opening the curtains. Getting natural light into the room gives it a significant amount of brightness. Install fixtures to activate all the lights during showings. This eliminates the need for customers to look for light switches.
Neutralize the Staging Style
If you are showing a home with a loud or unusual design, find ways to tone it down. It's most likely that the style will differ from that of most homebuyers, and you don't want to scare them away simply because you like to decorate with cheetah print throughout your home. Make any room feel neutral and inviting.
Design an Exceptional Master Bedroom
Besides the kitchen and bathrooms, the master bedroom is a great selling point in a house. There are many things you can do to stage a master bedroom for a top-dollar sale. First, create a master bedroom that is hotel-quality. To begin, make sure that you use neutral colors. Remember, you don't want to go overboard with color here and turn off potential buyers. As an alternative, opt for subtle, neutral hues that create an appealing atmosphere.
Final Words
You should avoid investing too much money in the staging process, even if money is not a concern. Strike a balance between showcasing the home's best features while keeping in mind that what sells the home and what makes it useful for the buyer are not the same. There is no absolute rule for staging a home, but in general, make design choices to appeal to as many buyers as possible.