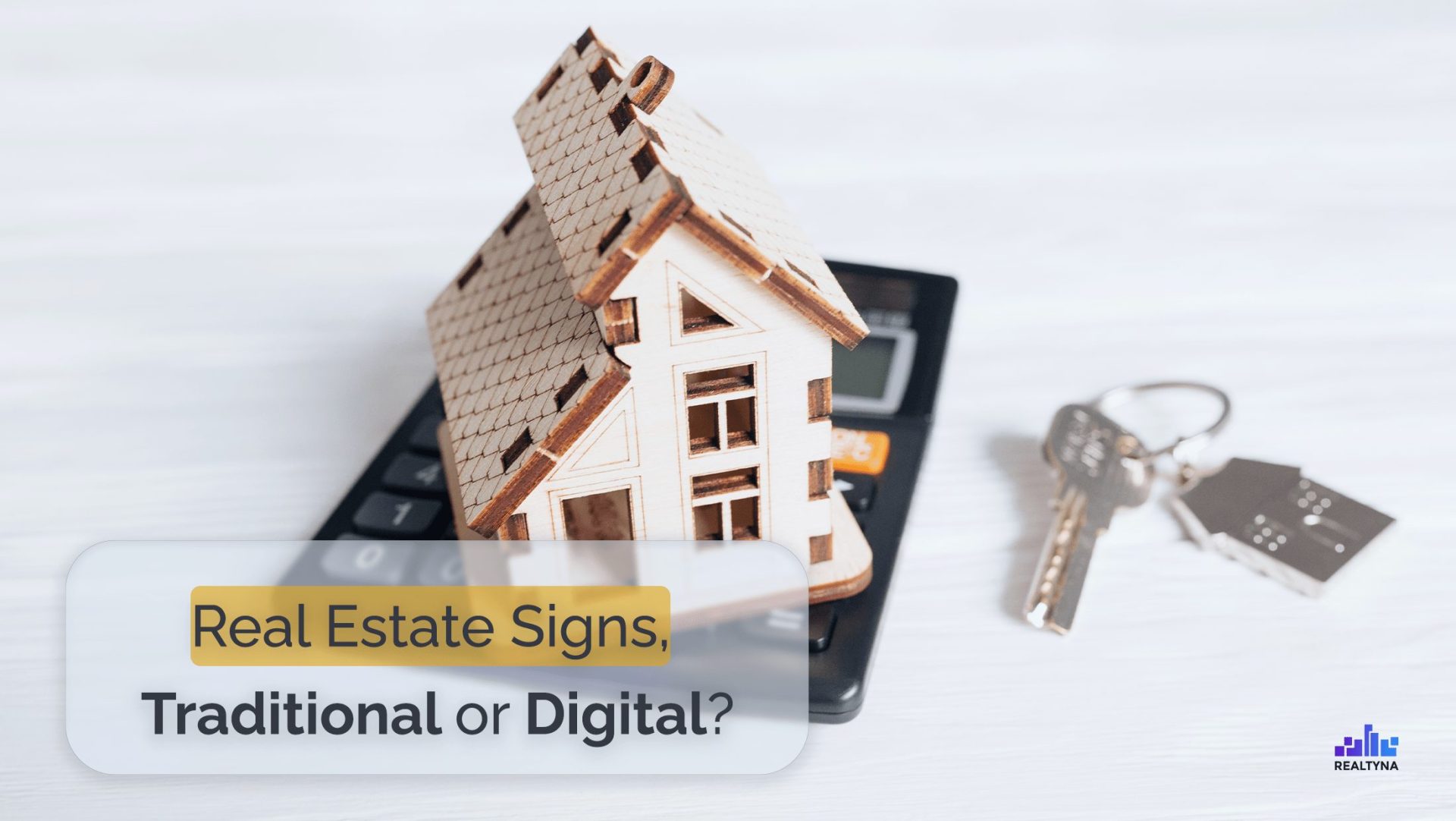 Real Estate Signs, Traditional or Digital?
30 Mar 2022

Posted at 11:00h
0 Comments
Real estate signs have always been a popular marketing technique in the industry. However, since the development of new technologies, it has changed in fascinating ways. In today's article, we will discuss both traditional and digital signs to discover which method works best for advertising.
Traditional Real Estate Signs
Before the digital age, real estate agents advertised their listings using traditional marketing methods. One of the most well-known methods was coroplast and aluminum signs. To this day, people still use this type of advertising for marketing their properties.
Depending on the material and quality of your signs, you can make your properties stand out. For example, most agents use Coroplast and Aluminum real estate signs to advertise their properties. So let's differentiate the two.
Coroplast Real Estate Sign
Coroplast signs are more or less like plastic cardboard. They are affordable and water-resistant, but not wind resistant.
Aluminum Real Estate Sign
On the other hand, aluminum signs have a professional high-end appearance and come with a pristine image that displays your agency information. They are more expensive than coroplast signs but still relatively affordable and long-lasting in all weather conditions.
If you compare the two side by side, aluminum will be the best choice. Not only are they affordable and long-lasting, but they are also professional in appearance.
Billboards and Outdoor Advertising
Another popular way of traditional advertising is through billboard signs. The key to billboard advertising is to place it where people are most likely to see it. When placed in the right location, thousands of people can see your billboard ad every day. Whether on their way to work or back from work, your ad will always be there. This can have a significant impact on them. When a person sees your ad often, it can trigger them to take action.
The key is to make your billboard look interesting enough to work. Make sure that you use an easy-to-read but attractive font, have your contact information displayed, and make it stand out. Try to appeal to your customers' emotions. By creating an emotional appeal on your clients, they are more likely to imagine themselves in their future home and as a result, may consider buying the property. Lastly, be creative and original. Make sure that your billboard stands out from the crowd and grabs your potential customer's attention.
Digital Real Estate Signs
The digital age has brought many changes to how real estate agents advertise their properties on the market. Some of the widely used digital signage are:
Interactive Touch Screen Signs
Touch screen signs are one of the most popular ways of advertising properties through digital signage. Real estate professionals use this modern technology to inform, navigate, and direct clients using its interactive features. For example, Realtors use it to let buyers explore property floor plans using the interactive touch screen displays. Additionally, agents can use touch screen signs to store clients' data and for marketing. For more information on using real estate touch screen signs as a form of marketing make sure to read our blog on it.
Other Forms of Digital Signage/Signs
Other forms of digital signage include video tours, virtual reality, and a lot more. For more information on using virtual reality in real estate, please have a look at this page.
Overall, both traditional and digital forms of advertising are crucial to ensure a boost in your property sales. Each one compliments the other and is necessary for profitable results.
Thank you for reading! Make sure to check out more of our articles.
Best Apps For Real Estate Agents in 2022
How to Use Video Marketing to Advertise Your Listings