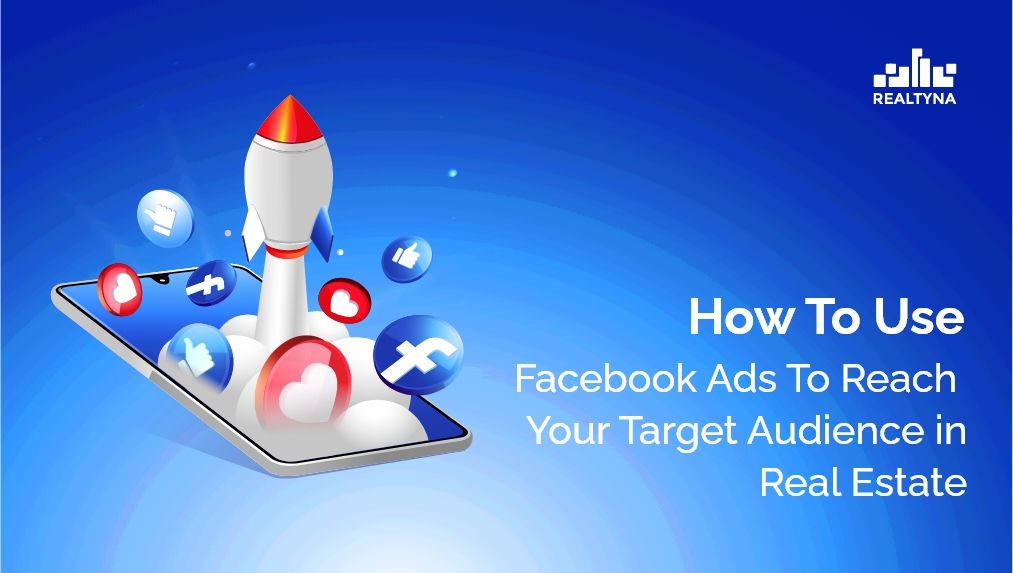 How To Use Facebook Ads To Reach Your Target Audience in Real Estate
15 Oct 2021

Posted at 11:00h
0 Comments
Facebook ads are a great way to reach out to your target audience and advertise your content to them directly. You can even view your customers' insights and see which ads are working for you and which are not. In today's article, I will list ways that Facebook ads can improve your real estate websites overall traffic and how you can benefit from it.
Know Your Real Estate Target Audience
Before you get started with your advertising, you must be more acquainted with your target audience. Knowing the type of audience you want to attract will help you target them more effectively. Targeting them according to their interests and demographics will drive better results. These sorts of techniques will help you advertise your products and services to them directly so there are better chances of them being interested.
Build Your Target Audience's Demographics
As I mentioned above, knowing your target audience demographics is an important step in your marketing strategy. Facebook offers an audience insights tool that allows you to view your audience's gender, age range, location, languages, connections, liked pages, hobbies, etc. This tool also shows you your progress and lets you see what's working for you and what's not. Here are ways that you can utilize your targeting options:
Pick your preferred location:

With the help of Facebook's audience insights, you can target your audience as precisely as targeting them at a particular ZIP code. Just adjust your location to your preferred ZIP code, and there you go. You have a target location.
Add your demographics:

Facebook also has a specific feature made to filter your audience based on their demographics. That way you can ensure that you are targeting only your preferred clients. With the help of the demographic tool, you can filter your audience based on their income, age range, etc., meaning that you can target those that are more likely to buy your product or property.

Make use of behavioral targeting:

With the help of the behavioral targeting filter, you can ensure that your ads are seen by those people in particular who are most interested and more likely to buy your property.

Start Working on Your Real Estate Advertisement
After you have set up your demographics, it's time to start working on your advertising. The best way to get your ad across and ensure that your audience is interested is by keeping it brief, to the point, yet informative. Making the ad eye-catching and creative is also a good option. Another great way to promote your product is by presenting your ads through videos or 3D tours. This will help them appear more authentic and unique from all the other ads out there and better your chances of attracting potential leads. If one way of advertising does not work out or is not effective, try a different approach. Always make sure to spice up your ads. Nobody is going to be interested in the same old, boring ad that constantly appears. So make sure you are providing your audience with a unique experience.
Make Sure Your Facebook Real Estate Ad is Eye Catching
As mentioned above, the best way to grab your audience's attention is by making your Facebook ad eye-catching. Here are some tips that will help your ad stand out from the competition and look fresh and ready to go.
Pick your visuals wisely

: Instead of choosing random Facebook backgrounds, you can design one yourself. That way it can implement your business and stand out to your audience. Try making your overall background look colorful, vivid, and visually appealing. The more eye-catching it is the better. Using standard Facebook backgrounds can often appear boring and repetitive, so it's best to spice it up and go for more visually appealing designs.

Avoid adding too much text:

Often, too much text can drive your audience away from your post. Having too much text can appear hectic and overwhelming. As a result, your audience is more likely to keep scrolling. People often prefer videos and photos over written text, so keep it short and to the point. If possible, make your ad in a video format. The main text should emphasize what kind of value your product or service is going to bring to your customers.

Make your headline concise:

Keep your headline short and clear. Don't write too much information on it. The headline should always portray the main message of your advertisement, as it's the first thing that your clients will see. So, make sure that it stands out and looks appealing yet informative.
Include Videos and 3D tours to Grab Your Audiences' Attention
Tours using 3D technology are a great promotional tool. You can easily prepare a video showing off your property and enable your clients to take a 3D tour of the place without having to visit it itself. This sort of technique is quick and efficient, and it provides you with greater traffic and more leads in a short amount of time. By adding it to your advertisement post, you are more likely to attract your potential clients, as it stands out from other ads and makes your overall post more appealing.
Thanks for reading! Make sure to check out more of our articles.
6 Best Website Hostings For Real Estate Agents
15 Tips to Create a Successful Commercial Real Estate Website