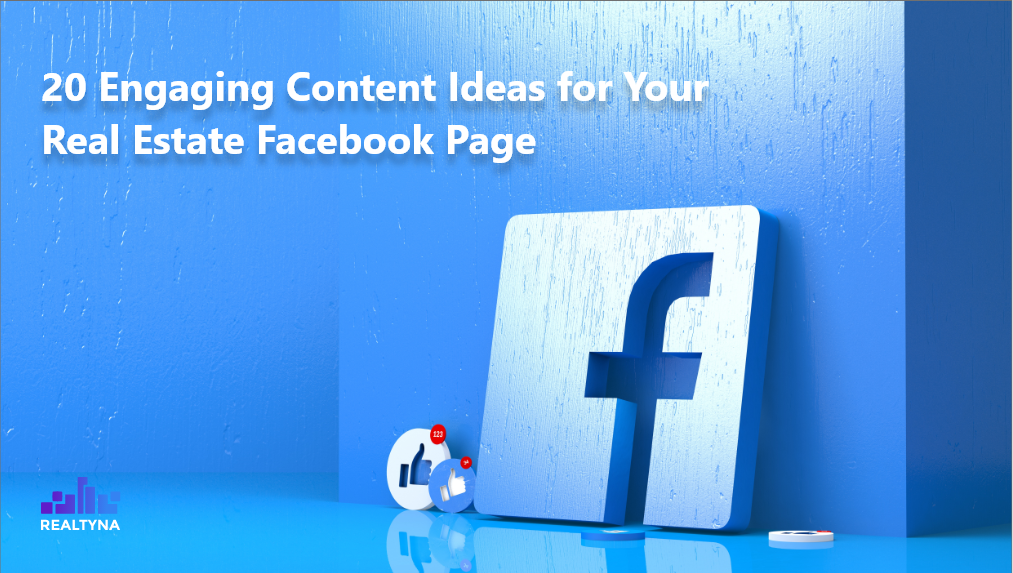 20 Engaging Content Ideas for Your Real Estate Facebook Page
28 May 2021

Posted at 11:00h
0 Comments
Our everyday lives have been increasingly reliant on the internet, and for others, this means making house-hunting decisions. People search for their dream home on the internet. They match houses by watching YouTube videos, making social platforms a key point for prospecting and lead generation. With the number of people using social media each year, sites like Facebook, which has 2.23 billion monthly users, have a great way to reach out to more people and create more leads. Even the right social media hashtags can lead to a variety of options and results!
Get innovative and discover new ways to connect with users using your Facebook page, in addition to staging open houses, generating website traffic, and running ads. To get started, here are 20 engaging content ideas for your real estate Facebook page.
20 Post Ideas For Your Real Estate Facebook Page
1. Increase Page Traffic by Adding New Listings
You will never know who is the next to buy a house. If you've completed the initial marketing and brochure development for your properties, post them on your real estate Facebook page and other social media platforms to draw in new home buyers.
Fill in essential information about the property. How many bedrooms and baths are there? What does the interior and the exterior of the house look like? Finally, attach a link to your website listing.
2. Gain Insights Into Your Audience With Polls and Quizzes
Polls and quizzes compel the viewers to participate directly and express their thoughts. This necessitates them doing more than simply reacting to a post and moving on without fully digesting the details. Make any insightful polling or quizzes about real estate or something else that is interesting to your target audience.
When using polls and quizzes, you gain an understanding of your audience's likes, dislikes, and expectations, allowing you to understand the customer experience and design growth. You can connect your poll to a current linked article or a photo, or you can share it on Facebook and Instagram stories.
3. Post Real Estate Testimonials
Post testimonials of your good real estate transactions to build trust with your clients and prospects. Let your customers talk about your past projects and how you assisted them in their new home. Let your content stand out by using visuals and links to the post on your website.
4. Share Real Estate Tips With Your Audience
Finding realistic tips on social media is often helpful, particularly for working clients who don't have time to do their research. Keep the list short, sweet, and straightforward to make it easy to read and follow.
5. Keep Your Readers Updated by Sharing Blog Posts
If you update your blog posts regularly, share them on your real estate Facebook page. Share topics that you know your audience is interested in — such as price trends, how to get a mortgage, and what to watch for during a home inspection to entice them to stop and read.
6. Post Neighborhood Features and Local Businesses
Are there any attractions that your target audience will enjoy in the areas where your properties are listed? Potential customers want to view their neighborhood and see if it suits their personality and lifestyle. Be sure to post information about neighborhood features and highlight thriving businesses in the area. Post information about upcoming activities in the neighborhood. With this strategy, instead of scrolling down without absorbing any details, your followers are more likely to stay on your real estate Facebook page to get complete information on the neighborhood.
7. Post Pictures of the Major Features of the Community
Another post idea for your real estate Facebook page is photographs of local businesses. Similar to sharing photos of key attractions and features in a city, post images of the significant features of the community. For example, you can add pictures of features such as schools, gyms, shopping centers, hospitals, and pharmacies to your real estate Facebook page.
What's most important is identifying your audience's preferences and showing them your listings near the right business amenities.
8. Post Videos of Neighborhood Guides and Video Tours of Homes
Uploading videos of home tours or community guides may draw prospective customers who cannot view a property in person.
If you don't have any video shooting experience, it's ok! Several videography companies can do the job for you.
9. Share Your Business Info
On your Facebook page, there is a section for information about your company. As a result, when people click on your page, they will immediately know where to find you and how to reach you. Another way to share more about your company is to blog about it.
The more details about yourself and your staff that you share with your audience, the better. Before they work with you, the audience needs to learn about you. It establishes confidence and strengthens the bond between you and your clients.
10. Regularly Organize Giveaways
Avoid presenting the page as if it is just a sales promotion. Organize giveaways regularly for your loyal followers. Offer giveaways that consider the season and information that your followers are likely to be interested in. Timely giveaways provide the audience with something they can use right away, such as a summer home decor giveaway. Simply state the contest rules explicitly, reply instantly to inquiries, and don't forget to post a picture of the winner afterward.
11. Post a Weekly or Recurring Series
Posting at least once a day on Facebook is vital for successful social media growth. An active account highlights your commitment to your audience and encourages them to return for new posts. The challenge is high on creating fresh content that is not just another listing.
Starting a daily series is a perfect content idea for your real estate Facebook page that will keep your followers engaged. You can post a featured home once a week with key features that your audience can appreciate. It allows you to post a wide array of content besides just listings.
12. Post Helpful News or Information on Your Real Estate Facebook Page
Establish yourself as a reliable source of information. You should post real estate news or snippets about buying or selling in your region or the industry in general. Whenever you share any news, add some personal thoughts about it or add an excerpt from the article. Remember that people would most likely be interested in reading anything if it is informative.
13. Post Funny Content
It can be as easy as asking a question about real estate or just any real estate joke to have your users and prospects laughing. The aim is to get people's attention and provide a foundation for constructive interaction.
14. Share Home Decor Inspiration
Staging homes to highlight their best qualities is an essential aspect of selling them. In reality, staged homes are more likely to sell than unstaged homes. Though staging is worthwhile, it will cost anywhere from a few hundred to several thousand dollars. Share tips with your audience on how to decorate their homes without breaking the bank. This will have your followers checking in often for new content and tips.
15. Share Post About How You Serve the Community
Are you personally involved in making your community a better place? It's not a bad idea to let people see what you're passionate about. However, don't put too much emphasis on your good deeds. Instead, concentrate on the cause and organization to raise social awareness.
16. Share Whitepapers to Generate Leads
Remember that your target audience does research online before approaching you. They're reading blogs, studying various neighborhoods, and comparing bank rates. Share whitepapers with them to assist with the process. For example, share a homebuyer market study. Quick details will help your customers in their purchase decisions if this is what they're looking for.
17. Post Good Real Estate Memes
Your posts don't always have to be business-related. Have some fun and share a few memes about real estate that your audience can relate to and enjoy. Memes have been increasingly common in recent years due to their ability to capture our interest, encourage a sense of belonging and connectedness with the one who shared it, and inspire us to share the meme with others who can relate to it.
18. Share Fun Facts
Break up all the real estate chatter by sharing fun facts about your community or real estate in general. Fun facts about real estate don't always have to be boring and too serious. Add any trivia about the homes you sell that you wouldn't usually mention in your sales pitch. Finally, choose an appropriate and high-quality image to make the fun facts fun to look at.
19. Include GIFs in Your Posts
GIFs are common on social media because the brief, looped clip is enough to capture the interest of your viewers. GIFs are casual and personable, and they allow you to interact with others who see them. A large portion of the audience's attention span can quickly dissipate. Thus, using GIFs in your feed to get them to stop scrolling and pay attention is an effective content idea for your real estate Facebook page.
20. Post Company News
Have you started a new campaign? Have you and your team assisted an unprecedented number of buyers? Were you in the news lately? If that's the case, post it on your Facebook page.
Conclusion
While posting on social media can seem trivial, it will win you loyal followers and clients, when done correctly. As you can see, there's plenty of content ideas for your real estate Facebook page. Start with these tips, tweak your posts as you go, and add more real estate social media content as you go, and you surely will land the clients you're looking for.
Read the following blog posts for more ideas on using social media for your real estate platform: LinkedIn for Real Estate: How to Generate Real Estate Leads and Referrals and TikTok For Real Estate Agents: A Detailed Guide.