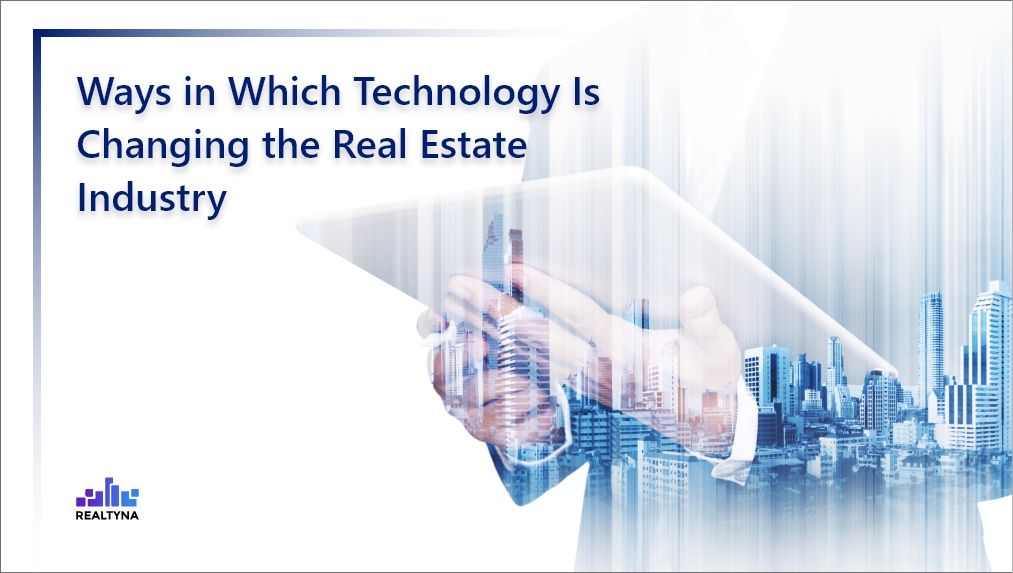 Ways in Which Technology Is Changing the Real Estate Industry
31 Aug 2021

Posted at 11:00h
0 Comments
Ever since the development of new technologies, there have been numerous fascinating changes in the real estate industry, most being quite influential and beneficial to real estate professionals. In today's article, I will list the changes that technology has brought to the real estate industry and whether they were a positive or negative influence.
Mobile Apps
Mobile apps have become increasingly popular in the real estate industry. They are a great way to get information on new listings and updates that fit your client's specific needs and preferences. For instance, Realtyna offers iPhone and Android mobile apps which are a great way to increase your potential clients as they come with specific features that can help you generate more leads and make your job more quick and efficient. Some features that the apps offer are:
Customization options: The mobile apps allow you to customize your own logo, splash screen, and loading page
Instant MLS Listings: They offer clients push notifications and contact forms.
Website pairing: The apps can be synced automatically and connected to your website just by downloading them.
Brand visibility: The apps allow your brand name to be visible on platforms such as Google Play and the iTunes App Store
Increased lead generation: The more people are satisfied with your app the better the chances are for future sales.
Overall, mobile apps are a great way to connect and communicate with your customers, which can benefit both the agent and the client.
Virtual Tours
Virtual tours are a great way to spice up your client's real estate experience. Your clients can easily take virtual tours of residential or commercial property through the comfort of their own homes without having to physically visit the property itself. There are several types of virtual tours. Some of the most widely used are free movement 3D walking tours, 360° videos, and virtual reality tours. Virtual tours are a great way to advertise your property without having to put a large amount of investment into it. Another advantage of virtual tours is that you can easily anticipate your future developments. With the help of virtual reality, for instance, you can easily envision your ideas and test them out in the system itself before making a decision and spending on real changes.
Environmentally-Friendly Construction
Technology has had a drastic impact on the quality of construction. One of the positive contributions is making it more environmentally friendly. For instance, constructors have started increasing their usage of green insulation and biodegradable materials resulting in the reduction of the amount of carbon dioxide and methane being released into the environment. This has drastically reduced air pollution and its contribution to global warming.
Web-Based Listings
Thanks to websites, it has become much easier to view listings online and see what is available. Your clients can easily narrow down the search and view properties that they are specifically searching for to fit their preferences and suit their interests. Artificial Intelligence has made it even easier for clients to pick the right listings, as it can narrow down the results and place the best matching listings at the top of your client's search results.
Artificial Intelligence Machines
Speaking of artificial intelligence, the biggest influence that technology has had is through the help of artificial intelligence machines. Artificial intelligence machines help humans concentrate on more important tasks by streamlining time-consuming tasks. With AI, they can focus on the things that matter most. For instance, AI machines can help real estate agents generate more leads, manage and evaluate their properties better, and overall make their tasks easier and more convenient. If you are interested in knowing more benefits that AI machines offer to real estate, be sure to read my blog on Ways in Which Artificial Intelligence is Used in Real Estate.
Is Technology a Positive or Negative Influence on Real Estate?
While I have only listed the positive, there are some presumably negative changes that technology has brought to real estate. For instance, some people believe that artificial intelligence machines are taking over the jobs of humans. This is a controversial topic, but so far the future of technology in the real estate industry is looking bright. Artificial intelligence will only enhance the work that humans do and will give them opportunities to focus on much more important and valuable tasks. While technology will continue to advance, presenting more fascinating developments that will surely benefit the future of real estate.
Thanks for reading! What do you think of the changes that technology has brought to real estate? Let us know your opinion in the comments and be sure to check out more of our blog posts.
Creative Ways to Advertise Your Real Estate Business
Are You Selling Your House? 20 Tips to Get the Best Offer