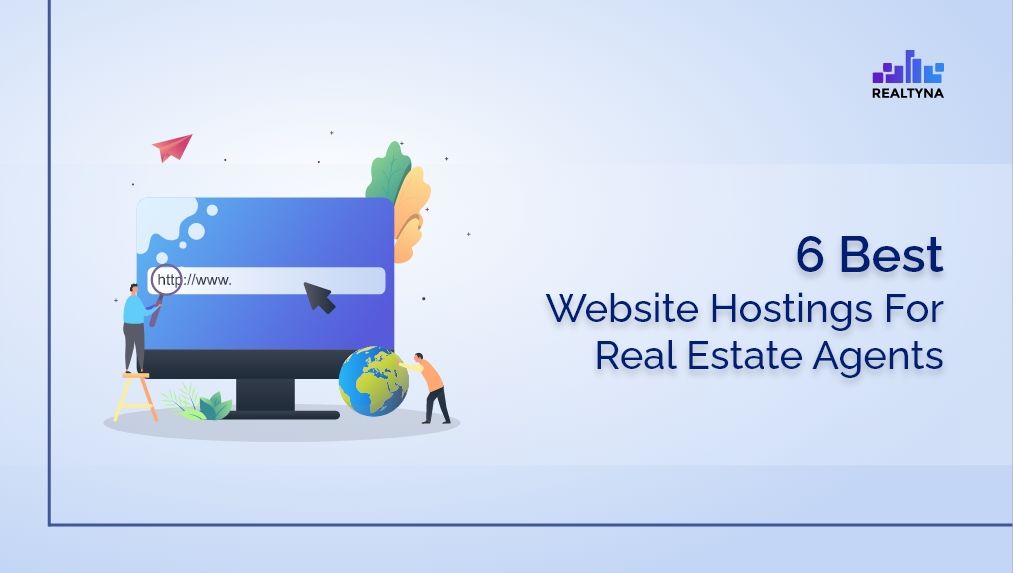 6 Best Website Hostings For Real Estate Agents
24 Sep 2021

Posted at 11:00h
0 Comments
If you are looking to start your own real estate website and aren't sure of which hosting platform is the best fit for you, then you are in the right place. In today's article, we will discuss the best website hostings for real estate agents and what they offer. If you are interested in learning more, keep reading.
Why is Hosting Important for a Real Estate Website?
Having a well-designed website can help you make a good first impression on your potential clients. A good first impression can have a direct impact on your client's experience on your website and the amount of traffic that it receives. It helps your customers navigate your website effortlessly and with ease. This will help you generate more leads and attract more prospective clients.
Best Hostings for Real Estate Agents
Below I have listed the 6 best website hostings platforms for real estate agents:
SquareSpace
Speaking of good first impressions, SquareSpace is known to provide just that. SquareSpace provides the right amount of tools to make your website look sharp and professional. With its professionally designed templates, you are on your way to making a good first impression. The hosting platform provides modern image-led designs, ready-to-go templates and much more. SquareShape also offers a free trial. The paid plans range from $12-$46 per month. Now, let's get into more details on the specific aspects that make SquareSpace so great. SquareSpace provides five real estate designs that let you show off your property from each angle. Although you can play around with colors, and add new elements to your design it does not provide full flexibility with the layout of the page. SquareSpace also comes with a great lead capturing tool. You can simply add popups to your website, which can alert your customers when there is a drop in property prices. SquareSpace offers numerous features that are great for your website, such as modern templates, a style editor, template switching tools, built-in mobile websites, drag and drop management and audio collections.
WordPress
WordPress is a popular hosting platform used by various businesses. Real estate agents can massively benefit from WordPress. WordPress provides users with various features and is known to be the most powerful out of all listed hosting platforms. If you plan on listing a large number of properties on your website, then WordPress is the best choice for you. While WordPress offers some themes for real estate, they are still limited. Although, it offers unique free themes which can be designed according to your needs and preferences, and a wide choice of templates and integrations. WordPress is also known to have great lead capturing tools. You can easily add various features to your WordPress site, create posts and pages and manage your website content. You can also insert videos and images, view drafts, schedule blogs to be published, review your posts, and much more. WordPress offers plans starting from $2.95-$5.45 per month.
Realtyna's Real Estate Hosting
Realtyna offers a custom hosting platform that helps launch your real estate IDX site and generate leads. Some feature that it includes is dynamic system hosting with as big as 100 gigabytes (sometimes more) of data that are updated regularly. Our system also helps improve your load time. Having a fast page load time can result in good SEO and help you rank highly on search engines. For more information on our hosting prices and their functionality please have a look at this page.
Wix
Another great hosting platform for your website is Wix. Wix offers a wide range of professionally designed templates. Wix's plan ranges from $14-$56 per month. They also offer a free plan. With the help of the drag and drop tool options offered by Wix, you can easily customize your website. However, it is not possible to switch your template after you have published your website, so make sure that you are satisfied with it beforehand. Wix website offers various features that can help you generate more potential leads. Some examples are online booking forms for viewing arrangements, contact forms, and dynamic maps. Other features that Wix offers are an intuitive website builder, professionally designed templates, free hosting, customization options for your designs, optimized mobile view and image editors.
Duda
Duda is the best hosting platform for you if you prefer designing your own website. It offers a wide variety of templates and is quite easy to use. However, its high pricing plan may drive some customers away. Although it might seem a bit expensive to some, it provides its users with high-quality features. The plans range from $14-$59 per month. You can also take advantage of its free trial option. One of the features that Duda is praised for is its website design options. It has a template made specifically for real estate. The template is eye-catching, fresh and professional-looking. Duda also has self customization options. That way you can easily design it based on your preferences and align it with your company's overall image. Duda offers various lead-generating tools. From email marketing, contact and appointment forms where you can gather all your leads together.
Weebly
Last but not least on the list is Weebly. Weebly offers cheap starter plans, so if you are just getting started with your business, it's the best plan for you. Weebly's plans range from $6-$29 per month. It also has strong SEO features. However, it has limited themes for real estate. Although you can still find a lot of good ones if you look hard enough. With Weebly, you can easily add lead capturing tools such as contact forms. You are also provided with features such as an eCommerce store, drag and drop builders, effortless publishing tool and a full width page editor. Even though to get the best experience, you might need to upgrade to a paid plan.
Thanks for reading! Let's make sure to read more of our blog posts.
WordPress Plugin For Broker IDX Website
8 Signs That It's Time to Upgrade Your Real Estate Website Hosting